Hillarys Boat Harbour help
Submitted by KenTse on Tue, 2010-11-23 22:18
Hi everyone,
Brand new member here. My name is Ken and I'm from Toronto, Canada.
My sister and I are taking a trip to Perth and we are there for three full days from Dec 3 to Dec 5, 2010. I'm arriving at 5:30am on Dec 3 and I'm leaving at 8am on Dec 6th.
I'm staying at Karrinyup Water Resort and I will be taking a sambo jigging trip with Bluejucie. Unfortunately, I should have read here earlier and booked a trip with Saltwater instead
Oh well...live and learn. I hope they can find some fish and find some less sharky spots.
I want to know if anyone can help me with some fishing techniques. I plan to put all my concentration on Hillary Boat Harbour since I only have 3 days to fish (and likely I will only have a few hours each day). I hope to catch something new...anything that I have not caught before. I read there are herring, whiting and maybe bream? Are there any other fish like wrasse and other small reef fish off the jetty?
What are blowies? I assume they are blowfish aka pufferfish?
I would really appreciate as much help as you can give. If you feel like showing a visiting angler a good time, I will gladly jump on any free seat on your boats if you are going out jigging for sambos...mind you I will definitely need to borrow gear and I have not done this before you you will be dealing with a total noob to jigging. I am prepared to pay charters $220 for a seat, so if I come fishing with you, I am prepared to chip in for costs like gas and launch fee if there are any.
On the other hand, if you wish to meet up at the jetty for a bit of landbased fishing, I'd love the opportunity to learn from the locals
If you would like to meet up, please message me your phone number and I can try to give you a ring. I am leaving Toronto tomorrow and I may or may not have internet access for a few days. If I have your number, I can still call you on Dec 3 when I land in Perth
Thanks guys.
Before I leave, I'd like to share a bit of my travels and fishing with you good folks here.
I went to a workshop in France in September and did a little fishing early in the morning and late at night (since we had all day lecture sessions). I caught my first ever European seabass.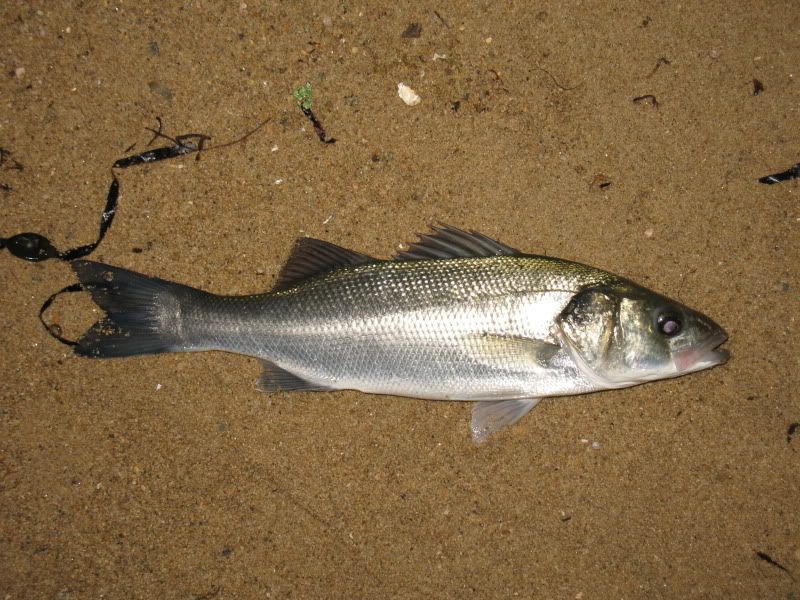 Also caught a bunch of these little combers when I took some personal time to travel in Greece and Italy before the workshop.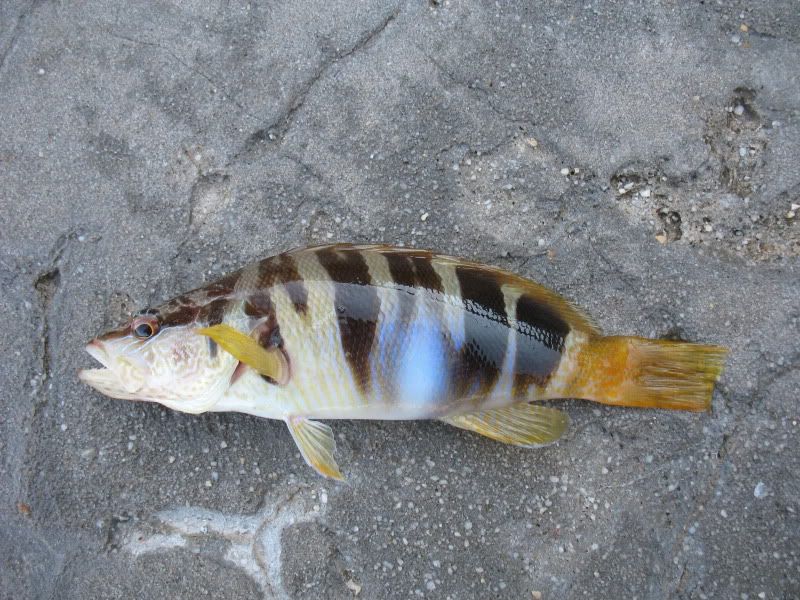 Last year in September I went to a conference in Georgia, USA. I met up with a friend from an internet fishing board and he took me fishing in the saltwater marsh for red drum.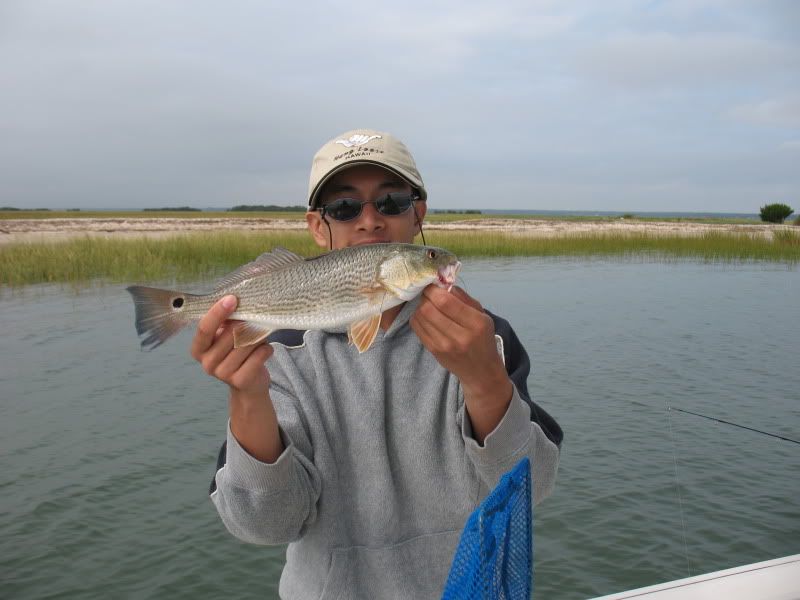 I drove down to Florida the day after my conference and fished on one of the charter boats for snappers and amberjacks. Here's my first and only amberjack...about 25 inches and 10lbs?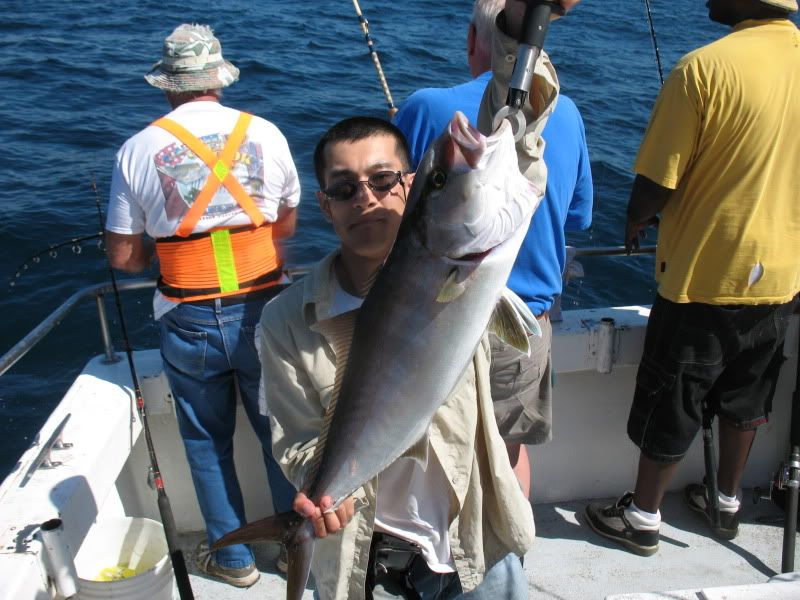 On the way back from Georgia, I stopped in Long Island to visit a friend and we fished Montauk hard for 24 hours straight for striped bass and bluefish (tailor). We found the best fishing for striped bass at 3am about 3km hike away from the main access on the beach. Super trip and one of my most memorable.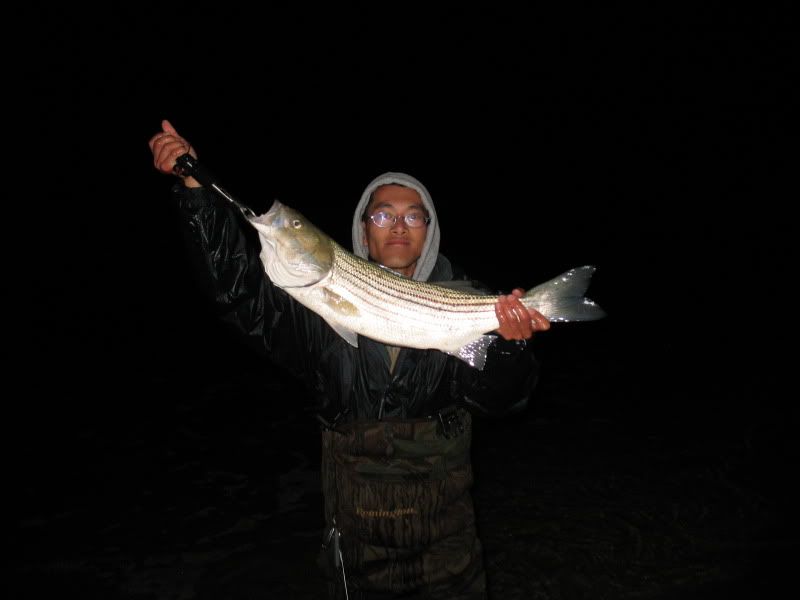 Last year I took a trip to Hawaii to visit my grandma and uncles. I have made some friends in Hawaii on a past trip and we meet up to go fishing again. Todd has invited me on his boat a number of times. He taught me a little about fishing the bluewater. We don't always do well, but we got lucky with a 46lb mahimahi in 2009 and a 120lb yellowfin tuna in 2007.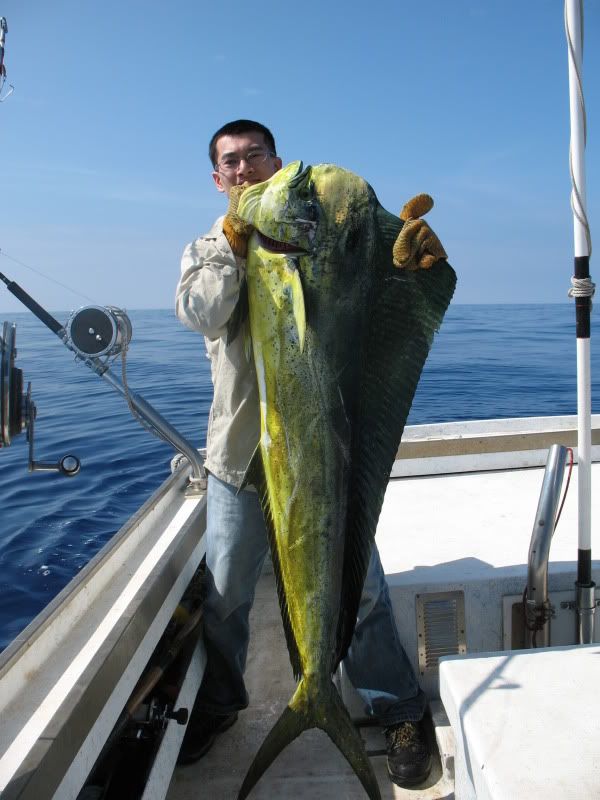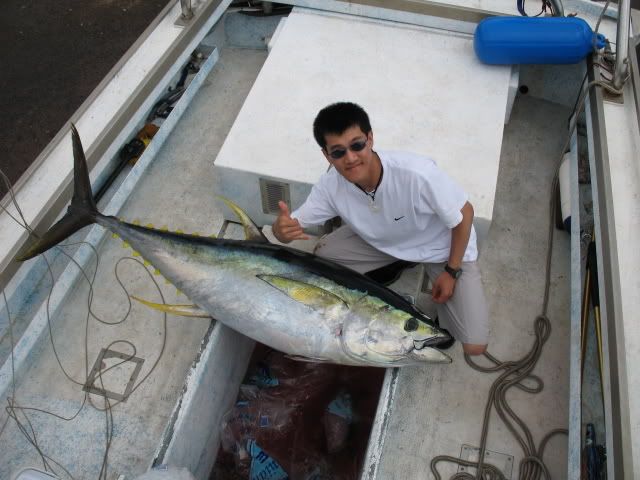 In 2008, I went to British Columbia, Canada to visit an ex-co-worker of mine (now good friend). We took a charter to fish for white sturgeon. Action was very slow but we did catch a nice sturgeon each.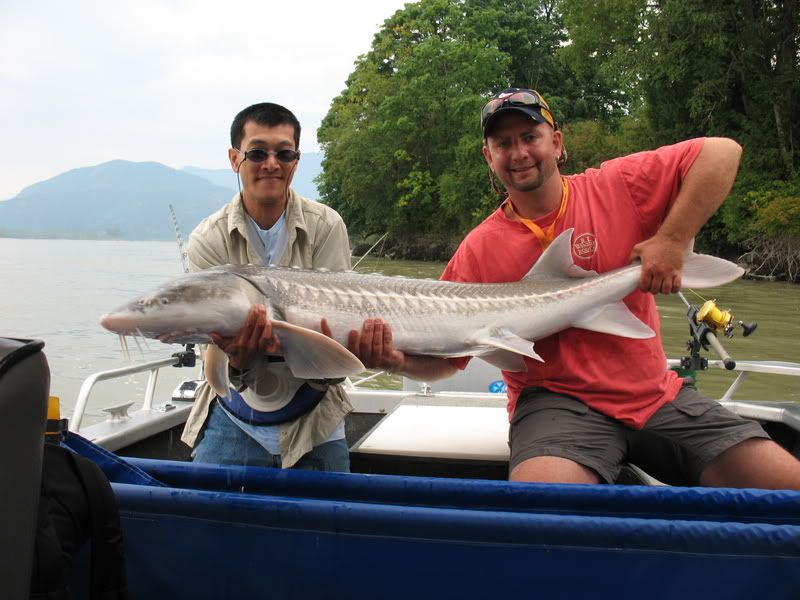 Took three of us to hold this fish for a picture...but it is Kazu's fish and not mine.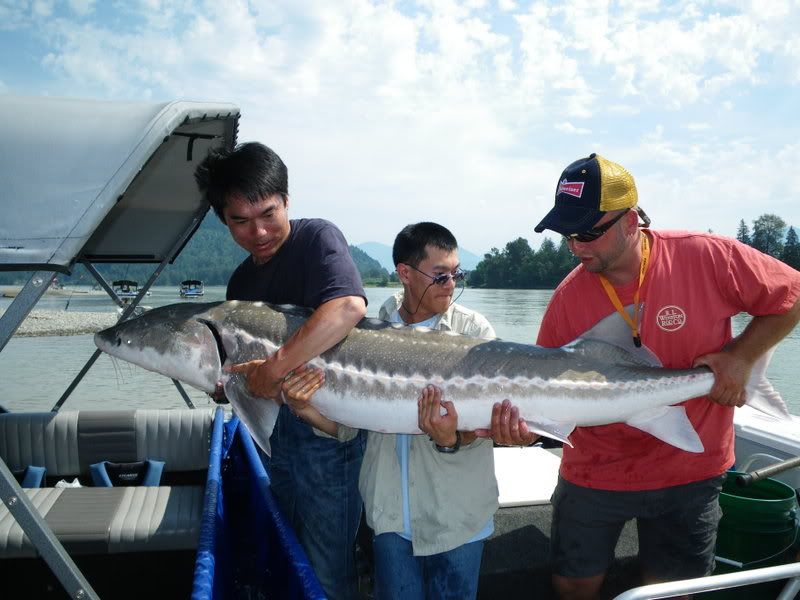 Just something completely different...I love icefishing and when I get home from Perth, we should have safe ice by then. Here's some icefishing action from last year.
Lake Whitefish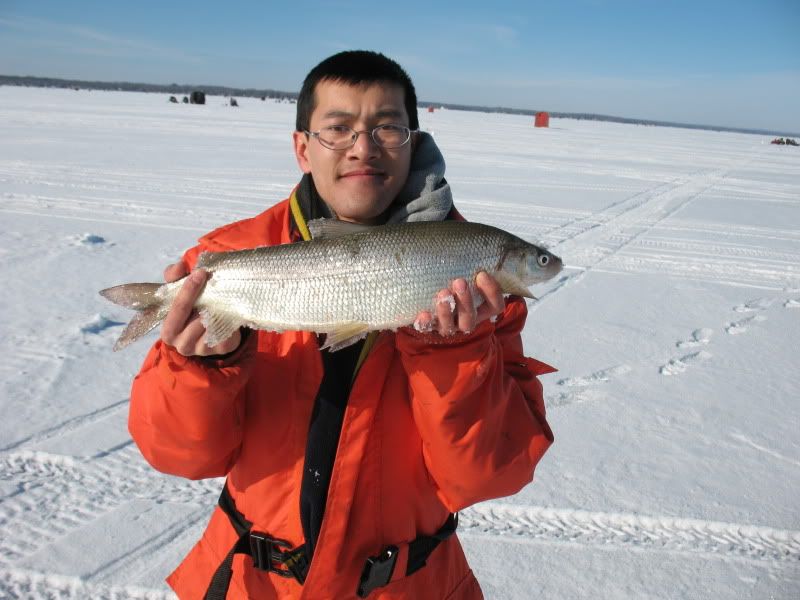 Lake Trout (always look a fool in these pics LOL)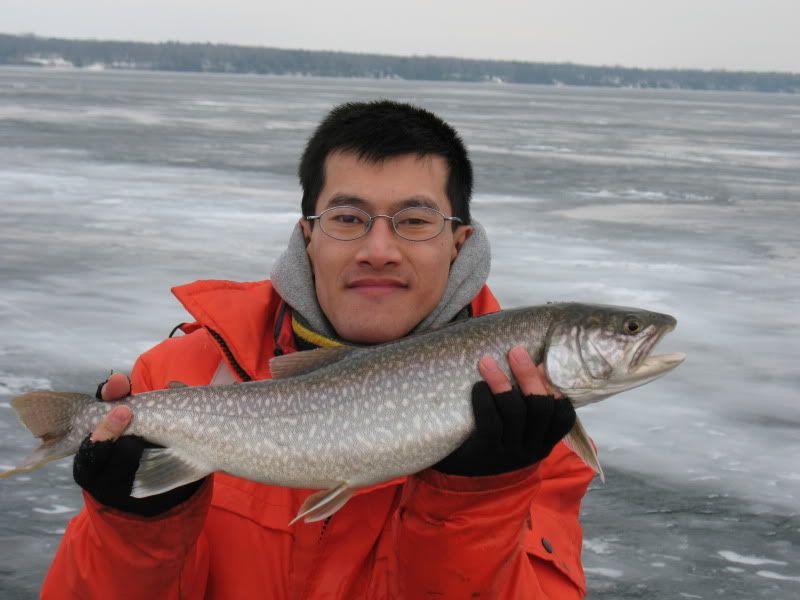 Just a wee Northern Pike fishing in a pond at my buddy's place.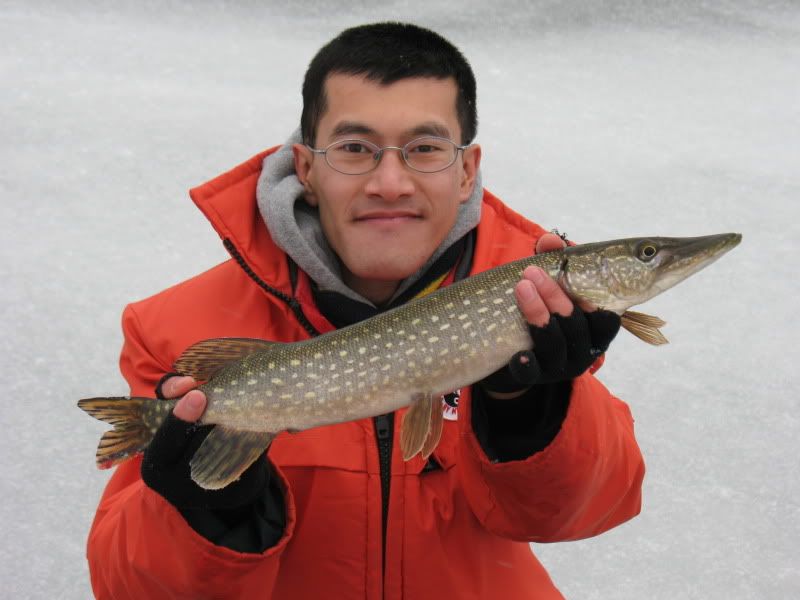 Anyways, I love sharing pics and fishing experiences. Hope you like the pics. Don't get me wrong, I'm not trying to show off. I just love to share fishing experience with people I meet.
Hopefully I can maybe meet up with a couple of you while I'm in Perth. I'm there on the weekend so maybe some of you are free