Lucky Tim and Brad do the montebello Islands
Submitted by PilbaraBrad on Sat, 2009-08-22 15:36
Where do I start? Lucky Tim and I kissed our very understanding ladies on the cheek late Sunday night on route to the Montebello islands some 60 nautical miles off the Dampier coast. We had originally planned to head out a few days later however a fine weather window and some more favorable tides were too good of an opportunity to pass up.
We launched at fortescue on the high and were greeted with less than favorable conditions. The wind had come up and we only managed to make it to shoal island at 6 knots some 12 miles from the launch. We decided to pull in for the night and hope for a nicer morning, neither of us complained about the wet swags we had to sleep in that night.
Well we woke to some pretty awesome weather and were on our way pretty early on route this time to the montes. We made it within a couple of hours, the old rig was loaded with a lot of gear, probably over her limit but she handled it well enough, after all we had to be self sufficient for 5 days in total. On top of the camp gear we had 10 jerries of fuel , 2 large eskies full of block ice and all of our fishing gear.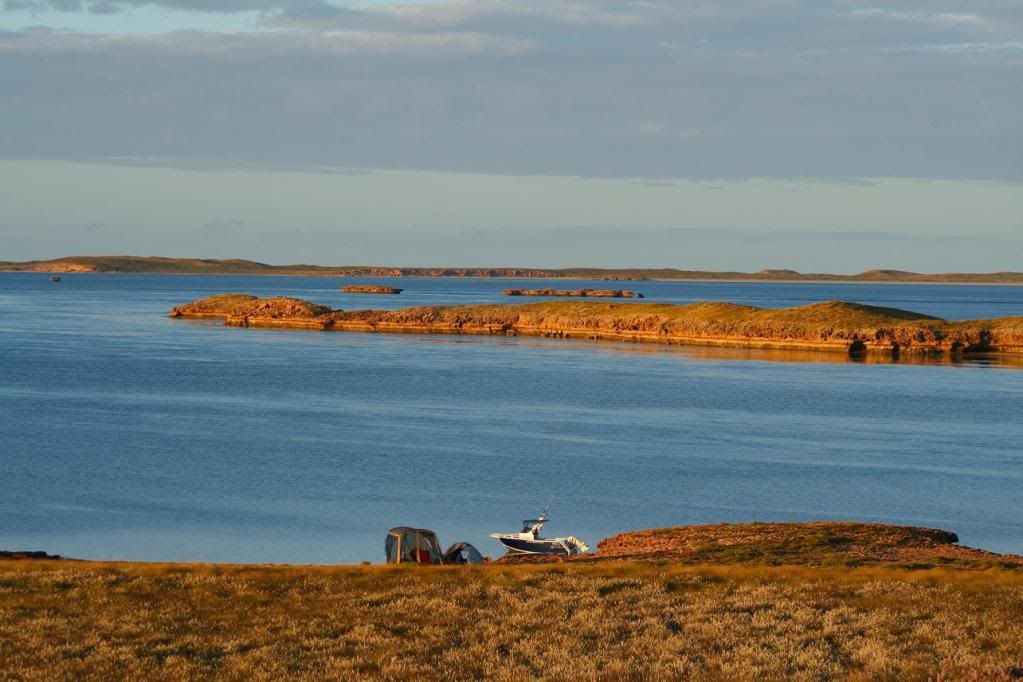 our home away from home, not a bad view eh?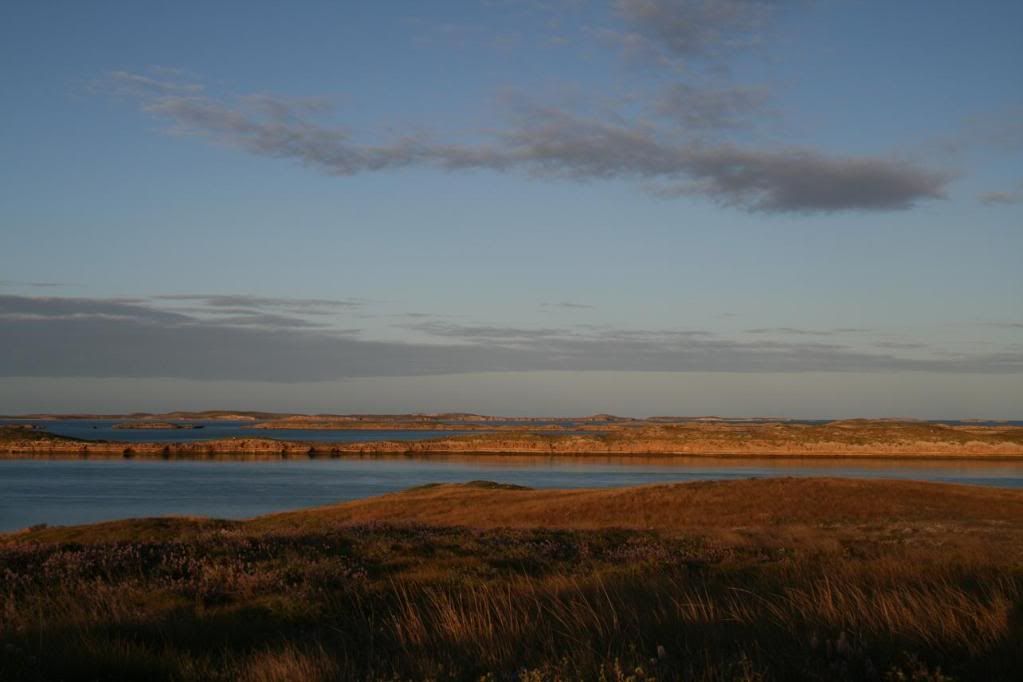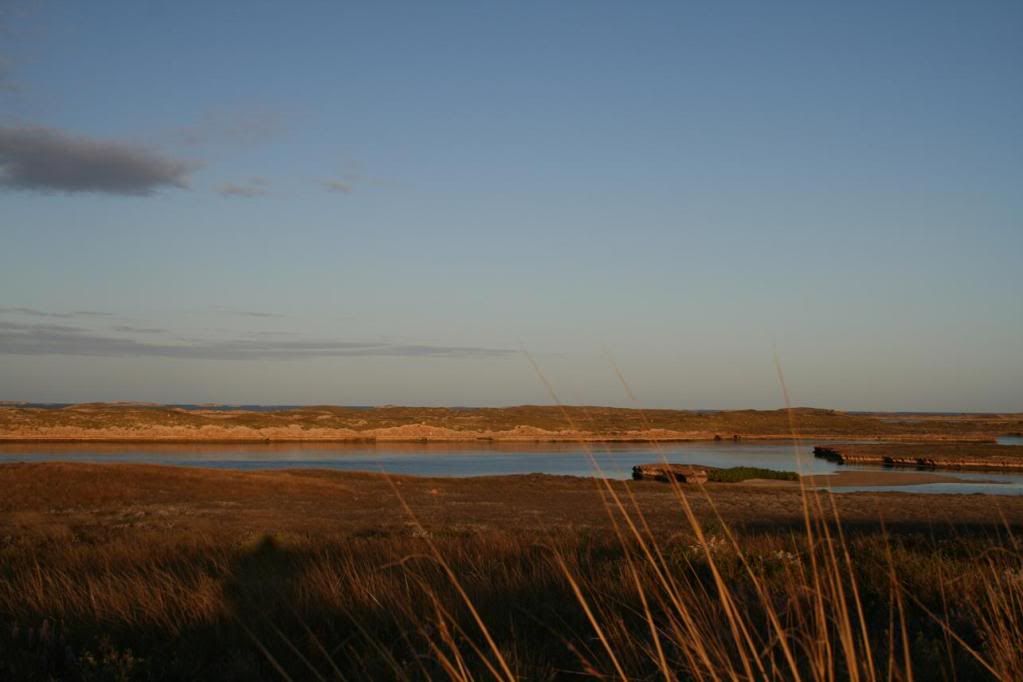 After arriving at the montes we set up and spent the first afternoon exploring a few areas inside the islands. We found some amazing ground and ledges holding massive amounts of large coral trout. We speared a trout and took a cray for dinner. We had planned to "live off the land" as much as we could, we had only taken water a few snacks and the marinades and sauces required to cook up seafood. On the first night we had satay cray and coral trout skewers. On other nights we lived on fresh coral trout sushi and trout and cray teraki skewers. Yumo!!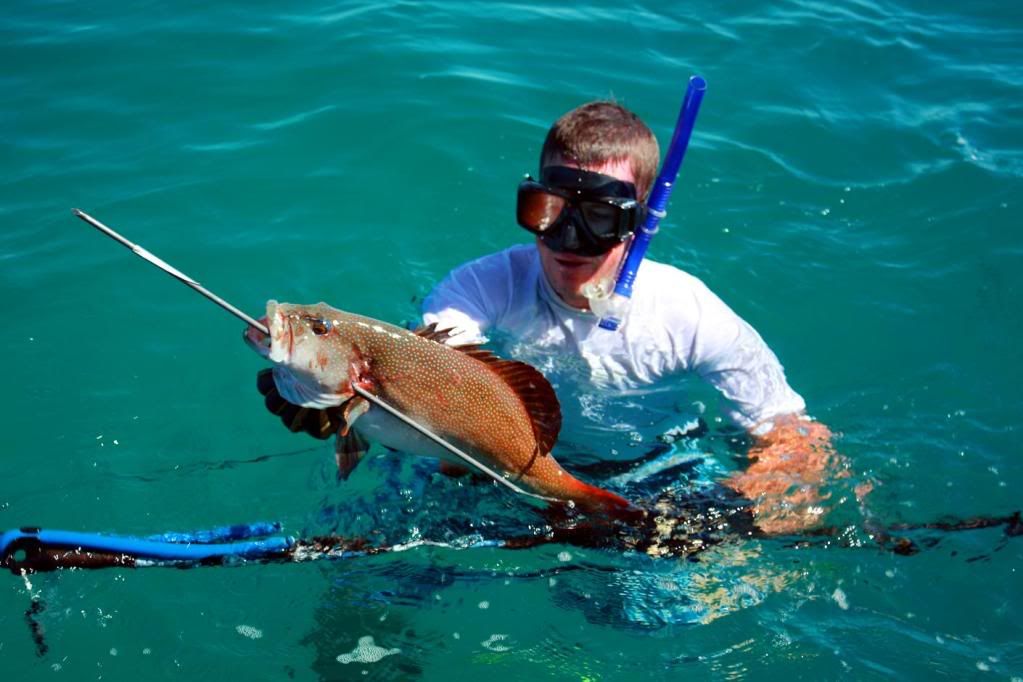 Tim the food gathering guru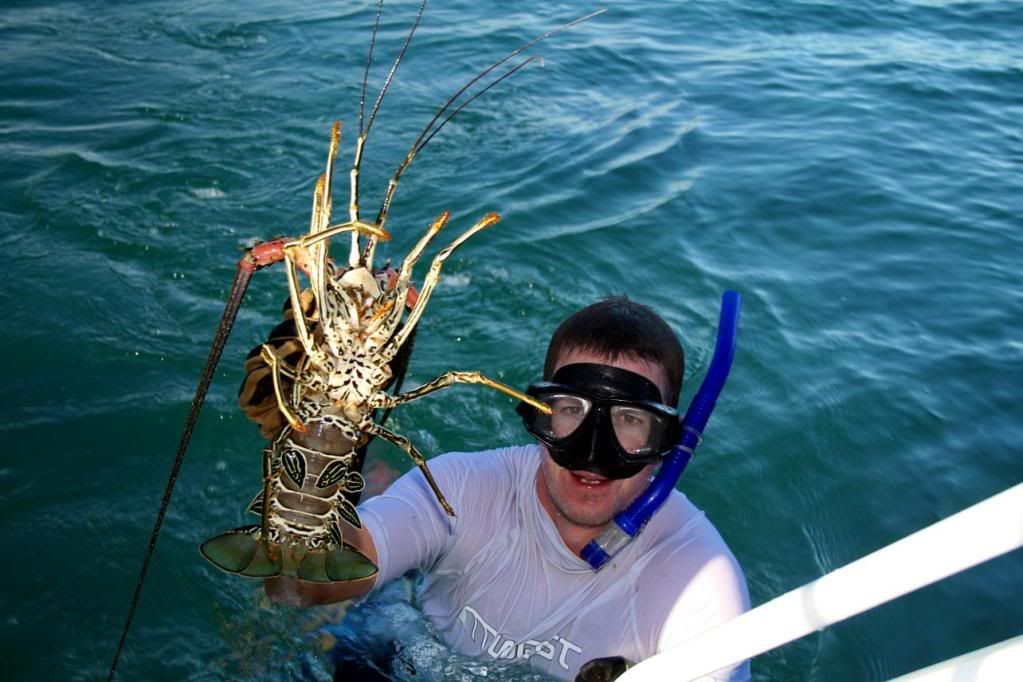 Some more gathering for the feast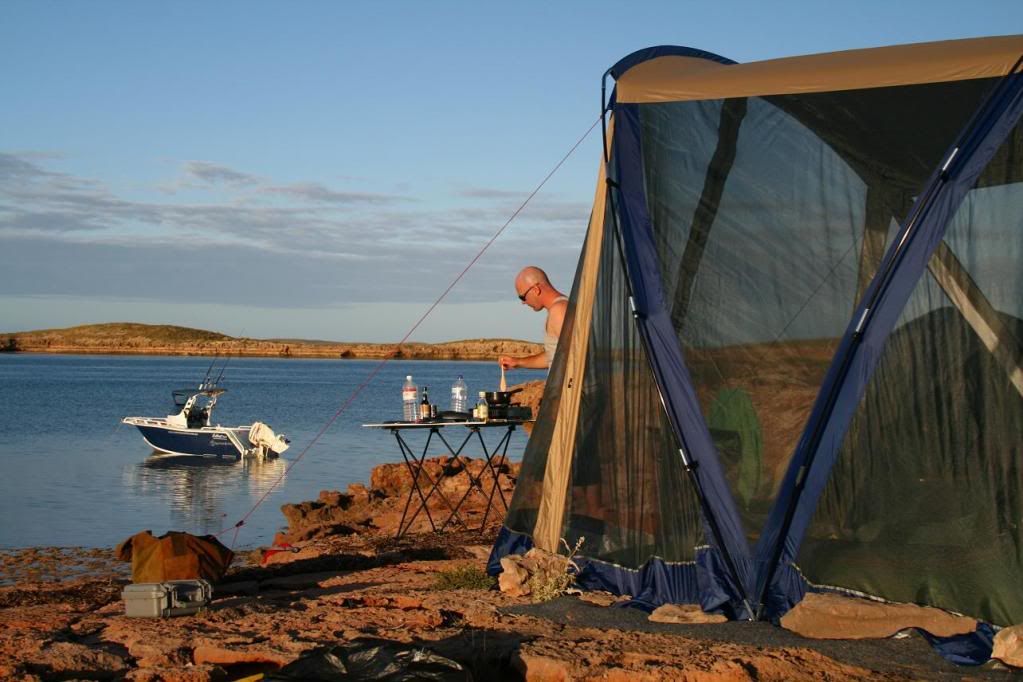 me preparing the meal, not a bad kitchen hey?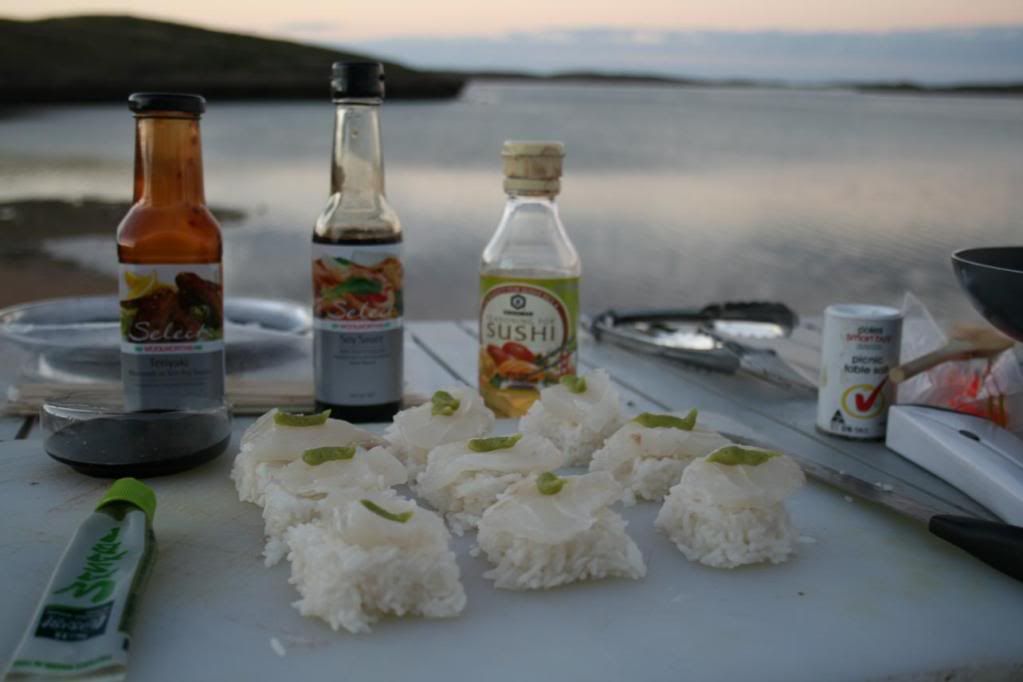 Fresh coral trout sushi for starters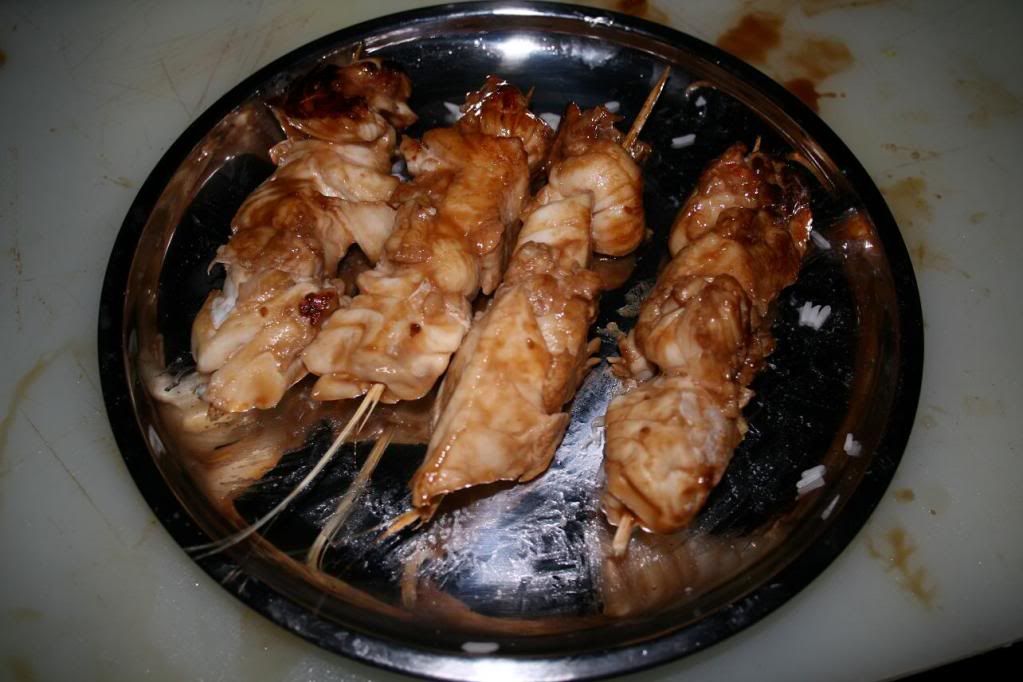 The main, teraki cray and coral trout skewers
The rest of the afternoon we spent flicking lures around some of the many bommies and points in the area, we caught heaps of fish on plastics and hard bodies it was heaps of fun. We had an awesome session on plastics and whiptail jigs with almost a fish per cast in a school of goldens. Was a blast!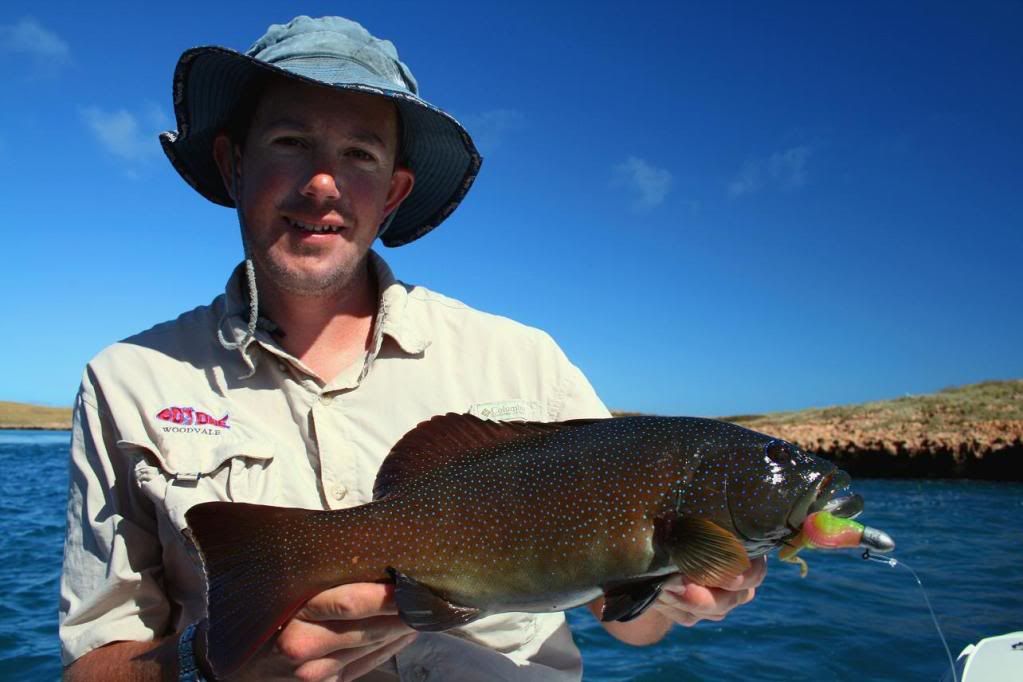 tim with one of a million trout we caught this trip, most were small but great fun on lighter gear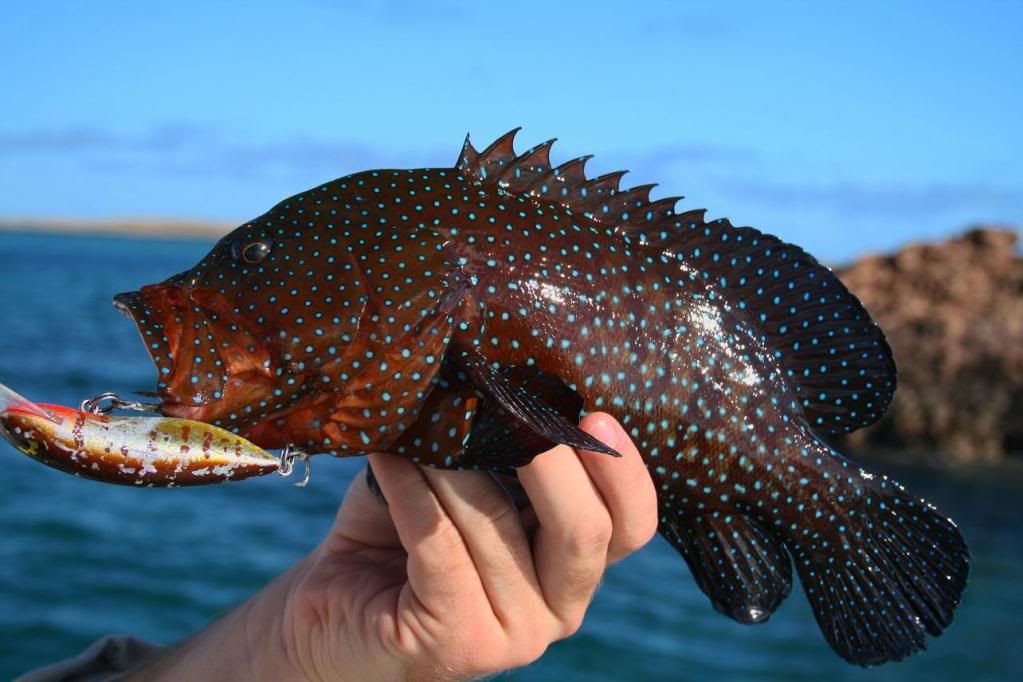 nice little coral cod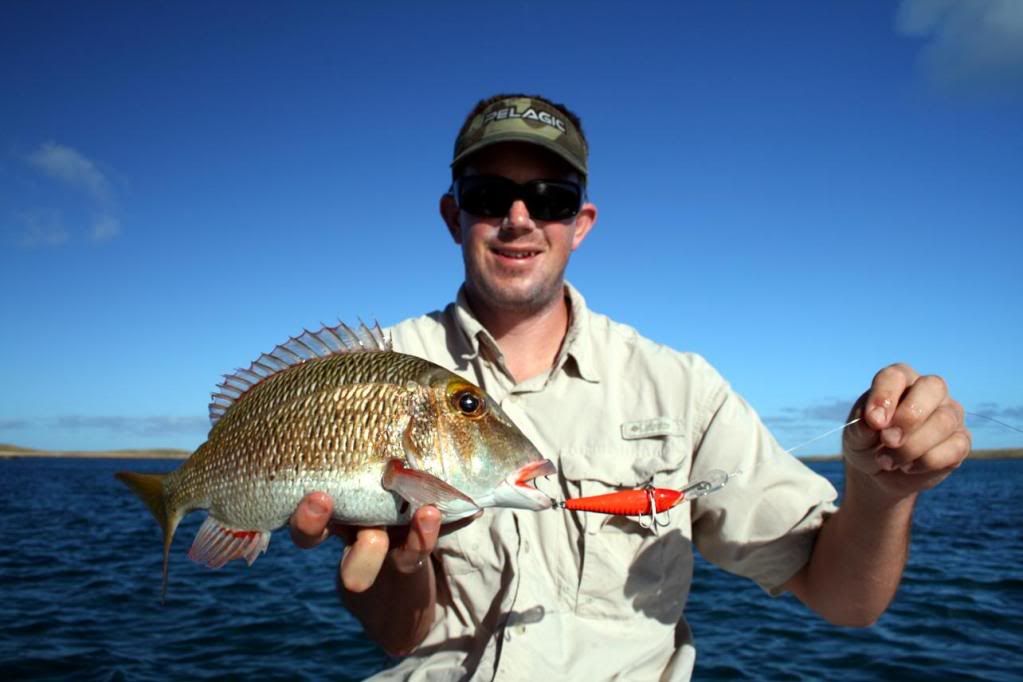 One of many emperors we caught on light gear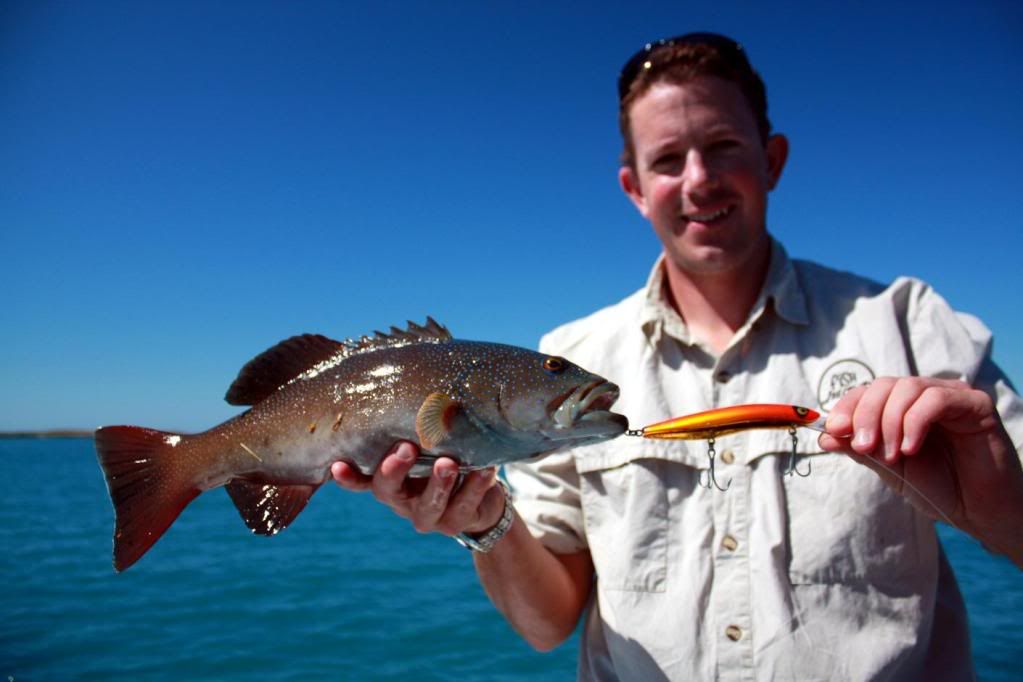 Nice little coraly on light gear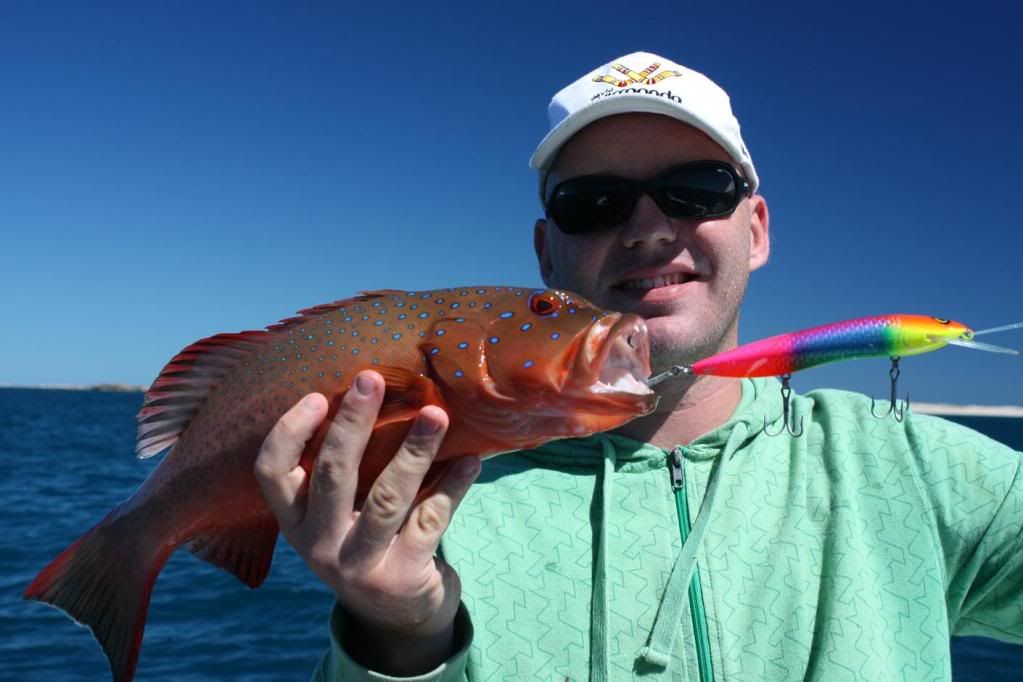 another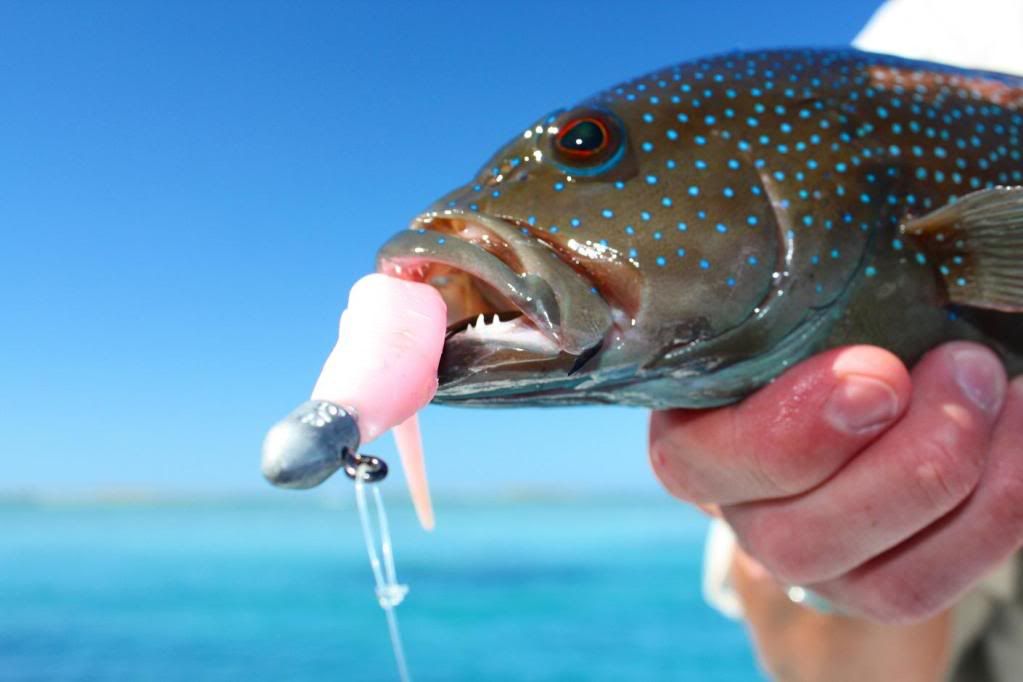 another on an SP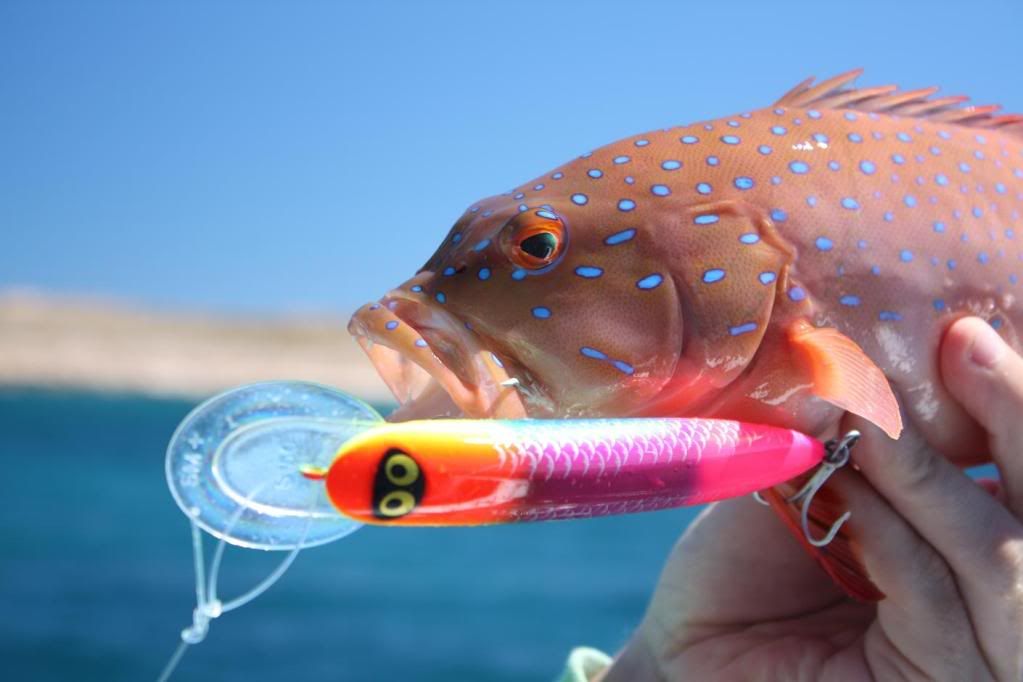 another
Day two we had planned to go out and chase some GT's. We set ourselves a goal of 10 for the day. We rose to a beautiful morning, and after a feed of fresh pancakes and tinned fruit for breakfast we were on our way. Glen and I pulled a few G's out of a spot while we were there last time and after exploring that area a little better Tim and I found a few other potential areas. We had to take turns driving the boat while the other cast. I started with an Orion stickbait and had about three GT's chase my lure down on about the second cast. On the next cast I had about 5 GT's chase my lure down again but no hook up. Finally on the next I came up solid, a good fish of about 15kg's made its way to the boat after that.
Tim hooked up next on a black Weezel polecat, I think it was his second cast. The fish fought well and before too long Tim landed his PB GT on popper. Not a bad effort. Well by about 2:30 we had our target ten GT's for the day, we probably could have easily caught 20 when I think about it, if we had of started earlier and kept going after we got the last, ahh was good fun biggest fish for the session was caught by me and was around the 22-23 kg mark, caught on a silver and green Weezel polecat. The orange Orion stickbait produced a good number of fish as well.
I forgot to mention Tim got bricked by a what could possibly have been a 30kg plus fish on my black weezel. Seems like every time I use a black lure I get horsed. Bad luck Tim, next time mate.
Here a a couple of photos of the GT's, just for the Faulkners, i know they love to look at them over and over again!

number one on an orion 140 sinking stick bait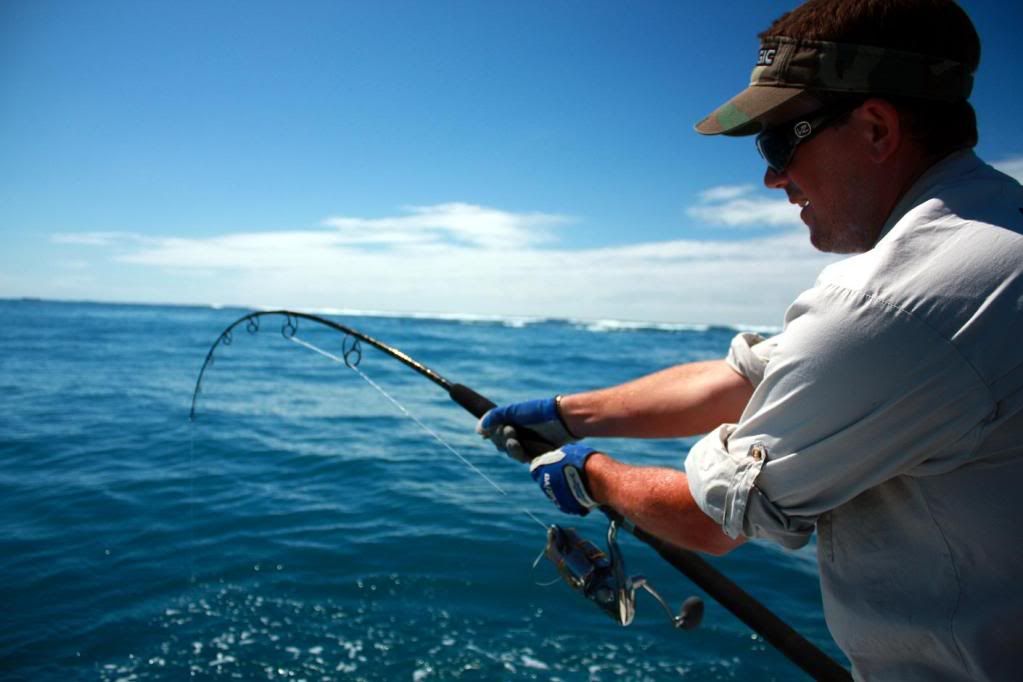 Tim loaded up

Tim's PB 18-20kg's on a Black weezel Polecat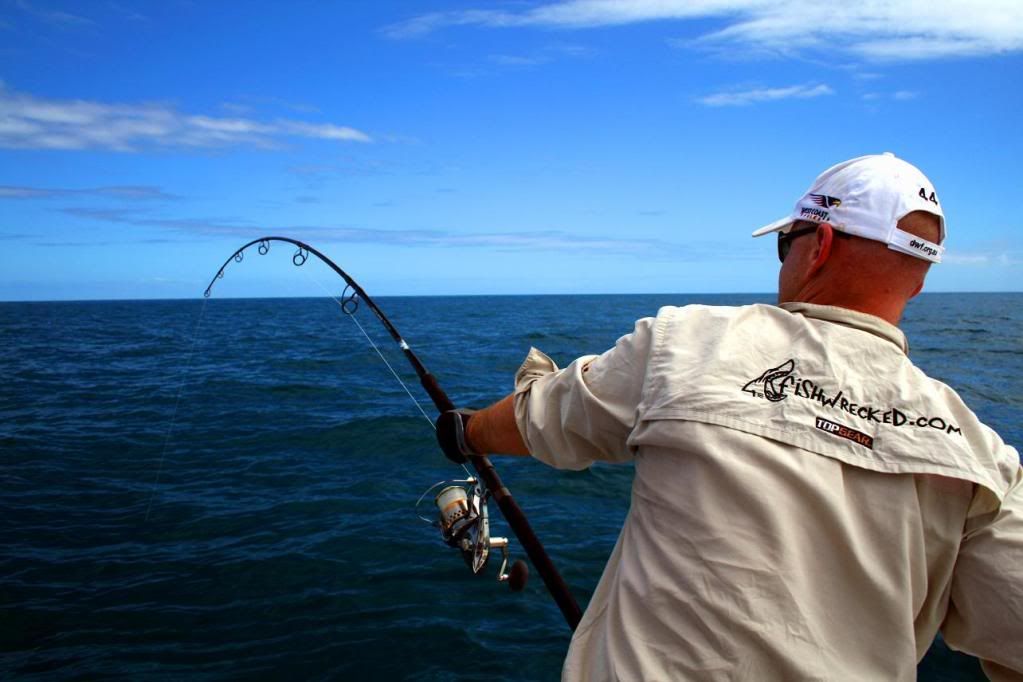 Loaded up!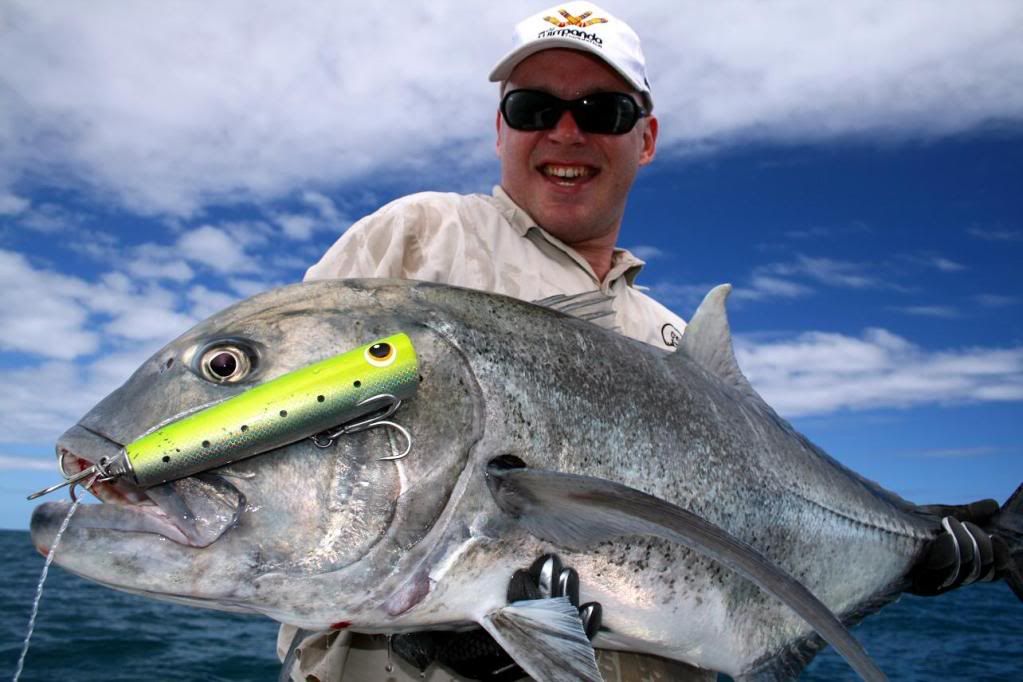 What would be the biggest of the session taken on a Green and silver Weezel polecat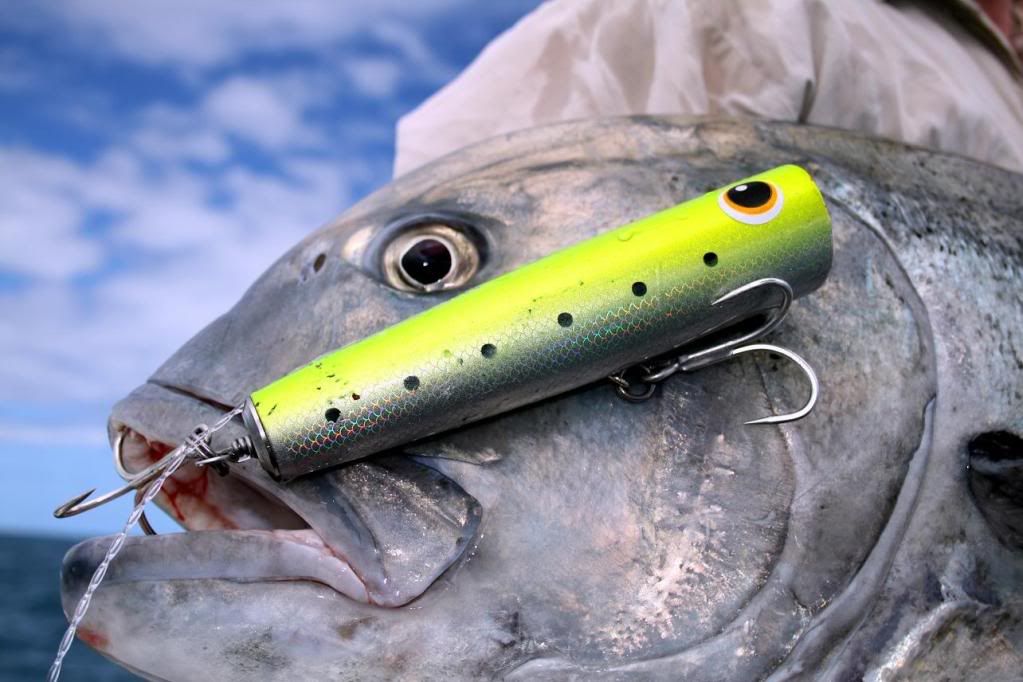 G bus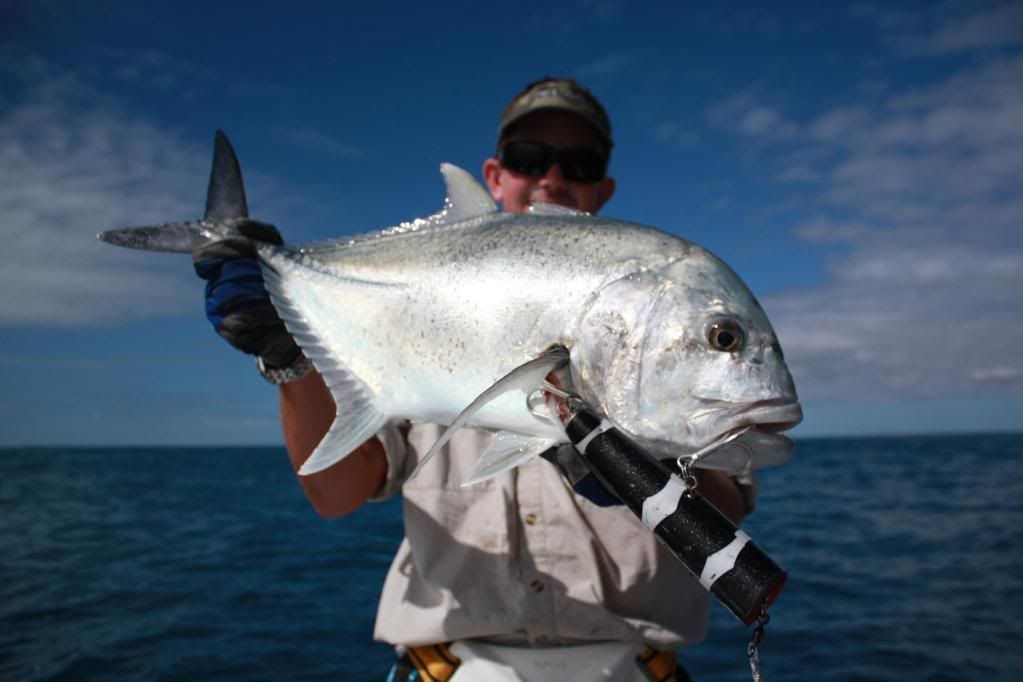 Tims 2nd our 4th taken on the same black weezel polecat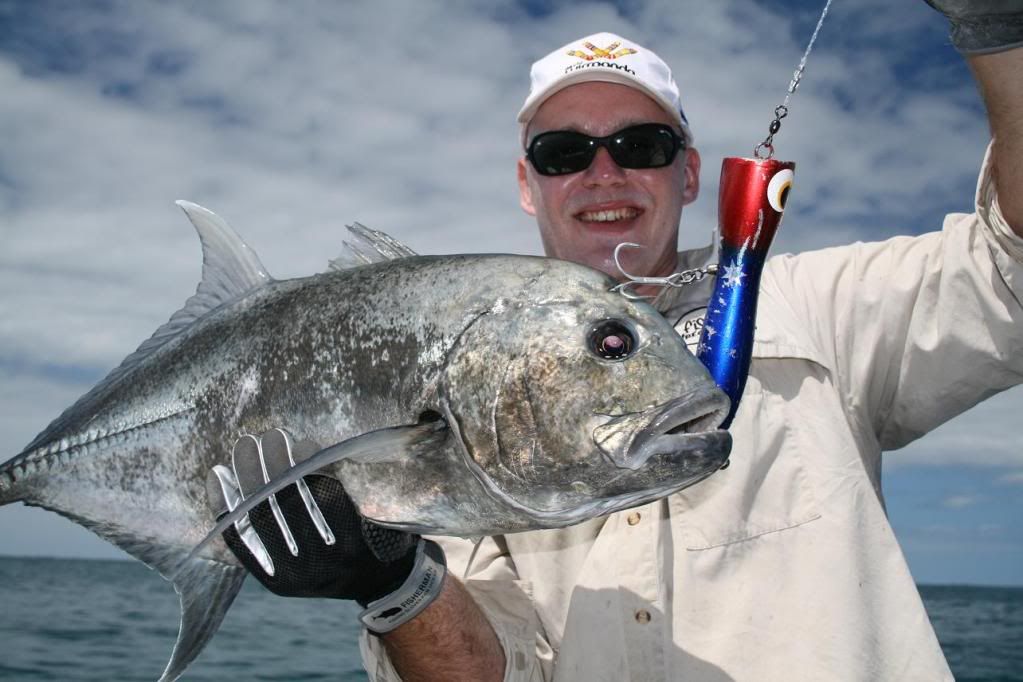 my 3rd and our 5th taken on a Aussie flag coloured Weezel Mink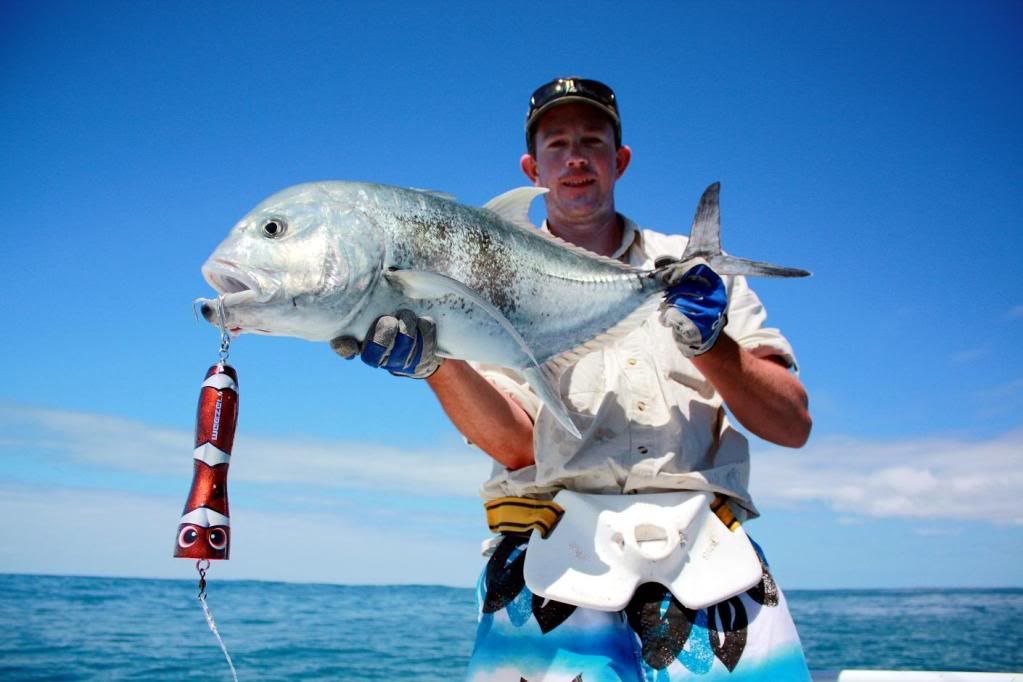 Tims 3rd our 6th taken on a red Weezel mink

my 4th our 7th taken on the same aussie flag weezel mink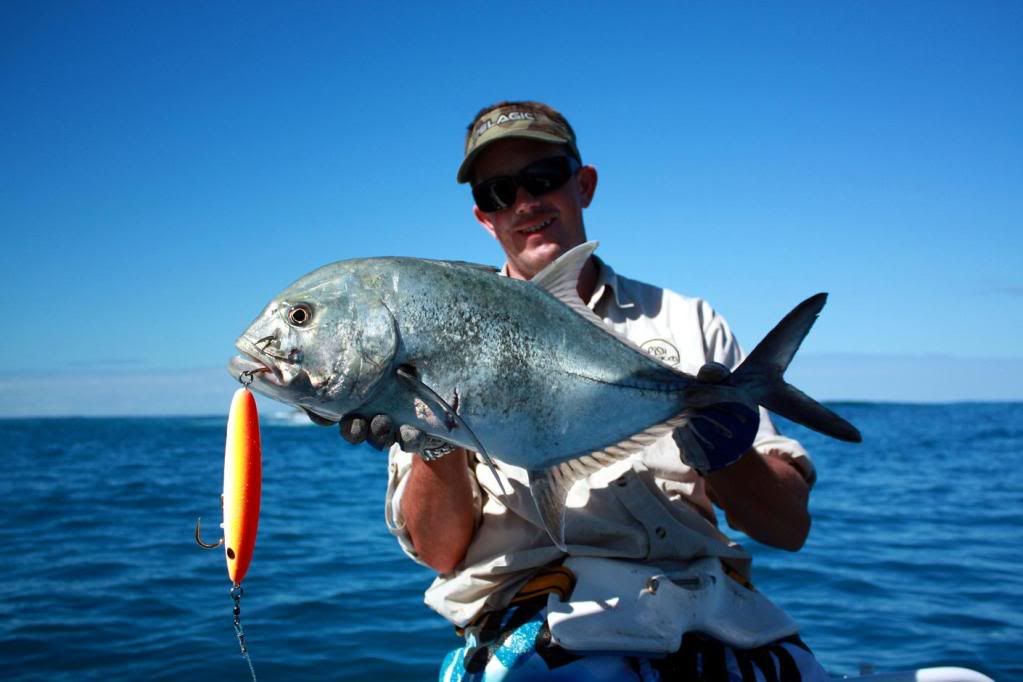 Tims first on a stickbait, our 8th taken on an Orion 140 bigfoot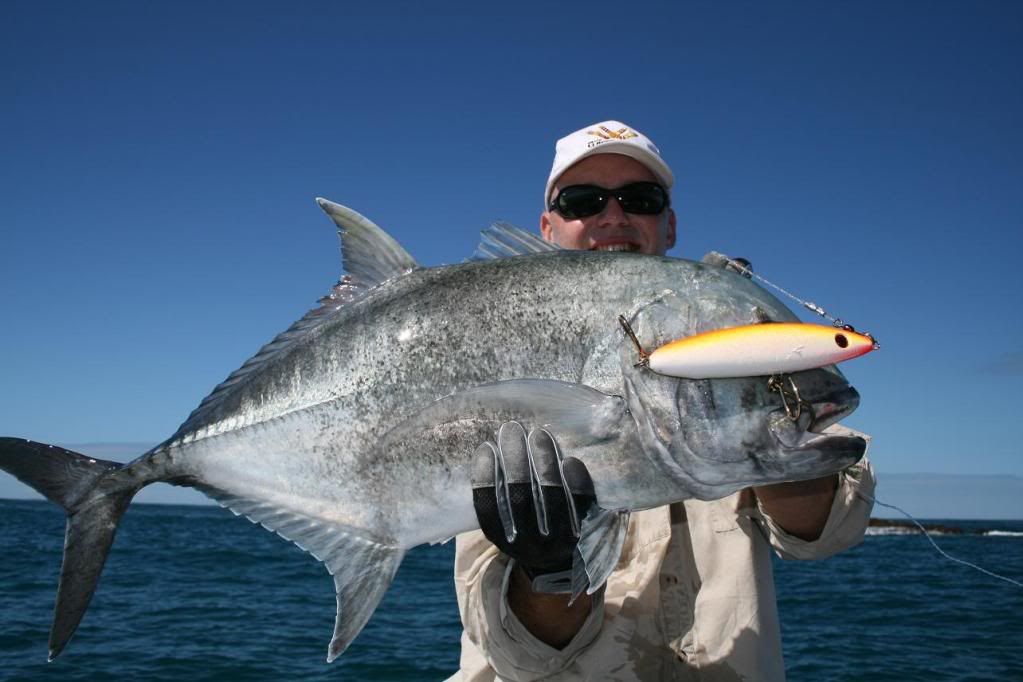 my 5th our 9th on the orion 140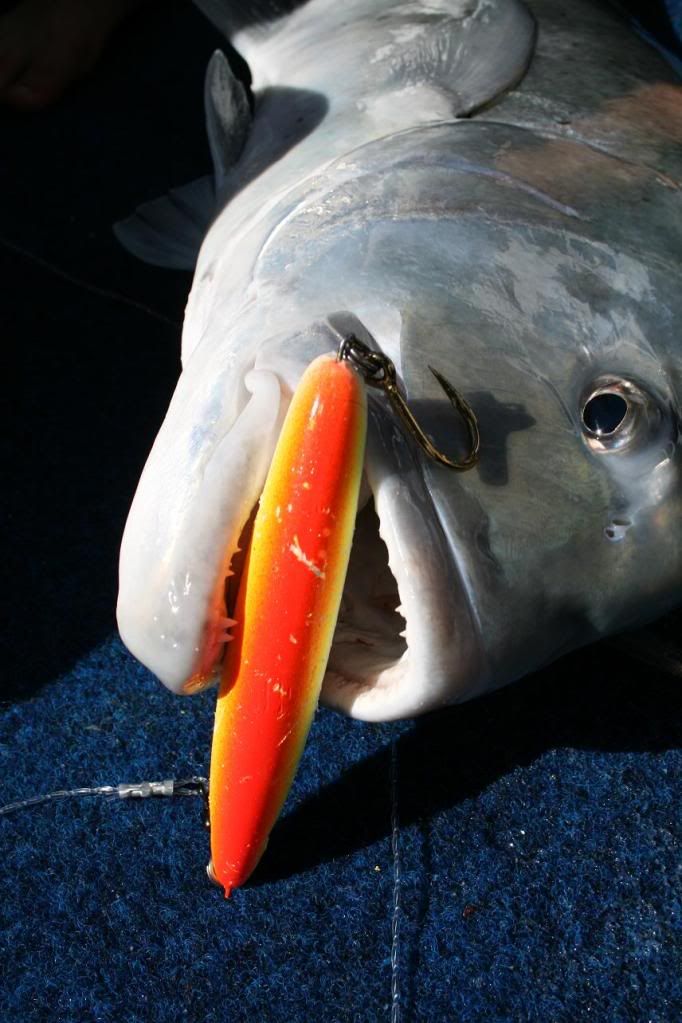 A hungry number 10 for the session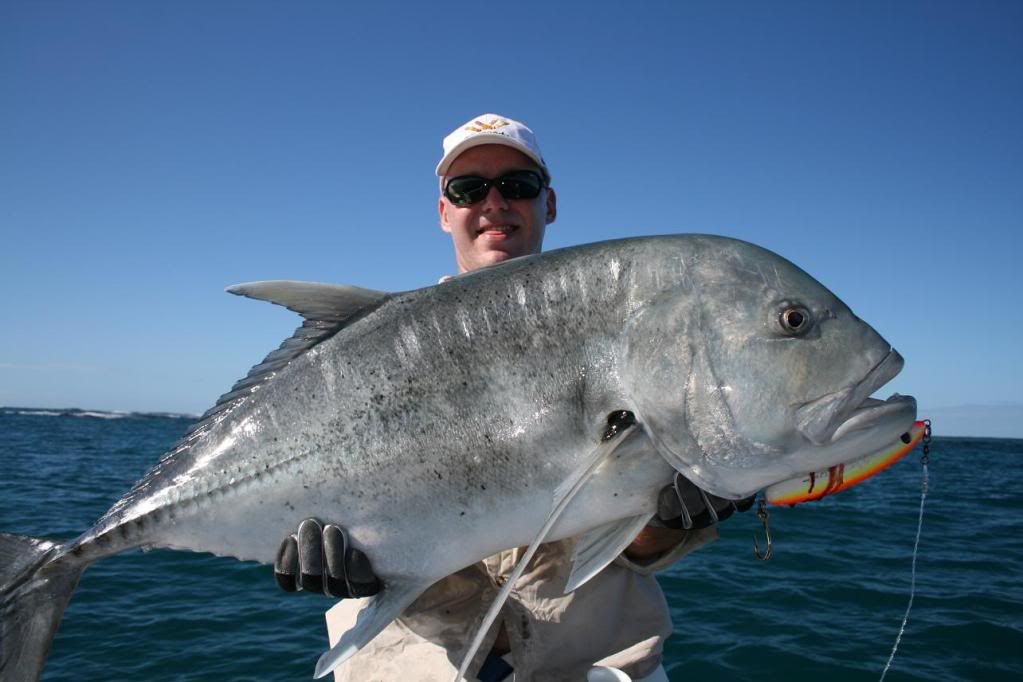 number 10 of the session
Here are a couple more from another quick session at another area, we used stickies because it was quite choppy and we were pretty stuffed from the day, stickies are a bit easier to work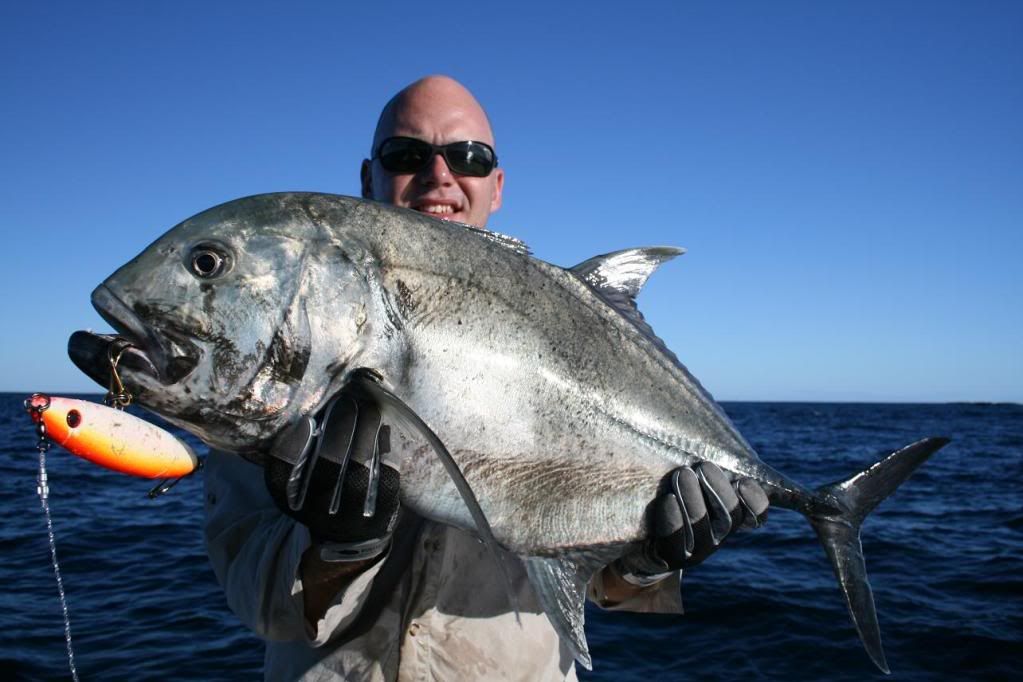 Number 12 and my 8th, on that same stickbait - the orion 140 bigfoot
We rounded out the day with another dive, Tim once again provided with a couple of nice cray's to accompany our sushi.
The next day we had planned to go out wide for a jig, although the weather didn't let us. We instead dedicated some time to searching for jacks and fishing inside the islands. We dived on some new spots and we found some massive jacks to 80cm on a huge ledge in 12m of water. I did manage to catch two on SP's, biggest however was 52cm. We do know where some massive jacks live now so look out next time we go back. In the arvo we chased some squid on the flats for dinner, we managed 4 nice squid and Tim knocked up a mean salt and pepper squid entre to accompany our fresh coral trout sushi. We headed out to tryal rocks again late in the arvo, I managed another two G's while time dropped one, not too bad for an hour.

like its puffing on a cuban, a nice fish of around 20 - 22kg's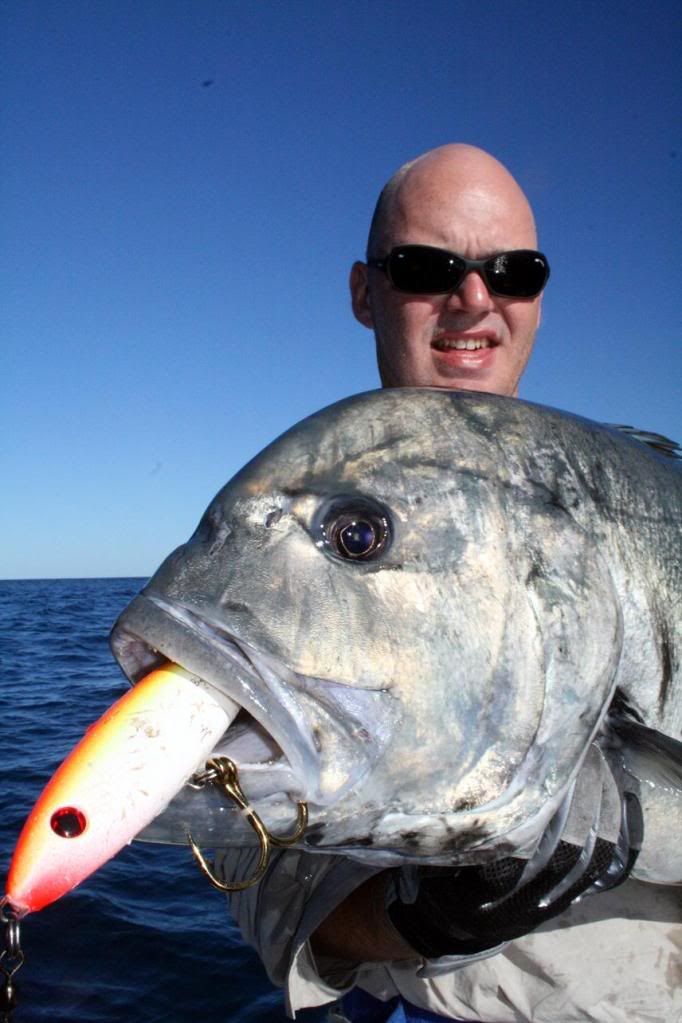 another shot of the same GT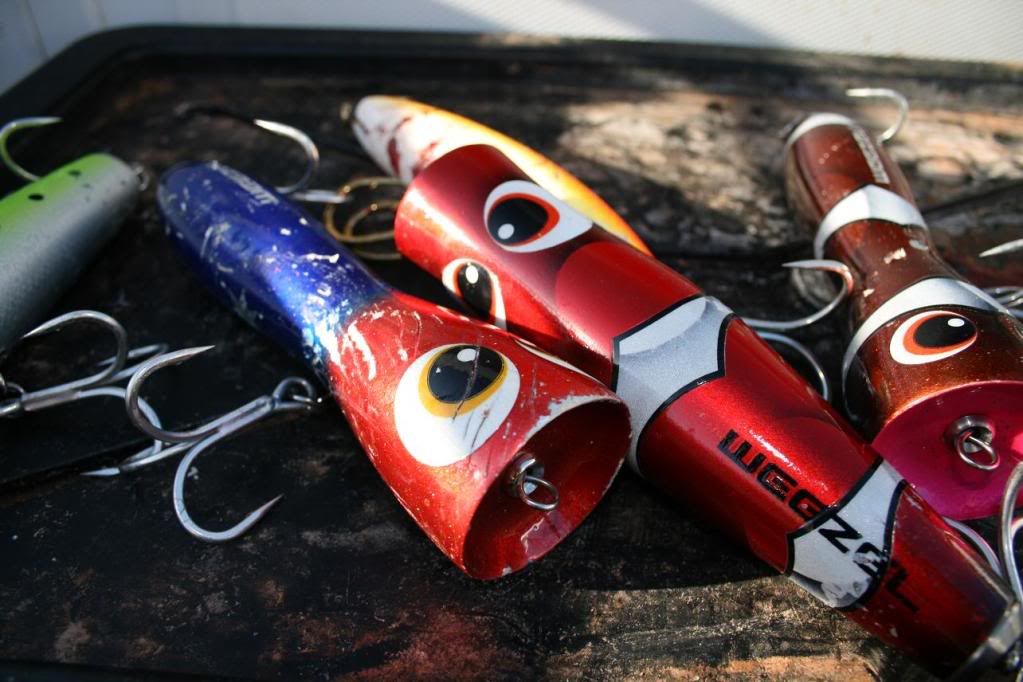 some of the tools of the trade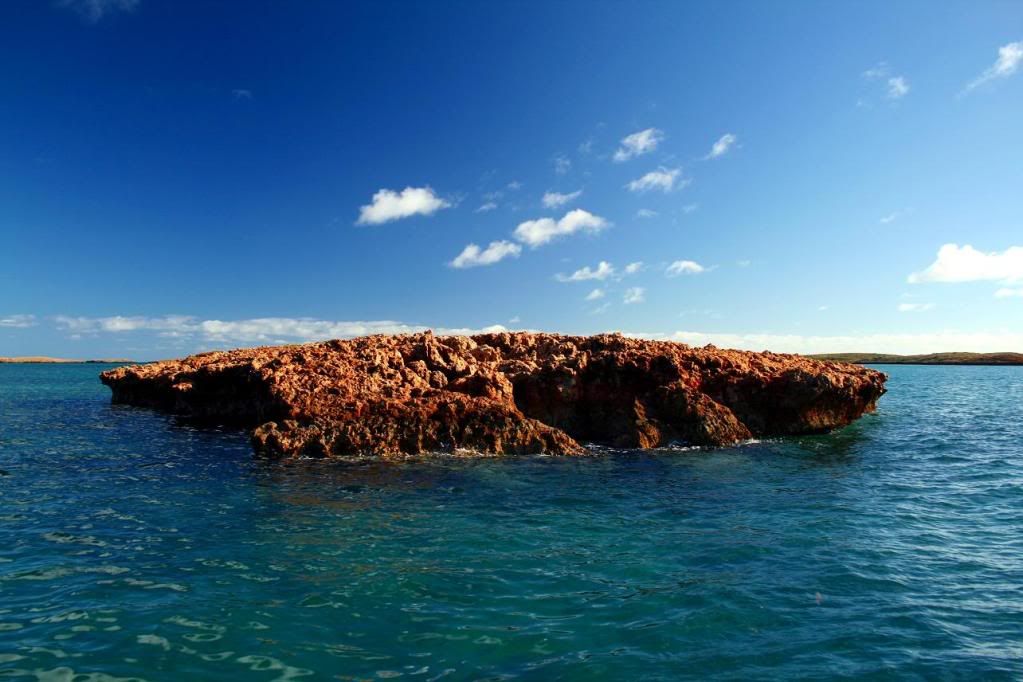 A likley looking spot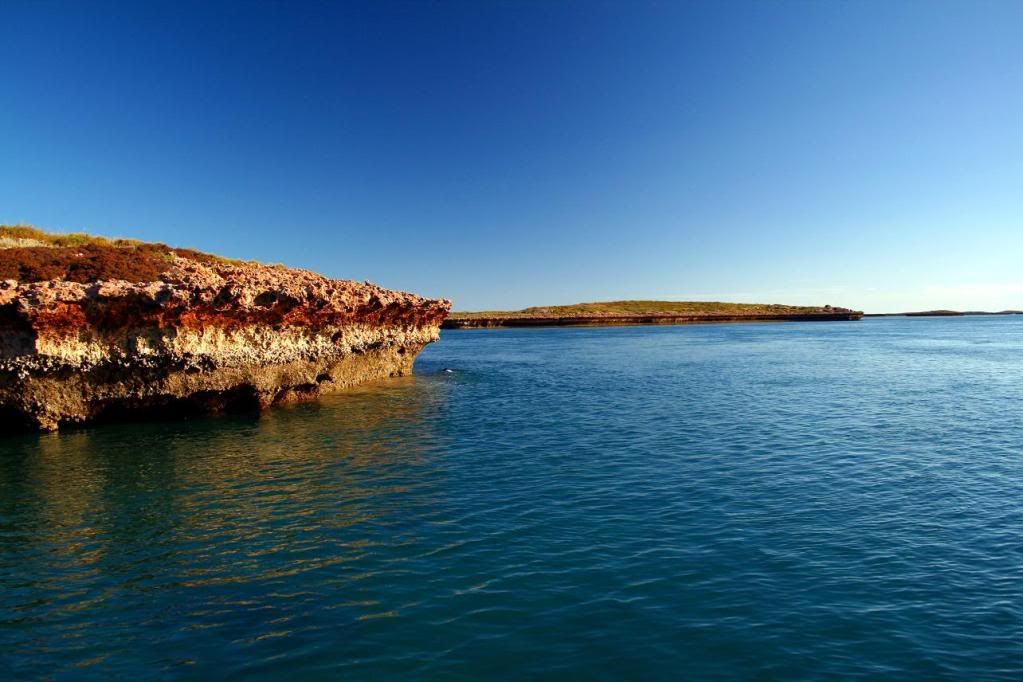 Another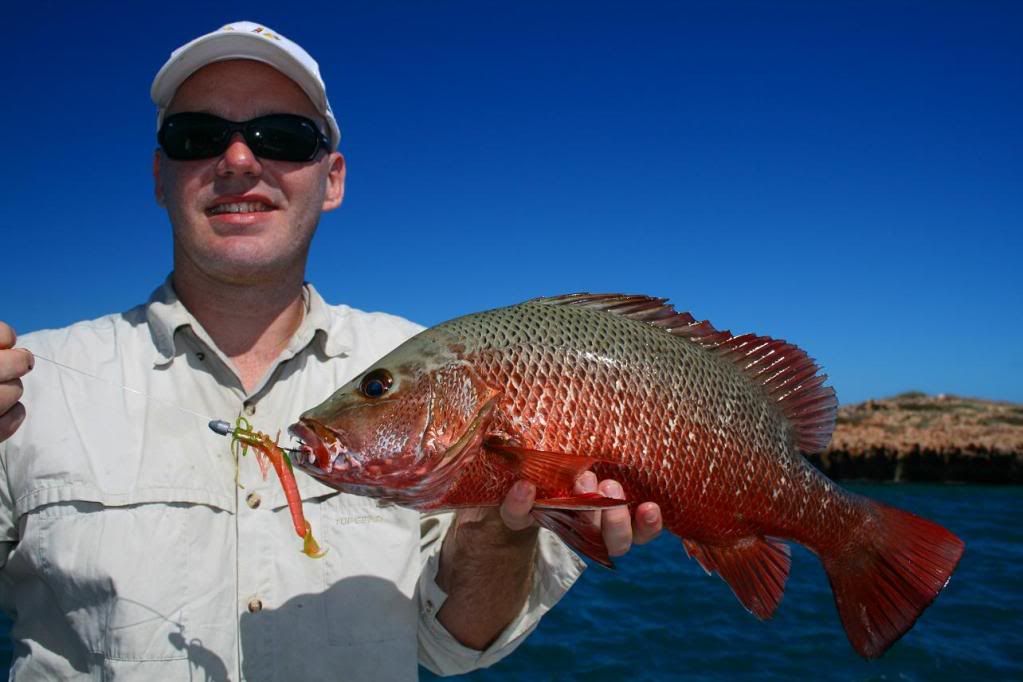 A nice jack, my first at the montes and on an SP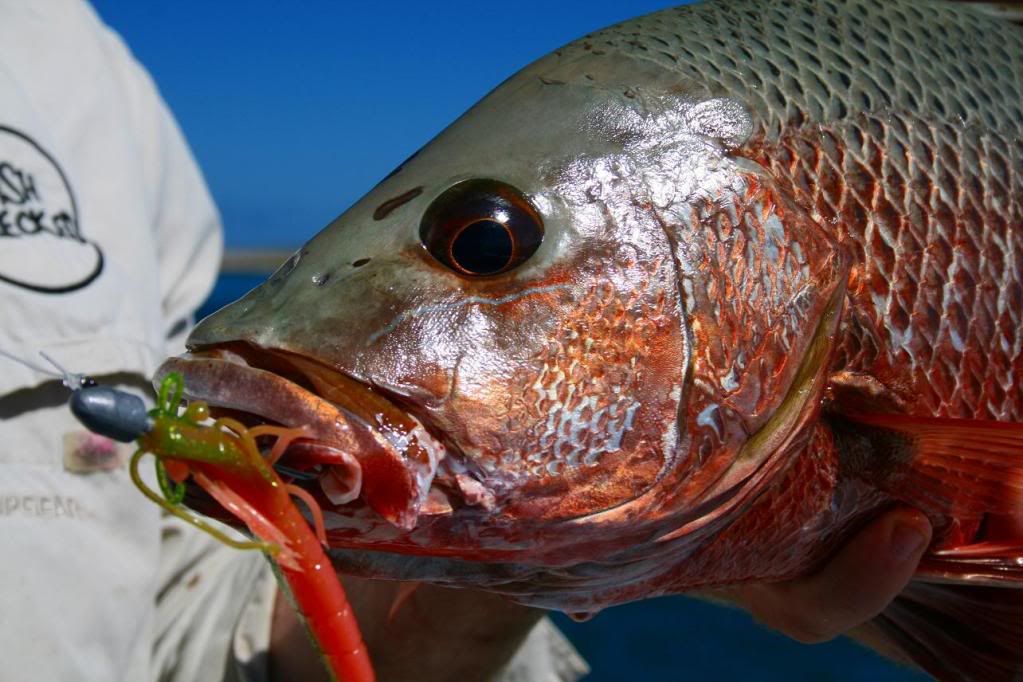 52 cm jack, released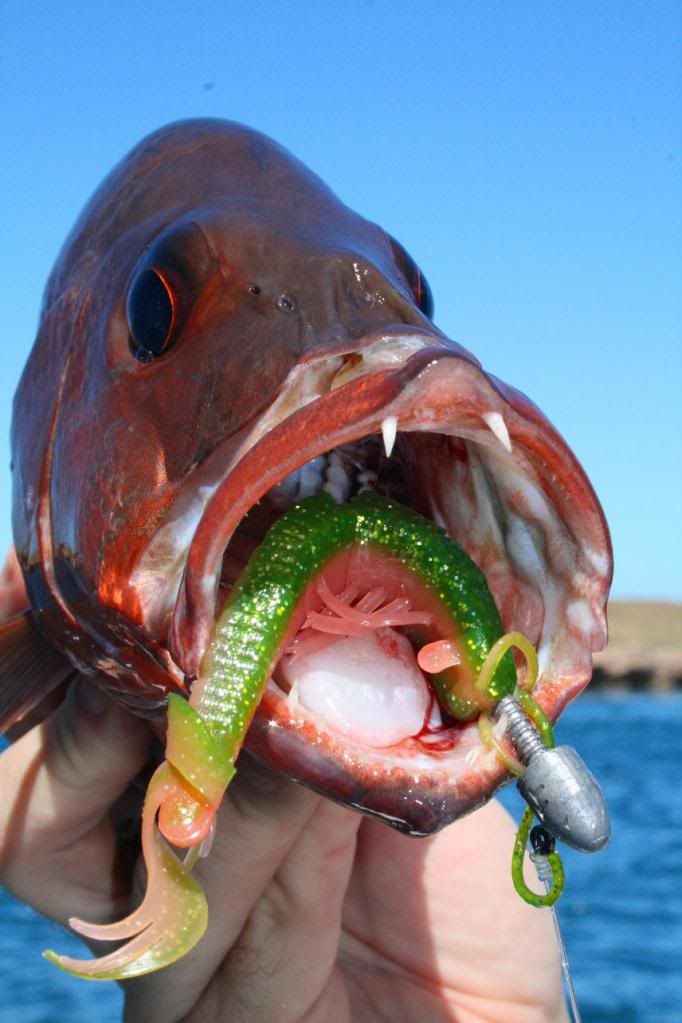 Another hungry jack!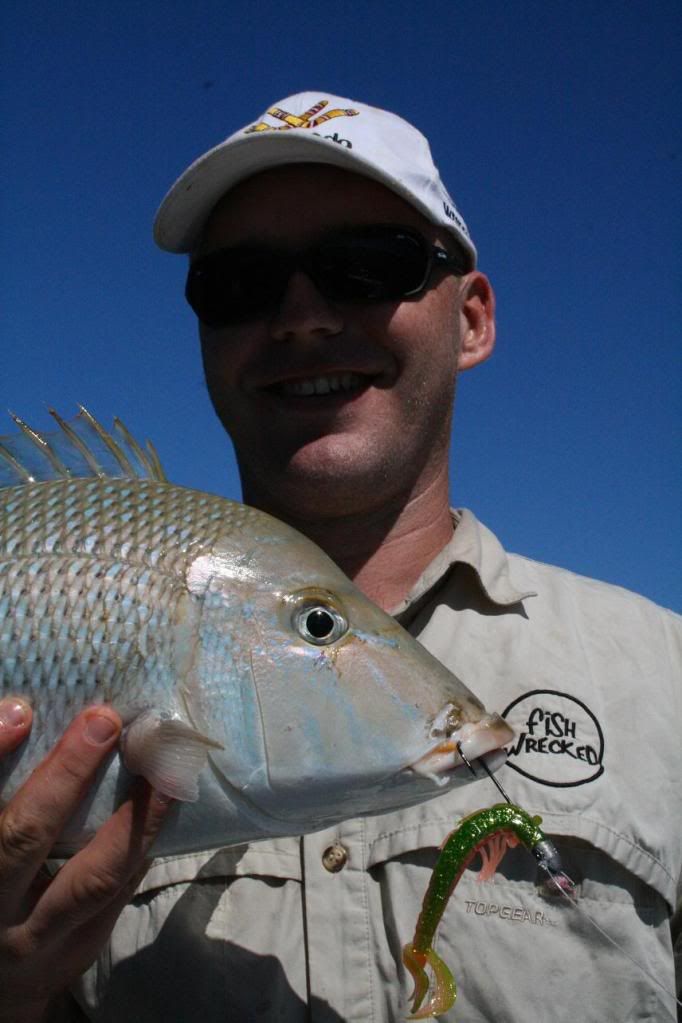 Spangos were pretty thick, we caught quite a few on SP's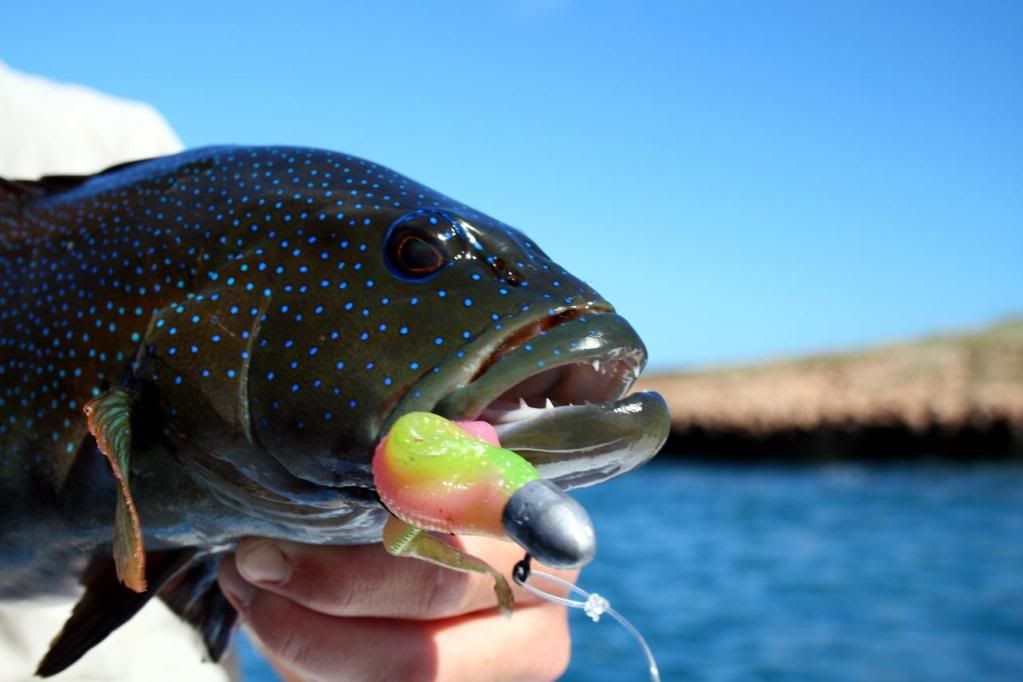 Another trout on SP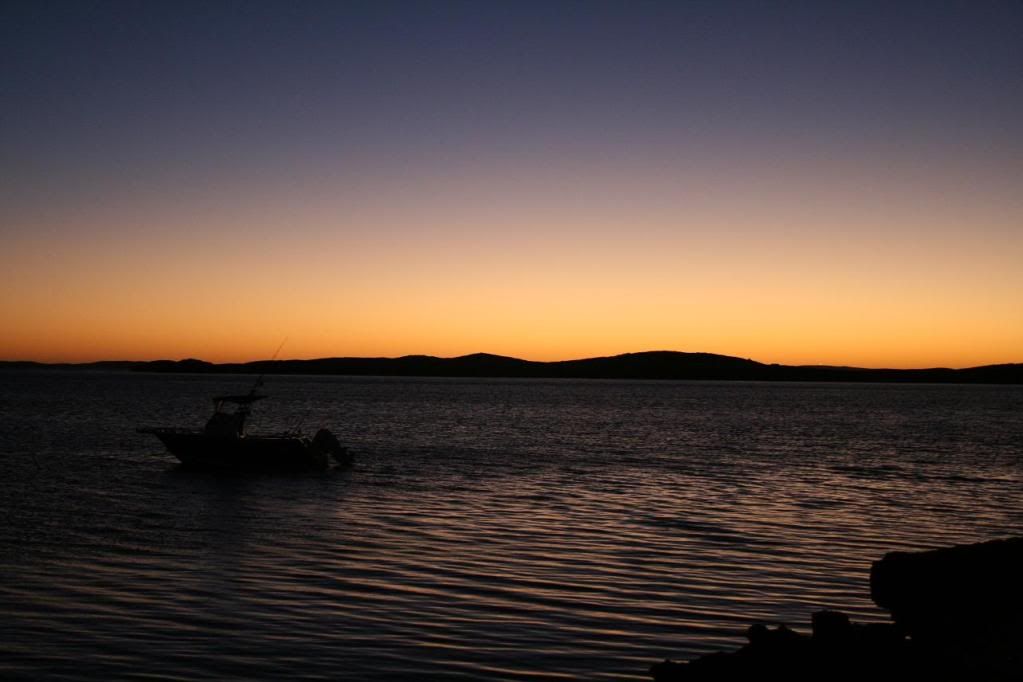 A nice final morning
Well on Thursday we wanted to go grab a few trout to take home with us, the wind had come up a bit, that combined with the bigger tides made things a bit tough. We managed a few trout still, it is pretty easy in this place. We went back to camp and packed things up before heading back to shoal for the night. We almost didn't make it, with the bigger tides we had loaded the boat will all of our gear at the montes and almost got stuck on the reef with the low near our camp site, a few more minutes and we would have been there for another night, can just imagine what the missus would have said.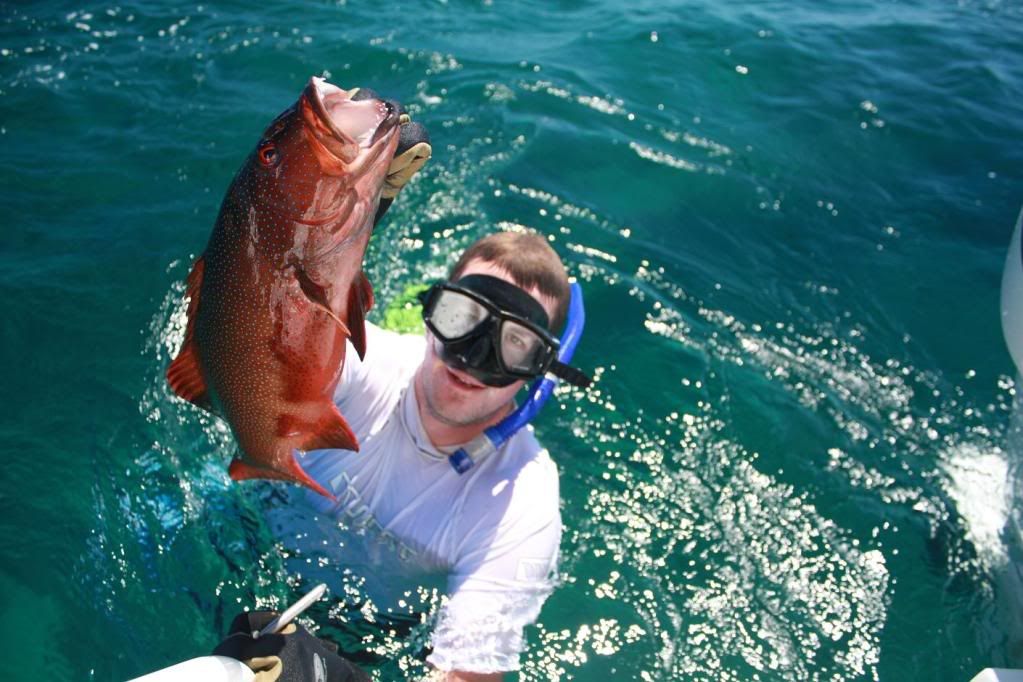 Lucky Tim doing his thing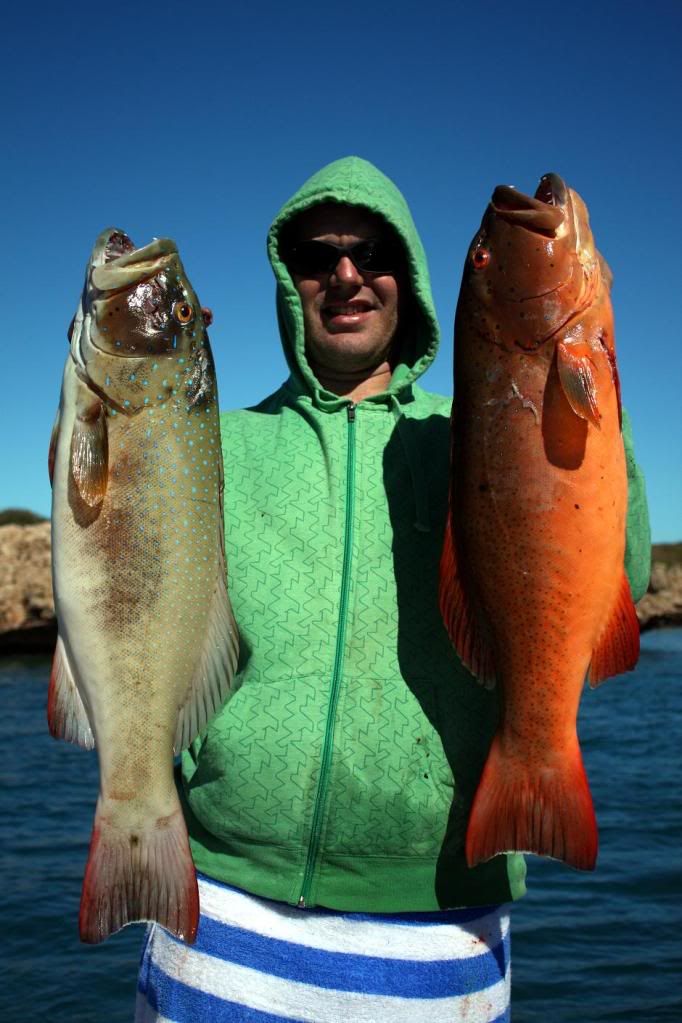 A couple of nice trout for the missus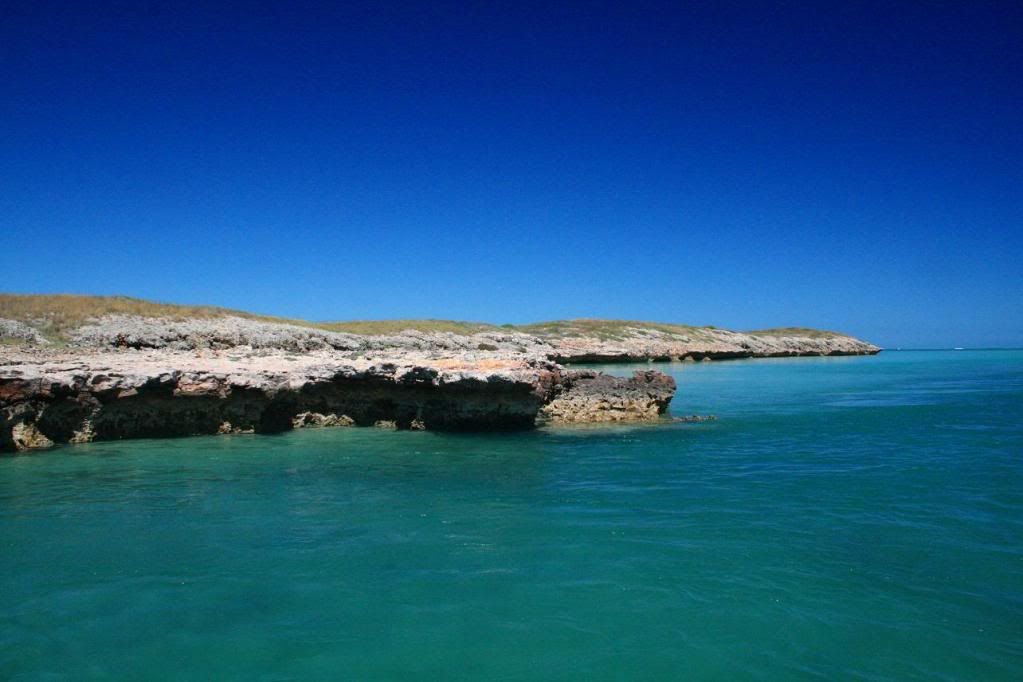 One of the many nooks in the area worth a dive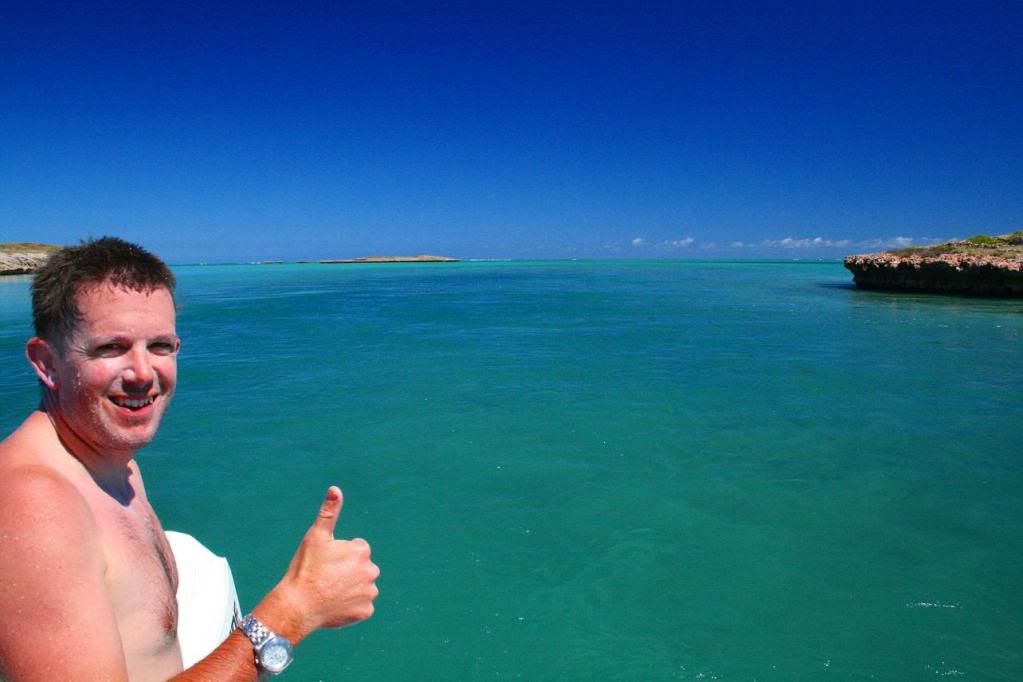 Tim gives his approval to a great trip
Anyway after a relatviley fine transit through to shoal wherre we spent the night, we came home friday morning. Overall a bloody good trip. 4 days of good food, good company and a bloody awesome location. I realise now how much more time I need to uncover a lot of the secrets of this place, starting to get a few things sussed now. Cant wait until the next time
Cheers
Brad and Tim