SITE HELP - External Image Linking
Submitted by Dreamweaver on Wed, 2008-09-03 10:20
OTHER SITE HELP
For a list of other HELP topics, including an introduction to posting and computing terms, refer to this Index Thread
Previously, I covered the most basic method of posting an image via this site's Create Content - Photo facility. The thread for these instructions can be found by clicking HERE .
Now I'll move onto more elaborate situations away from that procedure. These situations are for where you wish to:
add a post to an existing thread and imbed one or more images.
start a thread and and imbed(display) multiple images.
This is the first of three methods mentioned in the Intructory thread (OPTION 1) and it involves UPLOADING your images (pictures) to a REMOTE HOSTING service.
Of the three methods, this is the easiest to use once you have set up the REMOTE HOSTING facility.
How to use these REMOTE HOSTING services is scope external to this thread.
INSTRUCTIONS
NOTE - If you are going to post an image or images, and follow these instructions as you do it, then it suggested you open two sessions of Fishwrecked and display this post in one, whilst you perform the posting in the other. I find it easier to open two separate browser sessions rather than two tabs within one session. Then you can use ALT/TAB to toggle (swap) between them.
STEP 1 - Create a REMOTE HOSTING account.
STEP 2 - UPLOAD your image/s to your REMOTE HOST.
STEP 3 - Start your new THREAD, or open the existing THREAD you wish to add a post to.  
STEP 4 - If it's:
a new THREAD, complete the necessary fields above the Body field (where you type/paste in your text).
an existing THREAD, complete the necessary fields above the Comment field (where you type/paste in your text).
STEP 5 - About your text and image/s: 
Now you type in either the Body or Comment field your text and link to your externally hosted image/s. You can approach this is one of two ways. Either type in all your text and link to your image/s later, or type in your text and link as you go. Most, I think would take the latter approach.
You'll need to have both this site open and the remote site. Again, I'd suggest you have two separate browser sessions open, rather than two tabs within one browser. That way, you can use the ALT/TAB keys to 'toggle' (swap) between your images and your post on this site. (Of course if you are doing this whilst following these instructions, you'll need three sessions open!  :-0 )
Assuming you are going to type in the text and link to your image/s as you go, you have one last decision to make - placing the text before the image/s or after the image/s. Or, you might want to put a text name/description to the image above and place the text below the image.
For demonstration purposes, let's assume you are going to create a new thread via this sites Create Content - Forum Topic facility and :
NOTE: You don't have to follow this forat. You can choose to omit picture titles 
Put some text in first
Add a title to one of three images
Link to (display) the first image
Add some more text to describe or comment on the image or otherwise add more info
Repeat steps 2-4 for the other two images
Finish off with a closing comment or two
Ok, here we go, step by step:
STEP 7 - Create the thread by clicking on Create Content - Forum Topic: :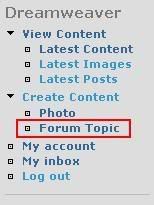 STEP 8 - Now decide on a Subject, select the appropriate forum and type in your introductory text : :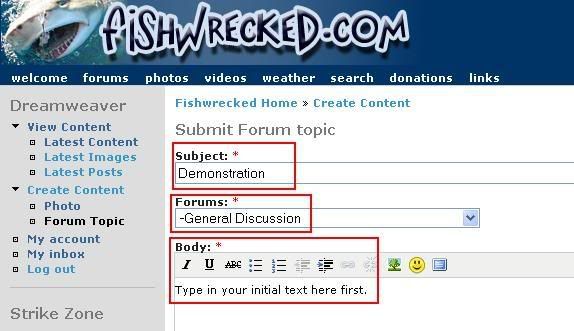 STEP 9 - Now add the title of your first image : :  

STEP 10 - Link to your first image:   
In your selected REMOTE HOST where you have UPLOADED your images, you are looking for some code (text) that will display the image when you finally submit your post.  For this site, the code MUST look like this:    
[IMG]http://i303.photobucket.com/albums/nn130/___DREAMWEAVER___/Forums/13.jpg[/IMG]    
The code will usually be below the image you have uploaded. There will be other code strings, but it's the one that starts with [IMG] and ends with [/IMG] that you are after. The others simply won't work (display your image).    
Copy and paste this code into your post below the title you previously added. It should look like this:    
Don't worry that you can't see the image - this will happen when you submit the post.    
STEP 11 - Add your descriptive/additive text:    

NOW, repeat steps 9 to 11 (inclusive) to add the title, image link and descriptive/additive text for the other two images. It should look like this: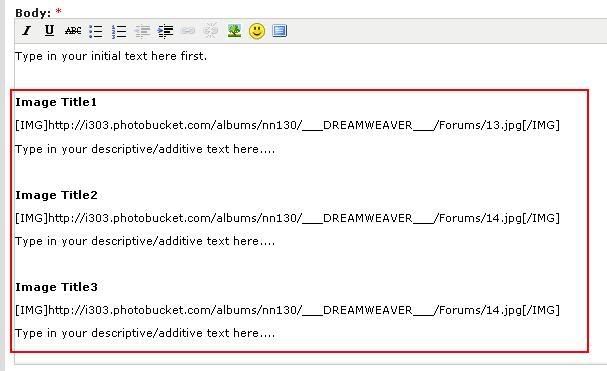 ALMOST THERE!
STEP 12 - Now add your final text: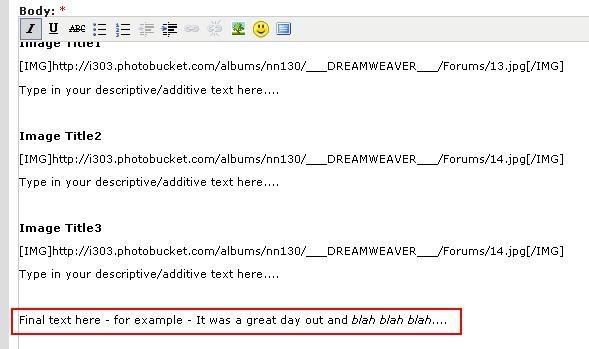 STEP 13 - SUBMIT YOUR POST!      
____________________________________________________________________________
Soon to be de "dreamweaver" ed!