Murray Madness
Submitted by ca11um on Tue, 2012-03-27 21:19
I gave the Murray a go for the first time ever and all i can say is that the fish in there are BRUTAL-even the Blowies hit harder :D. I have had a blast Breaming in the last few days, actually getting some good fish which never happens enough. I went on a huge Tackle spree, buying all sorts of lures for my quarry, the humble Black Bream (half of it is yet to arrive). Enjoy the pics and report!! Callum
SUNDAY...
With a new array of lures i headed out to a little spot that has a heap of Bream around it(not in the Murray), just they are really finicky. I spent 2 fruitless hours when I hear the dreaded sound of "we are going home now Callum". I quickly flicked my Micro Vibe in to a tight corner between a Boat and pontoon and was on with in a matter of seconds!! I could see him nicely in the crystal clear water as he took a few lunges before finally coming onto Terra Australis. He flopped around as i got a couple of pics and chucked him back quickly. He went 24ttf, just under legal. I was glad to actually catch a fish after seeing fish after fish follow (some monsters to!!) the lure but not actually eat it.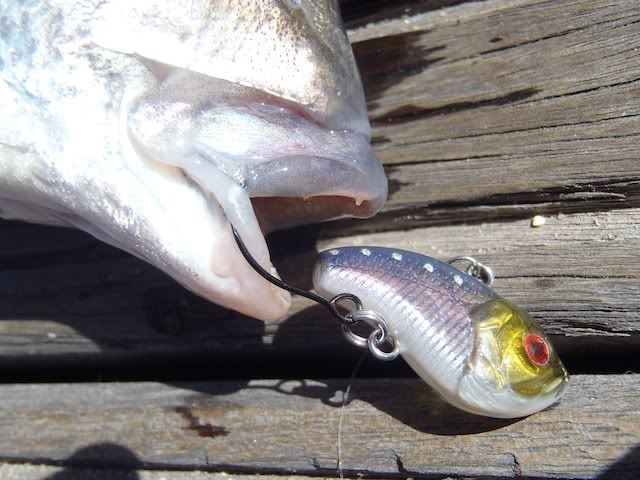 TUESDAY...
I sat on the computer all night monday, looking at pictures of giant Murray River Bream, obsessed, idyllic and glued to the screen. Huge blue-lips with with bits of plastic hanging out of their mouths had me frothing at the prospects for the next day, my first time fishing the mighty Murray!! I looked around and asked a few questions before hand on where i should i go and settled on the Ravenswood Bridge. Its reviews and easy access for Land-based anglers was appealing so i snuggled in bed, those big blue-lips playing over and over in my mind!!
I got up as soon as my eyes opened and was full of excitement. I grabbed my gear chucked it in the car and headed out to Bream land. I got out the car, grabbed my gear and stopped to check out the river. 0900 and i turned to see me standing standing in front of the Ravenswood Pub, not a good look at 9am :D. I went into Bream mode and walked down the bank and cast out my Micro Vibe. 2nd cast and BANG, a solid fight and powerful lunges with brutal headshakes. I just managed to pull him past a pylon without nicking my leader (love Harris Fighter). I slipped him up onto the bank and couldn't believe how hard this thing pulled. Way harder then any other Bream of the same size!! His Muscly flanks covered in dark armoured scales twitched in the sunlight as i picked him up for a photo. Measure him and he pulls the tape back to 25ttf. Legal and my first Murray Bream!! He probably summed up Murray bruisers that inhabit these waters-aggressive, angry and powerful!!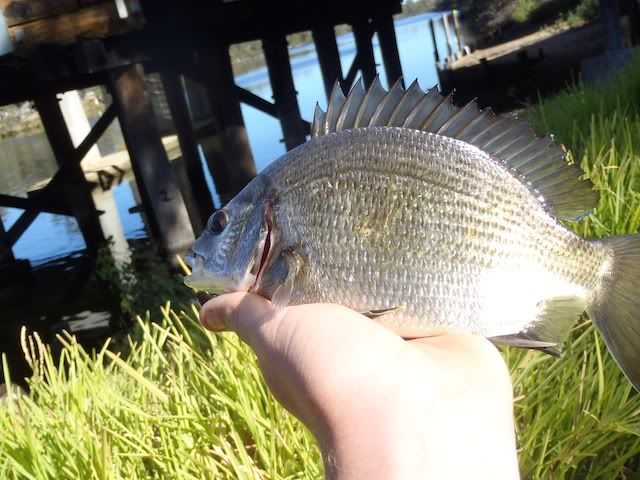 I changed over to an Atomic Shad 40 and was winding it in a little less than walking speed and was belted by a rat. It hit well above its weight and was shocked to see a tiny Bream, barely bigger then the lure, at my feet.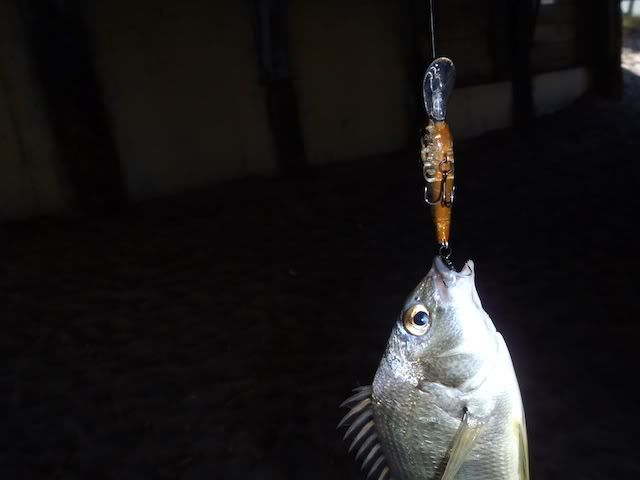 Next cast and paused the lure on the edge of a drop-off and a Bream grabbed it and ran with it. It to hit like a Elephant on steroids but it didnt stay connected, bummer :( Felt good to...
I kept flicking the Shad around and got snagged on a rock :(. Busted it off and tied on a SX40 when i seen my lure float past me. I wound my SX40 over the top of it and pulled it back in. Overjoyed does not cut it :p I put it back in me box and persisted with the SX40. One little rat that again belted the lure like a psychopath.
I tied on a Plastic to see what else they would hit but that only resulted in a snag and loss of jighead :( Tied on a Ecogear CX35HS and started plugging the pylons. Mum was pulling up in the carpark, those words appeared in my mind again. I kept winding my lure in again with aggressiveness and a beaut Bream smashed it. Solid headshakes rattled my bones and my super tight drag was being tested as the Fish powered off. I pulled him away from the timber and could see him flashing around. i pulled him up and onto the bank. A great last fish!! Couple of happy snaps and back he went!! Went 26-27ttf.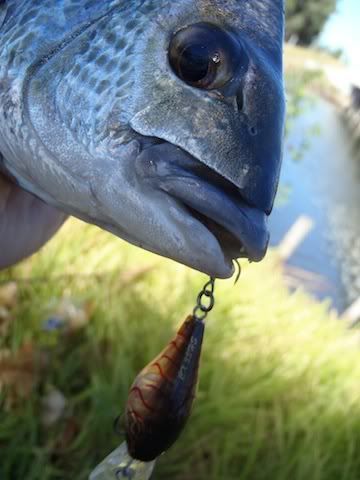 Just as Mum pulled up in the background!!
I was stoked on my first sesh at the Murray and cant wait to explore more of the area!! Thanks for reading!!
Cheers, Callum