Abrolhos Islands Trip
Submitted by ca11um on Tue, 2012-07-10 17:49
It all began about 2 months ago one night when i was slowly monitoring the forums. Back hunched, half a sleep, slouched back in my chair. I needed some motivation. I scrolled through the reports and various threads on the WAUC website, looking for something that would catch my eye. I hit the top of list and the words "Abrolhos Spearing Trip" caught my attention straight away. I straightened up, leaned in and clicked on the link. The thoughts of big Dhufish, reel screaming Mackies, gear wrecking trout and Bulky Baldchin Groupers appeared in my mind as i read through the comments.
I had always wanted to go to the Abrolhos Islands, hearing stories of huge schools of Mackies cruising through the drop-offs, massive Dhufish patrolling their territory, Big Baldies delicately cruising through the sand patches and the stories of Crayfish that were hidden in every nook and cranny just made me want to grab my gun and catch the first plane up there!! It sounded like the kind of place where miracles are born. I had a chat with Dad and he gave me the OK for the trip. I slapped myself in the face, making sure i wasnt dreaming. Pain rushed towards my face, but not the kind of pain that makes you cringe. It was the pain that made me realise that i was actually going to this awesome place!!! I was finally going to the Abrolhos Islands!!!
2 months later and i was running around like a Mackie that had a spear planted through its tail. I packed all the essentials and some. The tinny was hitched on the back of the car and we took off. I read nearly every article in my spearing mags on the way up, i couldnt sit still and i was buzzing to get out there. After about 6 hours of driving we finally reached Geraldton. We grabbed some food and headed towards the Harbour. We pulled up and there was a few other guys patiently waiting on the boat that was going to be called home for the next few days, the Island Leader. We loaded our gear on the boat and had the Tinny pulled up on top of the Island Leader, via a crane. More and more cars and boats pulled in and the big boat was slowly filling up. Eventually we got all 6 boats and all 23-25 WAUC members on board. The Island Leader was pushed off and the big diesel motor was started. Excitement came over me when i heard the big motor come to life, the trip i had been waiting ages for was finally happening.
Once we were out of the Harbour, majority of the club went to sleep in the tiny mattresses at the bow of the boat. Ear plugs were a necessity with belching motor chugging along. It took me a while to fall asleep because i was just buzzing like an alarm clock. What fish would we see? What fish would we shoot? What fish am i gonna miss that will haunt me in my dreams? Questions like these were flying around my head. I eventually got some sleep at a very late hour, only to be waken by the extremely loud Anchor that went down at about 3:30!! I got up after that to see what was happening outside. There was a few people outside as well, they had obviously been disturbed by the Anchor chain as well. I looked around the back of the boat and i could faintly see the outer reefs breaking. The bottom was just visible at about 4m deep below the boat. I slowly walked back to bed, waiting for sunlight to arrive.
The whole club was as busy as ever, preparing their guns. Sharpening spears, bending spears, making rig lines and lots of other little adjustments were being made as i crept out of bed. There was a few words spoken by Joe Petrovich and after that it was straight into getting the boats off the Island Leader and into the water. The little boats shot out in various directions, making white lines across the surface as they skipped across the flat ocean. Finally our boat was on the water and the gear was loaded on.
After inspecting our first spot which was crap, Jacques, Dad and I shot off towards a little reef edge that dropped off from about 6m to 12m or so. I jumped in and as soon as the water hit my face i instantly felt better, not diving for a few months takes the life out of you!! We followed this along spotting an amazing array of sea life. Those big baldies i had heard of were everywhere and there were so many parrotfish and other reef species nipping at the coral reef. First few dives were amazing, inspecting the reef overhangs and just soaking up the whole experience. I took a dive and spotted a nice Spangled Emperor swimming away from me. I silently followed him and just as he turned to see me i fired a shot that semi-stoned him. I pulled him up and marvelled at my prize, my first Abrolhos fish!! I got Dad to take a couple of photos and then straight back into it.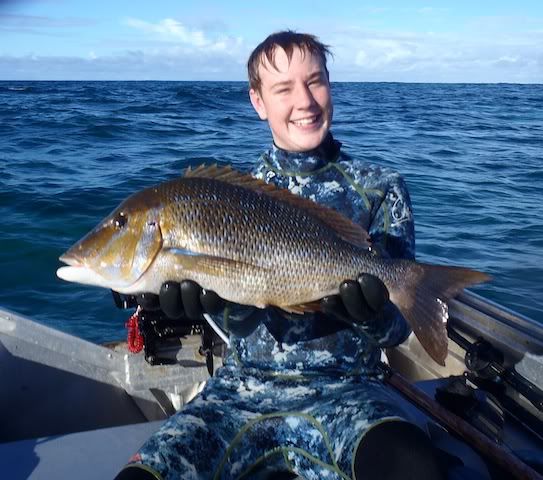 Jacques pinned a nice Baldchin Grouper after my fish and i could tell today was only going to get better!!!I I followed the reef edge south of the Boat and met up with Dad there. He took a dive and took a shot at another Spangled Emperor but the spear pulled out. The footage turned out great though!! I was trying to get some footage of all the fish and got right up close to some fish. I found a nice little kink in the reef and i was watching Dad dive down and inspect the ledge. As he popped up i turned around and thats when i seen him. It had that characteristic boofy head with two bulging eyes like light bulbs. It was staring straight at me and I dove down to meet the Dhuie.
As i got closer he turned and i took the very first shot i had it. At first i didn't the spear had gone all the way through but then i seen the flopper engage as he bolted for the bottom. I was relieved and just as i looked down at my fish, another 5 or so Dhuies arrived!! There was one that would have been pushing 15kg+ but we were only allowed to spear 1 Dhuie per boat!! I focused back on my fish and after a short tussle i pulled him up to me. I stuck my hand in its gills and got Dad to take some footage of my first freedived Dhuie. As Dad was filming we seen a black shadow to the side. We turned and seen a big Seal who was very keen on a slab of Dhuie, but i wasn't letting him anywhere near it!! We filmed the seal for a while and then we never seen him again, thank goodness!! I was so stoked to finally get a Dhuie freediving :D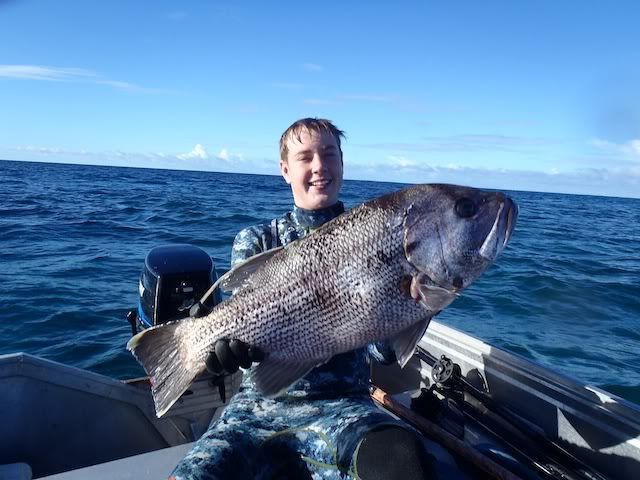 After that we moved along the reef edge and came to the tip of the reef. The water got deeper and bluer and we all jumped in like a flash!! I was getting deeper and deeper with every dive and was soon reaching 15m which is a PB depth for me. I spotted some big Trout in amongst the bommies and i was trying to nail one of them but couldnt get close enough. Dad on the other hand had shot a decent fish that had reefed him so with a bit of team work we eventually got his fish out. I could almost taste the trout on my tongue when he chucked him in the boat, mmmm :D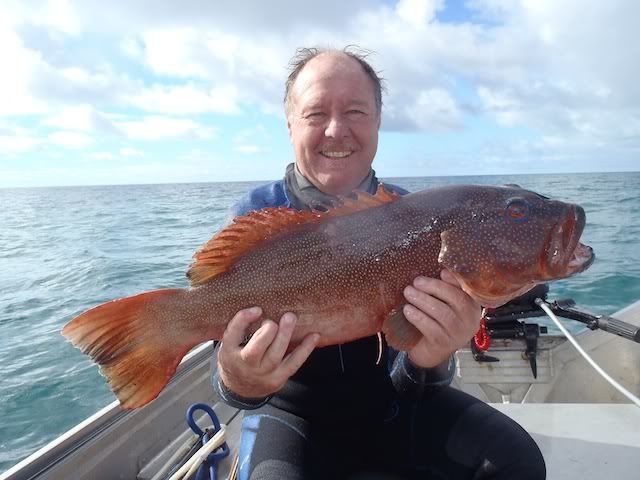 We kept looking around and Jacques shot another decent Trout as well which went awesome with the curry we had that night!! Not much else was seen for the rest of the day except for one big mackie which i seen but he was too cagey and i couldnt get a shot :( After that we headed in for some lunch and waited for the other boys to come in.
After a little while i decided to have a flick with Dads Tuna setup that was rigged with a 20gm twisty so i cast it straight from the back of the Island Leader, let it sink and started winding. 6th Crank of the handle and BANG, zzzzzzzzzzzzzzzz!! Something had smashed it and after a 10 minute tussle on the light gear a 8-10kg Shark Mackerel was fighting hard underneath me. Jacques quickly raced over and put the net under him and brought him on broad!! First Shark Mackerel ever which was a big surprise and i was still in my wetsuit :P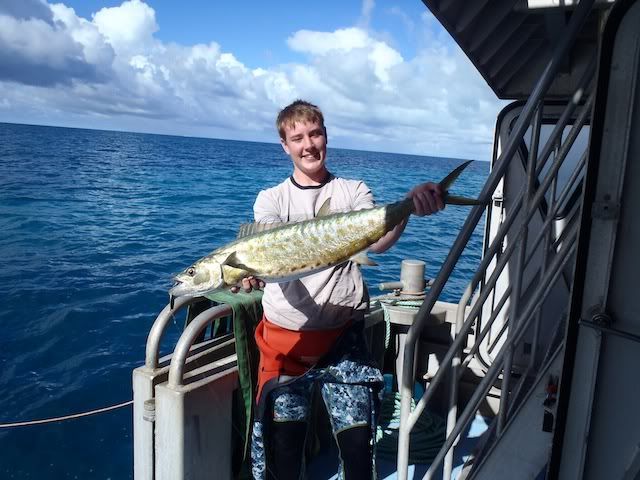 Finally the other boats came in and they cleaned up with Coral Trout, Dhufish, Mackies, Wahoo, Baldies, Coronation trout and various Emperors.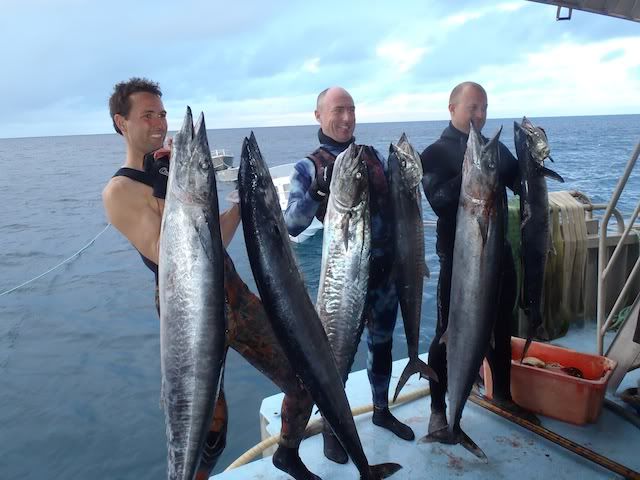 Story's of the one that got away were frequent and there were some great tales told!! A few Sharks were hassling some of the boats which was unnerving and some were quite big as well o.O Dinner was awesome, Green fish curry was superb and the battered Dhufish was deluxe!!! We ate like kings, everyone stuffed themselves with fish and it was an awesome feed. After that awesome feed i hit the sack ready for the next day on the water ;)
I was woken up by the ruckus outside and i got up to see all the boys running around getting sorted. I looked outside and the sun still wasnt up, not something i was used to. By the time the sun had hit the horizon everybody was straight back out there heading towards fish rich grounds. Dad and I headed out to try and see if we could find some Baitballs but that plan was canned as the weather was hairier then we thought. We ended up anchoring on a deep drop-off and waiting for the Macks to come to us. We stayed there for a little while and only had a few inquisitive Shark Macks come to the party but we were after Spanish Mackerel.
We upped the anchor and decided to go and see if we could nail a big Baldie in close before the wind blew us away. We found some nice bottom adjacent to some sand and the Baldies were everywhere but we were really looking for that monster one. I seen one bruiser but he was so cagey, as soon as he seen me he was out of there!! So i gave Dad the camera and he filmed me shooting the next biggest one we could find. I stoned him straight away and was pretty happy that dad filmed the whole thing :) After that we headed back in as the weather was getting worse by the minute. We got a couple of shots of the Baldie and then awaited the rest of the boats.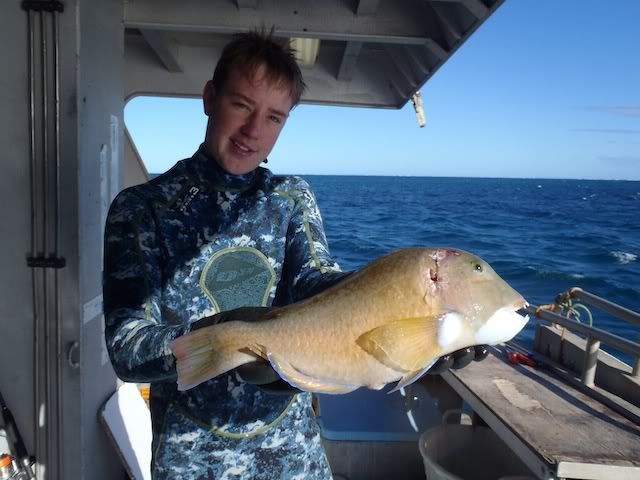 Another heap of fish was brought in by the other boats but was lacking Pelagics. The fish were cleaned and then boats were lifted atop of the Island Leader again. We began to head back to geraldton, leaving the pristine and fish filled waters of the Abrolhos behind :( I was happy with what i had got though and i can't wait to do it again!! As we got out of the Islands the swell became pretty big and the boat was rocking back and forth, making everybody who was walking look like they were drunk :P I had a little sleep, or at least tried to but i kept sliding on my mattress cause of the swell :P
Once we reached the harbour, the gear was unloaded and we said fair well to everyone. We stayed at an old hotel in gero and i still couldnt contain my excitement from those past few days!!! I was so happy with all the fish we got and cant wait to do it again!!! Thanks to all the guys from WAUC who made this awesome event possible, it was one of the best experiences of my life!!!
A video of the trip can be seen here,
Cheers for reading, Callum