New Electronics Install - Worth it!
Submitted by JohnF on Sat, 2016-05-21 22:58
After many months of research, then several long days and nights of modifcations and install, the Whaler electronics upgrade is complete. Its been a labour of love over the past few weeks, not to mention a heap of bucks. Worth it.........shit yeah!

First off, had to pull out the old Airmar 1 kW SS264 transducers and Furuno FCV587 that have served me so well and caught plenty of fish. Good gear always sells easily, this has been excellent stuff and will no doubt serve others well for many years. But the itch to try new stuff had to be scratched.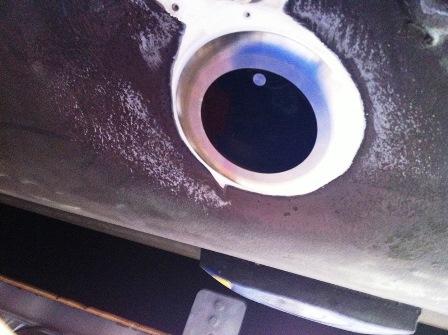 With a few dirty great big holes in the hull, out with the grinder and fibreglass. Ended up routing out inside the hull to create an hourglass effect as well as fully feathering the inside and outside.


Then filled the holes building up layers of chopped glass matt, glass matt weave and glass dust reinforced epoxy to fill the hole. Well over 15 layers of layup and this is a repair that will never fail! First time I have used fibreglass, a bit daunting to start and apart from a bit of an overheat when I did a layup too thick, it is pretty easy and quite rewarding.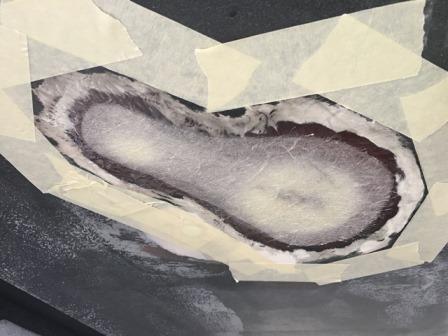 Then onto the new transducer. Almost everyone who I spoke to here and overseas said the transducer with performance fairing is way too big for a 23 ft boat and would adversely affect the boats handling etc......I wanted the best transducer performance....period.....so I ignored the lot of em. When this beast arrived, I almost fainted. This thing is huge!


Measured about 50 times, made up dummy foam copies and finally cut the fairing on my mates band saw.

Installed along with the 2 other thru hulls in my arsenal......a total of 3.7 kW of transducer power covering High/Lo CHIPR, sidescan, downview, medium chirp and hi/low tone burst with all 3 transducers able to be electronically switched via the head units to display any combination. Happy to report no noticeable effect on the boats performance despite this beast hanging down well below the Whalers keel.

Onto the head units.....time to make space for a second 10 inch screen. Had to move the radio to the overhead hardtop to make enough room.


Had to do a lot of cutting, shutting and more fibreglassing of the dash to get these bad boys to fit....just.

First trial was straight out for a deep drop. Performance was better than I had hoped.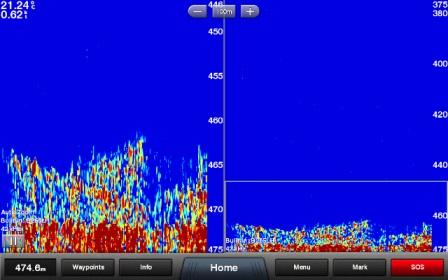 The result, my daughters boyfriend Ross with a nice Blue Eye.

Very satisfying doing everything yourself and it actually working better than you expected.
____________________________________________________________________________
Boston Whaler 235 Conquest......getting the flogging it was built for.