The search for the perfect O/H reel SAGA
Submitted by JohnF on Sat, 2017-03-18 10:40
I posted a while ago seeking opinions on OH reels for bottom bashing and a few times over the years looking for the best OH jigger, so below is the SAGA of my searching and the arsenal that I now have. The SAGA may be of use to some and entertaining for most....
My main beef with reels is the retrieve per crank. I have found the sweet spot is 80-90 cm per crank, regardless of it being a jigger or bottom basher. It gives a good balance of cranking power, speed and balance when mechanical or slow jerk jigging. I don't like high speed reels except for very specific duties....my old HG Stella 10,000 was great ONLY for popping. Hopeless for anything else.
My first search was for a PE3 OH jigger. After much chagrin, I ended up with an Ocea Jigger 1500NRPG I imported from Japan as they are not sold here, one sweet little reel with the perfect low gear ratio that I landed heaps of fish with, until I dropped it over the side 10 minutes after a great white "buzzed the tower"......I watched that sweet little outfit sink into the inky depths with a tear in my eye and fear in my heart as I had almost jumped over to grab it before I recalled the mini submarine with teeth that had been circling us minutes before.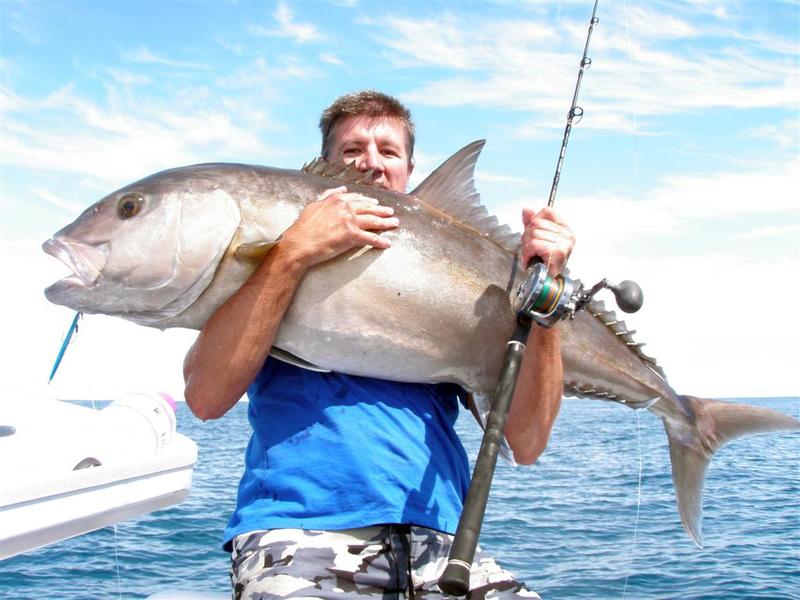 The old (2003) model OJ was no longer available so I ended up replacing the OJ with an Oz spec Trinidad 16N. Great reel but 6.2:1 ratio sucks balls and I ended up running with only a 1/4 full spool to get an acceptable ratio but it still shat me off and I did not use it much, despite exactly the same reel as an Ocea Jigger except high ratio. In fact it was better, as the latest model Trini/OJ has a much better drag and smaller side plates so much nicer in the palm.....but that gear ratio......
Not happy with my situation, and probably due to my chronic case of OCD, I searched for an old Ocea Jigger 1500NRPG, that I ended off buying off a FW guy. Turns out it was DazSamFishings old reel he on sold when he left Perth, which was the original OH I tested before buying mine. SWEET! I even found a Hearty Rise rod the same as I originally ha, so happy days. Only issue was the weak drag, so I upgraded to carbontex, all sorted.......
Then after only 1 trip out, I stripped the drag washer, as I wanted even more drag, which turned into another SAGA, as I could not find a replacement on the internet and Shimano reported they were no longer made......I did find one in the USA, which I got sent over, turned out to be the wrong one.......phark!.
So.....I looked at changing the gears on the Trinidad to Ocea Jigger gears. After countless hours on the web and finally trying to work out the Japanese writing on the PLAT website.....the boys at Complete Angler Nedlands came to the rescue, and ordered me the pinion and main gear from Japan, despite not really knowing if it would fit and never hearing of it being done before. I said no worries, I know what I am doing and will accept the risk........
New low ratio (PG) gears arrive after a few months.......look sweet, helical cut very fine gears, heaps nicer than the chunky Trini gears.....chuck em in, sweet, fit perfectly......EXCEPT.......fucking drag is totally different to the trini.
Right, starting to peak a bit now.......so I order the drag from Complete Angler (none of this is their fault, it is all yours truly, the Complete boys could not have been more helpful), then I hear it will 3-4 months......and I need this ready for Exxy in 6 weeks.....
Fuck. Right, look at the old Ocea Jigger sitting forlornly with stripped star drag, and think.....I wonder, will the old 2003 model drag fit the new Ocea Jigger/Trinidad.....looked totally different, but after a bit of stuffing about, I managed to make up a Frankenreel drag that worked perfectly. HAPPY FRIGGEN DAYS. Finally, a reel that works. I end up putting on the old 2003 OJ handle as it is nicer than the poxxy white Trini handle.
Nek minute, Complete ring up, your new OJ drag stack is here.......WTF. Right, shoot down, grab the new drag stack, open up the Trini/OJ/OJ frankenreel, pull out the weird combination of various bits and shits that seemed to work but looked pretty weird in retrospect when I pulled it all out, shove in the new stuff......BRILLIANT. FIXED. YAY.
But the fucking sweet little OJ 1500NRPG is just looking at me now, with a stripped drag, saying.....fix me.....fix me......call up Complete, boys, can you find me a star drag, I cant find one.....drop off the old stripped one, the boys did not look confident, but a week later, hey presto, new star drag off some other reel and different colour, but it fits. Right, rip apart the OJ, shove in the new drag stack, but of cals drag grease, and she is now way better than new. Looks a bit dud with the trini white handle and gold star drag, but works great. Nothing a white Michael Jackson-eske glove wont hide......
Now I have two Frankenreels that are brilliant! A 2003 model OJ1500NRPJ PE3 with an unknown star drag and 20013 Trini handle, and a 2013 PE4 Trinidad 16N with 2011 Oceajigger 2000PG gears and drag and a 2003 black handle/knob.
All I need now is a PE5 bottom basher OH.......you guessed it, another SAGA...haha, the only way I like it. After 40 replies to my original post on here, I ignored all you "pricks" who mainly suggested a Talica 12 or similar and got a Shimano Tyrnos 16, as it has a much beter 5.1:1 ratio and 85 cm per crank retrieve, compared with the Talicas 5.7:1 and 95 cm per crank which is too high for me. Bought it from Complete given they have helped me out with my various OCD issues.......got it home......fuck, this is not the reel for me. Just a bit too big, a bit to wide and a LOT too noisy (dual spring loaded pawls are brutal!).
Back to Complete Nedlands with my tail between my legs, and a box of Tyrnos in my hand.....hand over another $250 and leave with a nice Talica 12.
Spooled it up last night with some leftover PE5 braid courtesy of Bodie (LEGEND!) and it only filled the spool 3/4. This gave me 84 cm/crank......FUCKING HOO RAY. PEFECT. I do recall being told this was a good option in one of the posts (cheers D_D_001)......ended up ordering a longer handle for extra cranking power last night to complete the SAGA.
After 5 years of searching, hundreds of replies on FW, some high dose valium for my mental condition, a fair bit of coin and a lot of pulling reels apart and modifying, I now have 3 bloody sweet, slightly altered, OH reels covery PE3, PE4 and PE5.
BRING ON EXXY!!!!!
____________________________________________________________________________
Boston Whaler 235 Conquest......getting the flogging it was built for.