Coral Bay Sailfish on Jig Story
Submitted by hunterdive on Tue, 2012-05-22 22:29
hi there FW crew,
Well after being home for a week and a bit, the reality of work and life has set in again. We had 3 fantastic weeks in Coral Bay, enjoying great weather, company and fishing. The real highlight for me was to nail this Sailfish on jig.
We decided to head out the North Passage to some ground that had held fish in the past. Conditions were almost glassy calm, so we shot out into the 70s and sounded around. All our usual spots were bare, showing nothing on the sounder, and after a few drops with bait and artificals we decided to head out furthur and look for more country.
We pulled up on some likely ground and again had a few drifts to no avail. I then saw all this bait in the water and with the water so flat and clear you could see down 20m or so. I grabbed my Stella combo already rigged up with a Smith Masume Jig that had already seen some action the day before, dropped it down and 40m or so..... then Jig... Jig.... wack! Some thing hit it hard, but then nothing. I dropped it down again, Jig ... Bang again. I looked down to see a Sailfish 20 or so meters below turning, full sail up. Hell a Sailfish! I dropped the jig again and it followed and nailed it big time on the drop.
Then all hell broke loose. I had him on a Stella 5000 SW with PE2, and a Taiyro Nano Speed 8-10kg Rod. Plus I had about 400mm of 40lb Flurocarbon leader left from the day before, tied with an Albright to my double. He then proceeded to jump about 4-5 times close to the boat, then just took off down deep.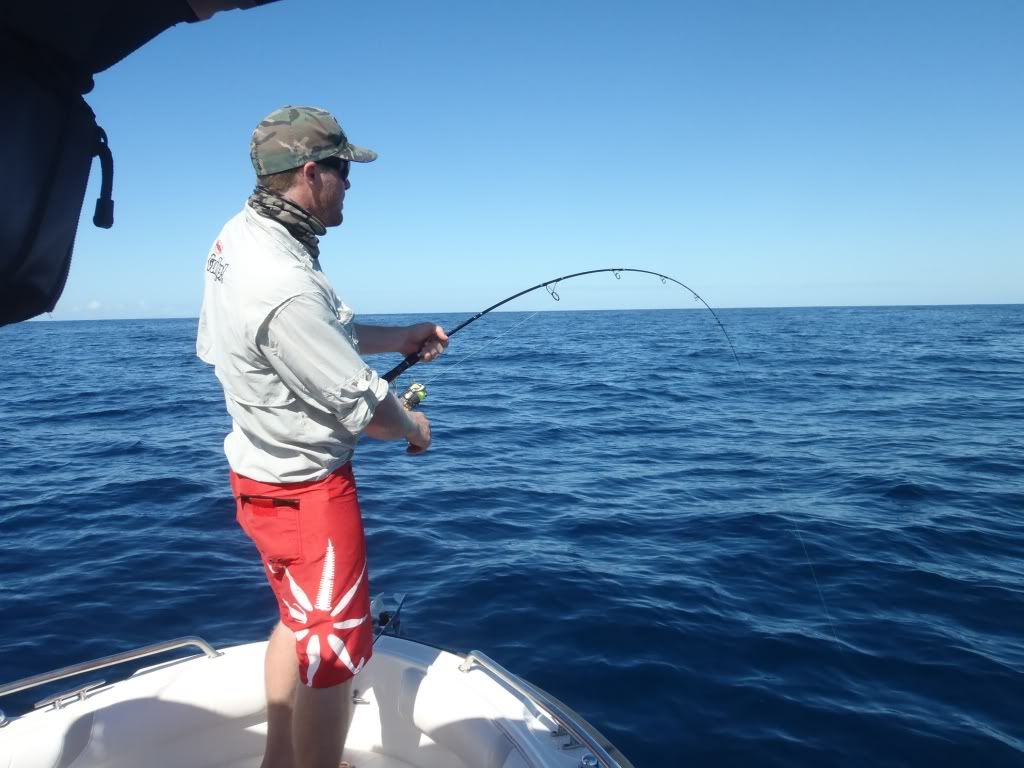 For the next 30min, prob more, run after run, I gently gently brought him up, arms aching cause it was a short but rod, to about 2 m below the boat where he stayed and just went around and around the boat with a few close calls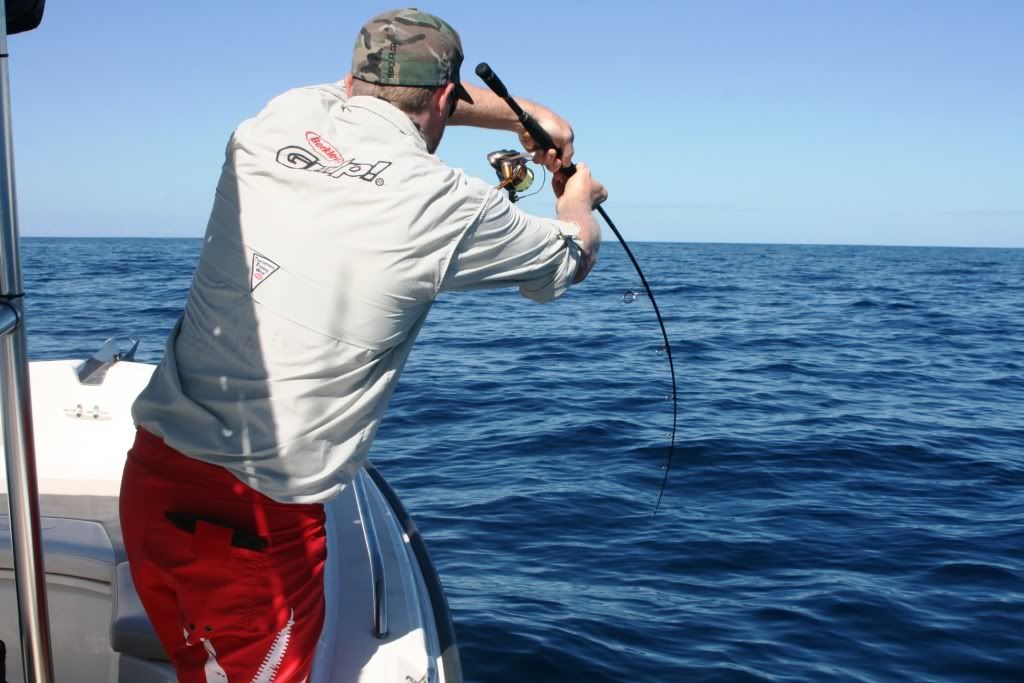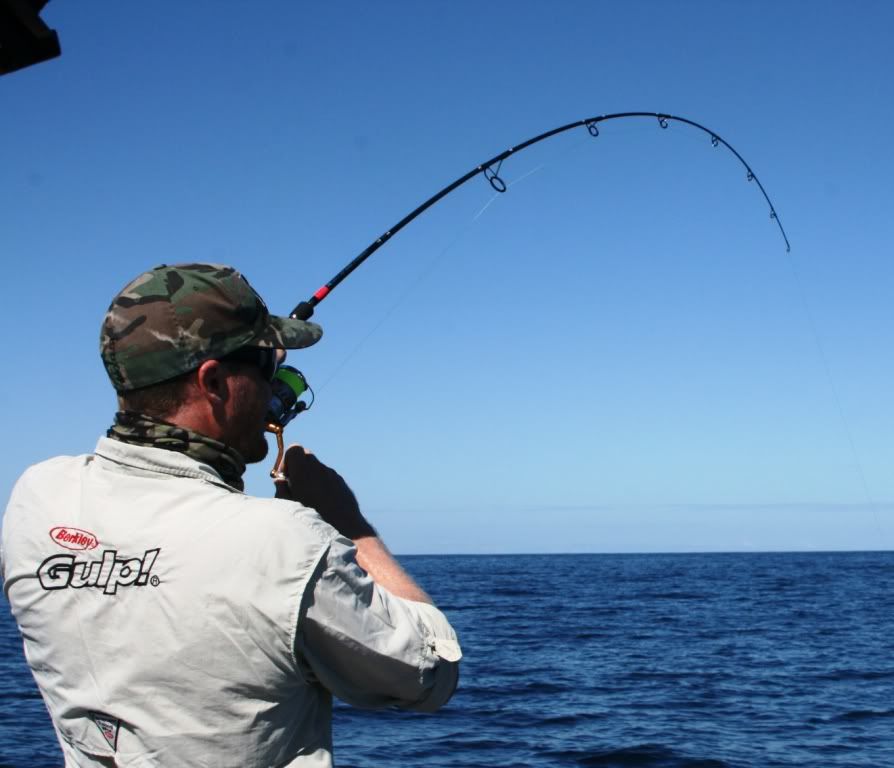 Lucky I was on the new Whaler Centre Console, because I meant I could just walk around the boat. Then gradually he came up and after a few attempts and misses we had him by the tail. After a few yahoos and photos, we swam it by the boat till he kicked hard and off he went.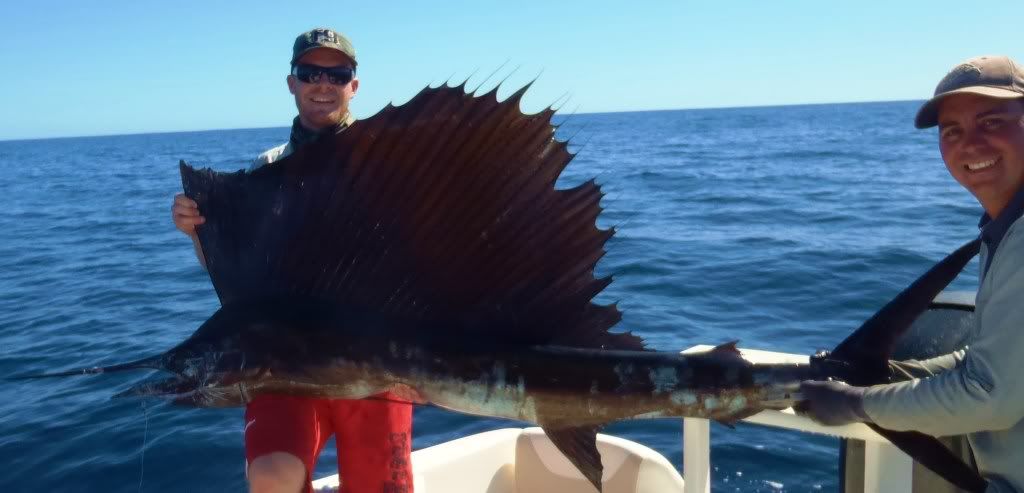 During this the other boat we were fishing with saw the commotion and came over to see what was happening, and got some good pics. Thanks to Greg and Chris on board to following instructions and putting up with my ranting during the fight. I was stoked, still am...
The funny thing is, that a few days later out a bit furthur, I managed to jig up a Black Marlin the same way using a big 7 inch Megastrike Plastic and again all hell broke loose, but he got off after busting through the leeder. So in all, great fun, my Billfish tally stands at 2.
Stella stood up so well, very impressed with the Nanospeed, insane value, great combo that sadly was stolen from the boat while we were away
also here is what is left of the jig- he totally smashed it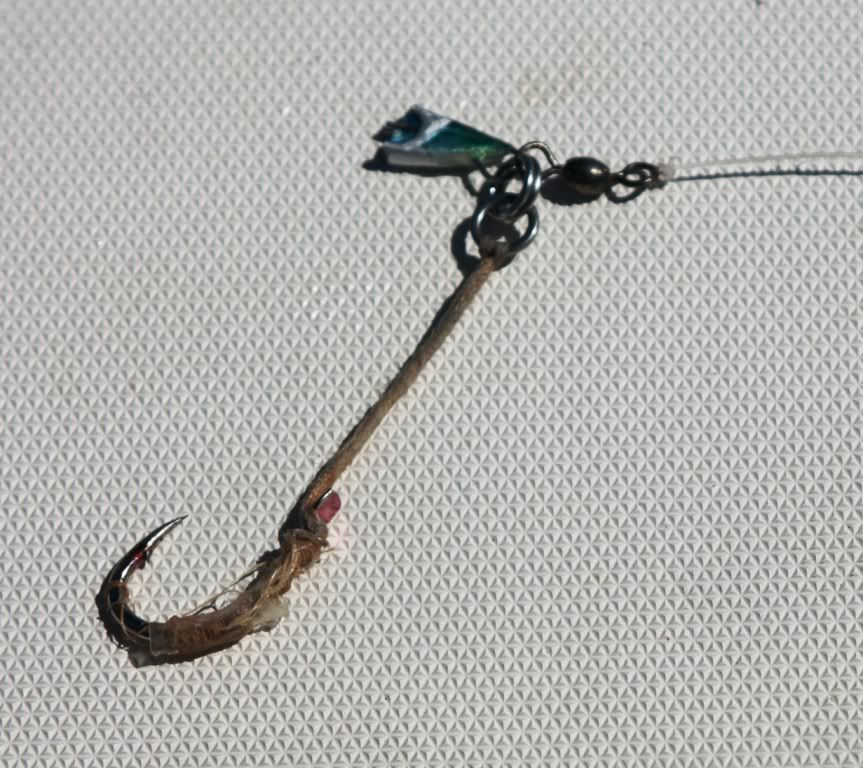 Thanks for reading- Jared