"Don't Croc the Boat"
Submitted by claire on Fri, 2010-03-12 07:28
Don't croc the boat
ANNIE SANSON
March 12th, 2010, ntnews.com.au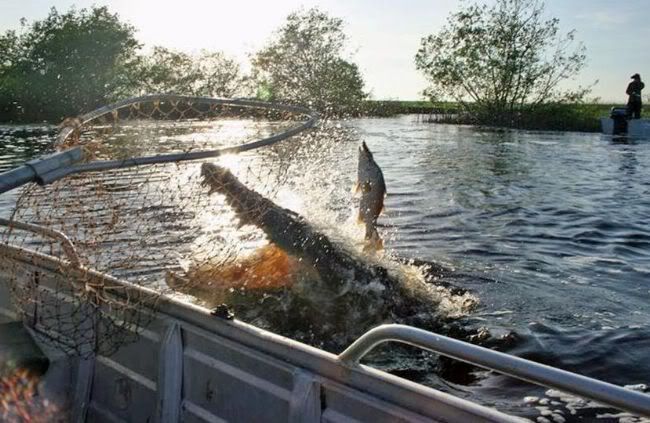 SOUTHERN tourists got the fright of their lives and almost fell out of their boat when a huge, and obviously very hungry, saltwater crocodile almost launched itself into their tinny in one of the NT's most popular fishing spots.
Steve McEwan, 50, and Craig Adams, 45, from the central coast of New South Wales, had been fishing with a mate at Shady Camp a couple of weeks ago when Mr Adams reeled in his first NT barra - followed by the hungry croc.
The NT News understands Mr McEwan was knocked off his feet when the reptile lunged for the 54cm fish and the other fisherman almost backed over the side of the boat in an attempt to get away from the estimated 4m-long saltie.
Steve McEwan and Craig Adams will tell their extraordinary tale on the ABC's popular fishing show Tales from the Tinny tomorrow.
Tinny host Tim Moore told the Northern Territory News yesterday that for the fishermen it had been the first time "they've seen a barra trying to actually get into the net".
Mr Moore, a keen fisherman himself, said it was nothing new in the Territory to hear about a crocodile chasing a fish on the line, but he said he had "never seen such a picture perfect Top End moment" captured in a photo.
The picture attracted plenty of attention after it was posted on the Tinny's Facebook page.
Darwin resident Lenna Lehmann, wrote: "Did they have to change their jocks? If it was me I would have dropped all rods and net and been outta there quicker than the camera took the photo - screw that."
Another Facebook user, Ursula Watson, added: "Just another normal day fishing in the Top End."