A first for me...pics added
Submitted by kirky79 on Fri, 2017-04-21 12:24
With the weather looking good, I decided to have the day off and get out on the water. A quick ring around got the brother in law keen and good mate Tony keen as mustard. Headed out off Mandurah around 6:30am to the 40's. I recently bought a new combo that I wanted to test out, got an NS Blackhole Explorer and matched it with a 5000 Stradic loaded with 30lb braid as my new Jig stick.
Things started slowly jagging a little swallow tail in the back on the jig, and Doug getting another one on bait. Next drift while I was winding the jig back up it got nailed half way up and proceeded to go straight back down at a rate of knots. I was calling it for a Sambo but then it headed for the surface, we got a nice suprise when we spotted a nice little tuna. Not long after Doug got a nice size Baldy on a piece of Mullet. The little Tuna gave the new combo a good test, but what was to come really made it work. I was working an Ima Ro's jig when it got slammed about 2m off the bottom. I could feel some real weight to this fish and very powerful determined runs. I was thinking I had a very nice Dhu, and after a very good fight to our surprise a very nice sized Blue Groper surfaced. A first for me!! Woo Hoo we were all stoked.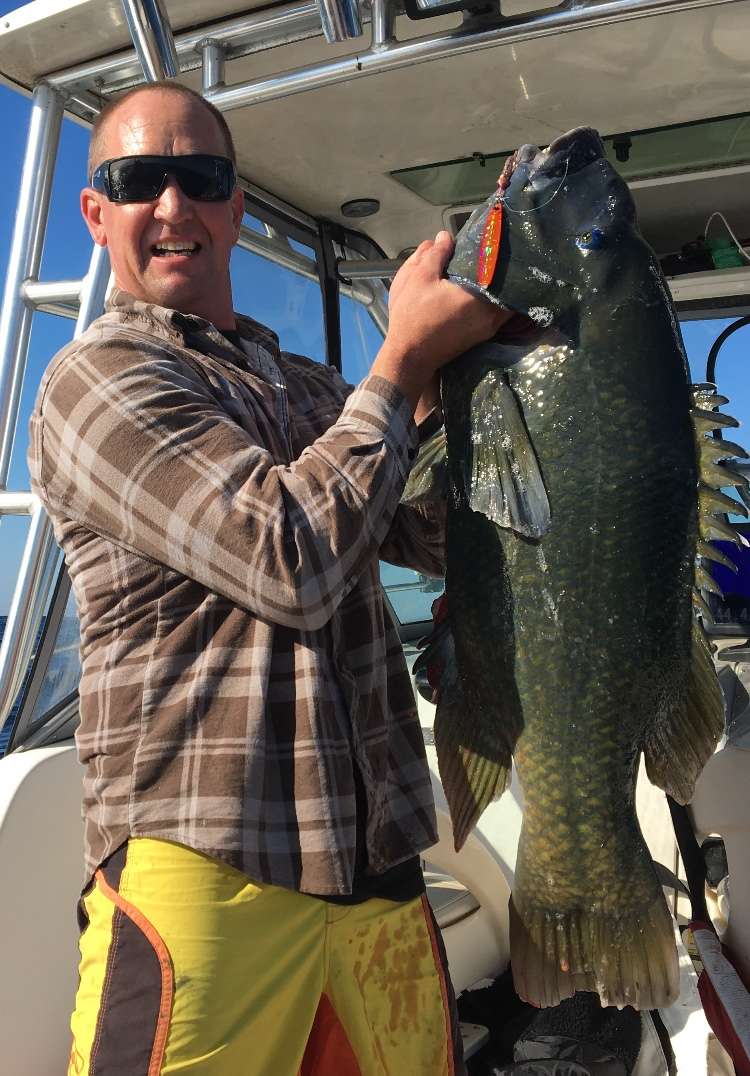 The rest of the morning slowed down after that, so we moved north about a mile to fish some newer ground we came across a few trips ago. It was a bit quiet on the sounder but the ground looked worth while. A Cray boat had been setting pots north of us and came steaming over and dropped 4 pots around where we were fishing. Wow talk about a change in fishing, the burly from the pots turned them on. We got a real good Whiskery Shark straight away and 2 nice size Pinkies within half an hour of the pots being dropped to finish our bag. Happy days.
Cheers
Chris.