Fish Handling Techniques
Submitted by Fly on Thu, 2006-07-27 10:54
Good fish, But Bad Fish Photo's!
http://fishwrecked.com/node/2739
First I want to say, that the Mulla shown at link above is a heck of a fish, and I've never caught a mulloway of any shape size or description in my entire life. I admire a LOT any man who CAN catch one - let alone a beauty like that, and to do so from shore just makes it a doubly notoable achievement!
I know it takes dedication & study of tides, moon, weather etc to consistently catch good mulla, and I take my hat off to people who can do it!
For those reasons, if that was my fish, and I had a photo of it I would (and do) keep such to remind myself of such a momentous catch!
That said - likely as not, I wouldn't deliberately "publish it" in order to promote a magazine, website, or charter service etc - or fishing product for example.
It's not whats called a 'money shot', i.e. publishable quality for a magazine cover, in return for a cover shot fee etc...due to the depicted "eye pinch" handling!
I handle fish like that which I'm going to keep to eat - nuthing at all wrong with it - it's a very effective method! Probably it's not something we should be publishing tho, in terms of enhancing the reputation of anglers as folks who look after the resource, and release a large %age of their catch!
Were that fish released, it'd hafta barrack for East Perth (one eyed East Perth supporter) ;o)
So, with that said, heres one of MY personal "crappy quality fish photo's" of a damned good fish, that I keep to remind me of days gone by, that I wouldn't normally publish! (Except to show, that we ALL have these types of photo's and that generally it would be better of we didn't publish them!).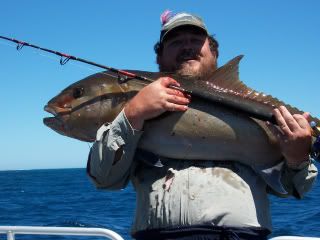 So, you see before you, a pic of a good sized sambo, but covered in blood from where Bro In law Flash gaffed it, and my fat gut poking out, shirt ripped to show my somewhat ample fat gut, and dark shadows across my face, and worse yet it wasn't even caught on a fly rod! :Shock / Horror:
Why keep it (the photo or the fish?).
It was one of the larger sambo's I'd caught at the Abrolhos, and during a "non fly fishing trip" with my "non fly fishing bro in law" - who up till then hadn't caught much anything bigger than a herring!
The skipper ordered that particular fish kept, as we needed extra cray bait for the pots, being the eginning of the 'island season'.
I deliberately left my fly fishing gear at home, and determined to fish Flash's traditional methods, to try and help him with gear, knots, rigs and more importantly "fish fighting" techniques!
He remains one of the toughest guys I've ever had to try and teach to fish...:rollseyes:
He would happily use a 12000 pound warn winch to land fish - to him the "skill" (plumb dumb luck) aspect of fishing - is entireley that (not whether) you get it into the boat, how you do so is totlly immaterial in his view!
He seems to think that if "You hooked it" & "you got a photo to prove it" then your indisputably a gun fisho, seems to be his rationale, toward fishing! :rollseyes again:
So on this trip - I tried converting him to 50 pound braid...to be a bit more sporting in his methods and have a little fun playing the fish.
He lost fish, after fish, after fish, day in, & day out, on braid and every one cut him off in a different way;- around coral, under the keel of the boat, around the props of the boat, you name it every single fish, I got him onto, he lost!
In the end he spat the dummy (as he tends to do, but he's 6 ft 7 inches and 250 kilo's - who's gonna tell him, certainly not me!) and unwound ALL his 50 pound braid onto a spool, then made me walk the length of Big Pigeon Island unrolling by hand our shank of 150 pound mono, we'd bought along to crimp for trolling lure leaders for spanish macs and big tuna etc.
Yep - you guessed it, he spooled up his Penn 330 gti overhead reel with 150 pound mono, about the diameter of fencing wire!
Quote:
I'll show you how to land fish
he says - and true to his word, he winches in smallish 70 pound sambo's on 150 mono, saying "come to poppa" like there is SOME kind of skill involved here???
I mean, I played every one of my fish on 50 pound braid and didn't lose one, but that didn't seemingly count as any kind of "skill"?? I
fought all of them away from coral, turned them with drag pressure and rod work (learned from experience playing big fish on spaghetti noodle fly rods), away from the hull, keel, duckboard, props etc etc..
Non of my knots failed - because I played the fish to the capacity of the gear I was using, whereas Flash just pulled on everything like it was a hi tensile herc alloy snig chain, untill something let go, - usually one of his coonazzed knots, or something equally stoopid!.
You just cannot teach some guys....some guys will always be just "catchers of fish" while others MAY one day aspire to be a "fisherman" in the true sense of the word!
And so - I keep such photo's to "remind me" of days of fun gone bye...and things learned along the way about fishing and fishers!
Generally speaking they shouldn't be published tho - they are just "keep sakes" of family fun fishing times!!
Take a look at the blue 150 pound mono comming outta the mouth a this fish! This took any skill?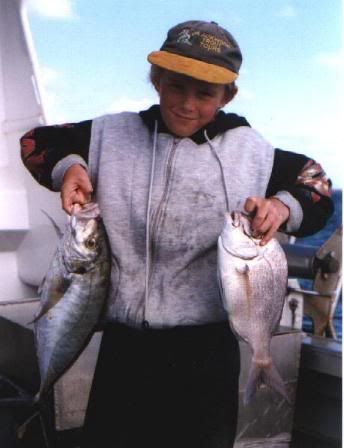 My own kids have lifted fish by the eye sockets pinch method when they were young - I just don't generally publish such pics - but I keep them for their value to me as a parent, as a record of the raising to a fishing life, of my kids!
And this is the whole point of my long post here. Theres nothing at all wrong with sharing a few pics with ya mates that support a story or demonstrate a point, when your here braggin about what fish you caught etc...it shouldn't matter if the photo isn't National Geographic magazine standard quality, in terms of every technical aspect, as long as it brings back good memories of a memorable fish or outing for you!
Just try not to submit those type shots to magazines for publsihing or entering them into "fish photo comps" etc is my advice.
Cheers
"Piscator, non solum piscator" which freely translated means something like "A fisherman, not just a catcher of fish"