AFL Finals Week 1
Submitted by chris raff on Mon, 2015-09-07 09:17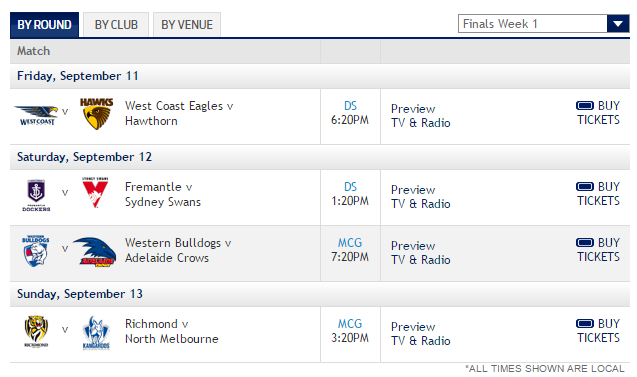 So here we are people the " Real Season " is upon us .. and the pressure cooker has just been cranked up .
Looks as though at this point it's going to be wet for the Weagles / Hawks game so the skills are going to be down .. in which case it going to be rough and tough hard ball gets . I fully expect the Hawks to step up their antisocial aspects of their game from the first bounce so the Weagles will need to be switched on from the get go and not take a step backwards ..
Dockers / Sydney game .. we've been waiting 6 months for this and it's time to pull the aces out , so it's all guns blazing from the onset .. we have a full strength backline and ours mids should dominate giving our forwards as many opportunities as poss ..
Both above games should be beauties , hoping both WA teams get the win and move straight to the PF preferably even right to the GF were we comprehensively smash the crap out of ya's ..
For your reference here's the Finals Predictor in every scenario I put in . The Dockers seem to win

____________________________________________________________________________
"Intelligence is like a four-wheel drive. It only allows you to get stuck in more remote places."