Big day for a little fisho
Submitted by Webby on Sun, 2010-12-12 19:01
It has been a while since my last post. A combination of a broken camera and laziness are my excuses but I wanted to share with you my most recent trip which has left me with a smile on my face. Until now my five year old daughter's fishing trips have pretty much been limited to catching small bream and mosy pearch from protected beaches in short sessions but as i sat and watched my little girl during her gymnastics presentation it occurred to me, my little girl was not so little anymore and it might be time to step things up a bit fishing wise.
It was a big day for a little girl, a 5am wake up along with a very warm day stuck in a local creek hole for several hours is something even a lot of older people can't handle but she took it like a trooper. She still has a bit to learn about stealth when chasing bait but she nailed some respectable fish. She even had the pump and wind technique almost under control. She caught all these fish pretty much unassisted and I am one very proud dad.
Charlie first Jack

Small cod

Another cod

As a whole, the fishing today was a little slow. Didn't see any barra, but did get a nice fingermark on the McCarthy.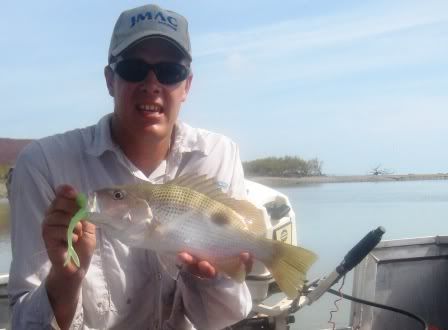 ____________________________________________________________________________
I live with fear every day... sometimes she lets me go fishing.