Dongara trip
Submitted by Shortly on Tue, 2008-06-03 11:07
Well, I dont rightly know what I can say about this trip, apart from the fact that it was complete shite.
Arrived Friday afternoon and decided to go for a fish at the marina as was suggested. Things looked promising, nice reef system with a few holes visible, so we set up and with much anticipation and the sighting of a few silver streaks in the water we started casting unweighted mulies to start with. After a half an hour of not even a bite, apart from pickers, my partner changed to a snapper rig, and I down sized my rod and gear and landed these fish. I know the first two are wrasse, but I have no idea what the 3rd one is.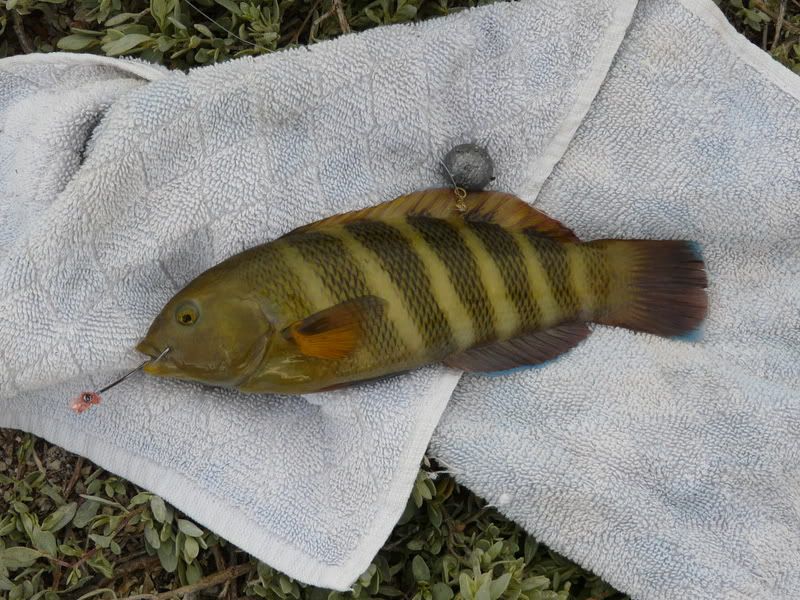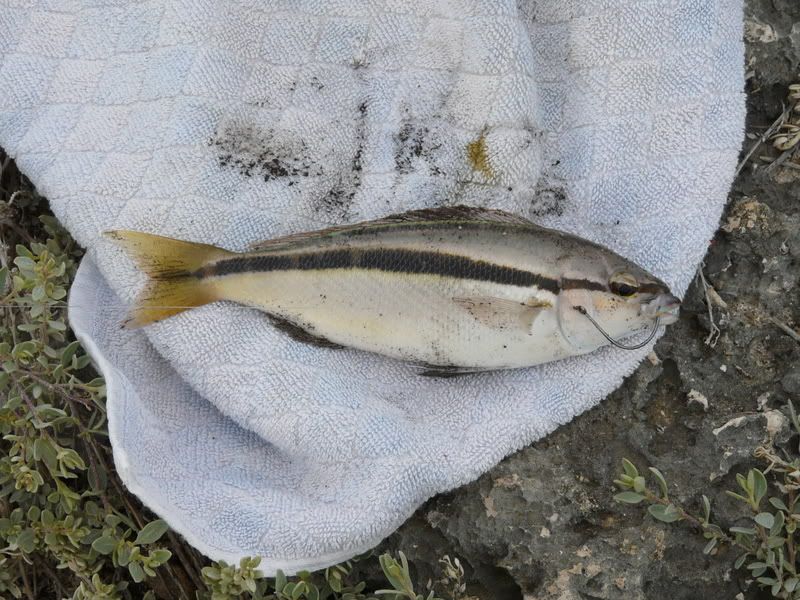 After catching several of these we decided to call it quits for the night and get a early start and fish Flat Rocks in the morning with the hope of bigger and better things.
We got to Flat Rocks at 6.30 and found ourselves a nice little spot that looked like it had a lot to offer.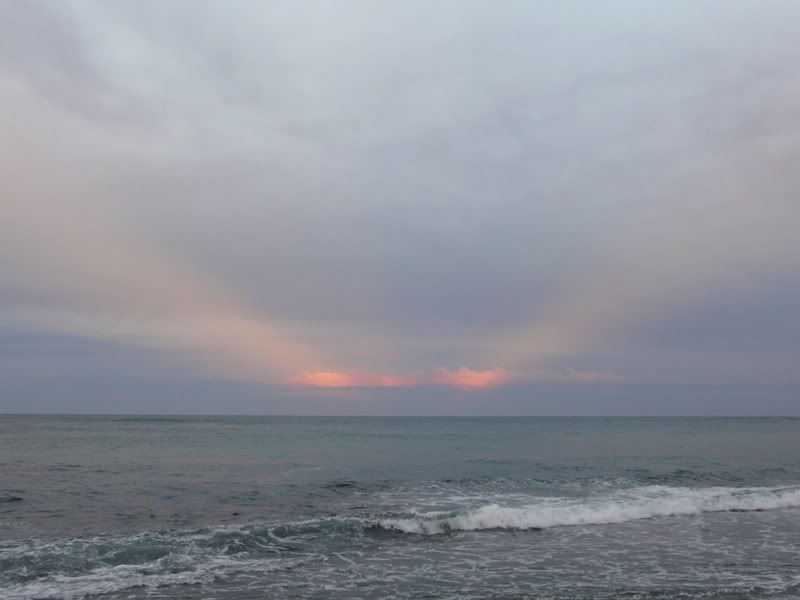 We new it had to hold something of significance as it was a very Australian spot. 
We started fishing and had a lot of bites but no runs. Foir 5 hours we fished, and just as we were about to pack up and try somewhere else, the line on my partners reel started to peel off. Woohoo we thought, finally the big one we had been hoping for, that is until the line just kept going and going, thats when we realised it was a blasted stingray. 
He reeled the sodding thing in and up on the rocks, gees those things are a dead weight. We got the hooks out, one of which was caught in the underbelly, so it left a little rip there and returned him to the water.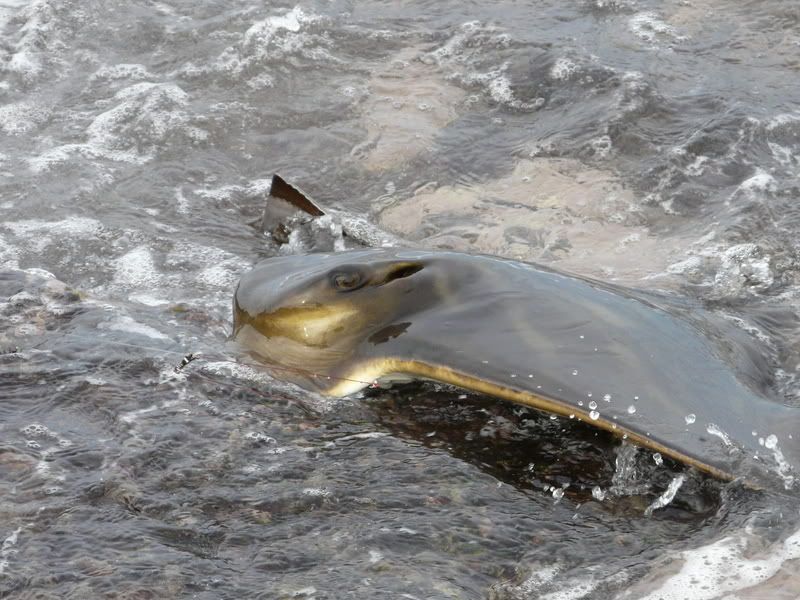 After catching him and no other bites we headed back into Dongara and discussed our options for a night fish.
We decided to try the tracks at the north side of town and found us a nice deep hole surrounded by reef on the south side. Once again we were optomistic and riged up for tailor, snapper and anything else that might mosey on along, and settled back and watched the storm approaching from the south. Luckily it was quite a distance out to sea otherwise there is no way i would of been standing there with a graphite rod in my hand. 
A few hours went past and we had a few bites, but put that down to smaller fish. Then just as it was getting dark the reel on my partners rod started peeling off again. Didnt take us long to realise it was another stingray, and after catching a glimpse of its wings we sighed and he bought it in as he had our last snapper sinker sitting in his gob. Rolled the thing over and blow me down it was the same ray with the same nik I had made in him that morning at Flat Rocks, you would think he would of learnt after the first go.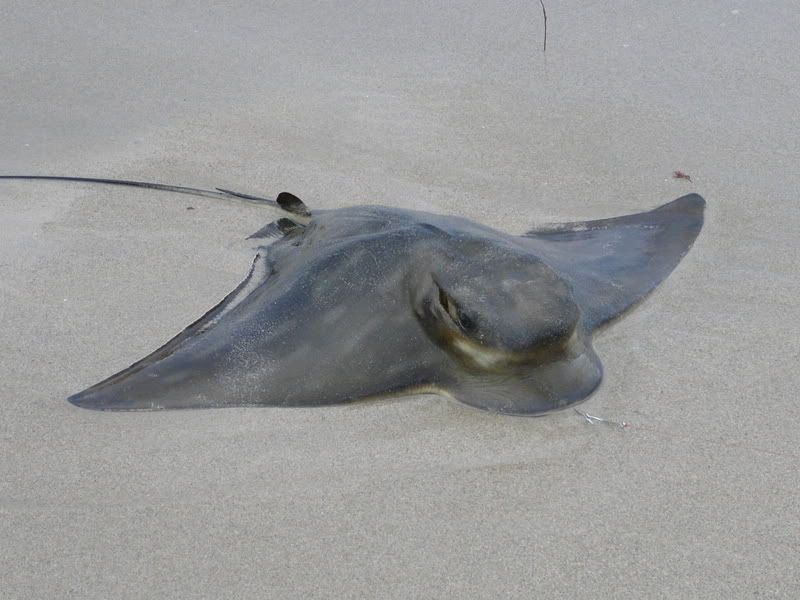 By this stage we were starting to feel a little dejected about the whole Dongara fishing trip and wondering where the bloody hell all the fish we were told about were hiding out. Had they gone on holiday as well? 
We headed back in for the night and decided we would get up at dawn and try the Sbends. now everyone talks about the big fish you can catch there. This was our last hoora as we were leaving the next morning, and if anything was going to make this trip worth while it was going to happen at the Sbend.
So up we get and arrive there at 7am. The coastline was amazing with huge waves breaking up against the rocks.
We set up the rods with weighted mulies and with the thought of 60sm tailor in our minds started our cast and retrieves, whilst a third rod was set out with a whole herring, just incase anything was passing by. 
We had a few bites, but no runs, so i decided to get out my ugly stick and see if i could shake up some whiting. First cast I managed a 28cm herring which we used as bait to no avail, then 2nd cast Igot a 30cm whiting. After this encouragement from the fish gods we thought we would have a good run of herring and whiting. But no, after those 2 fish there was nada, not even a nibble on the bait that got the other two.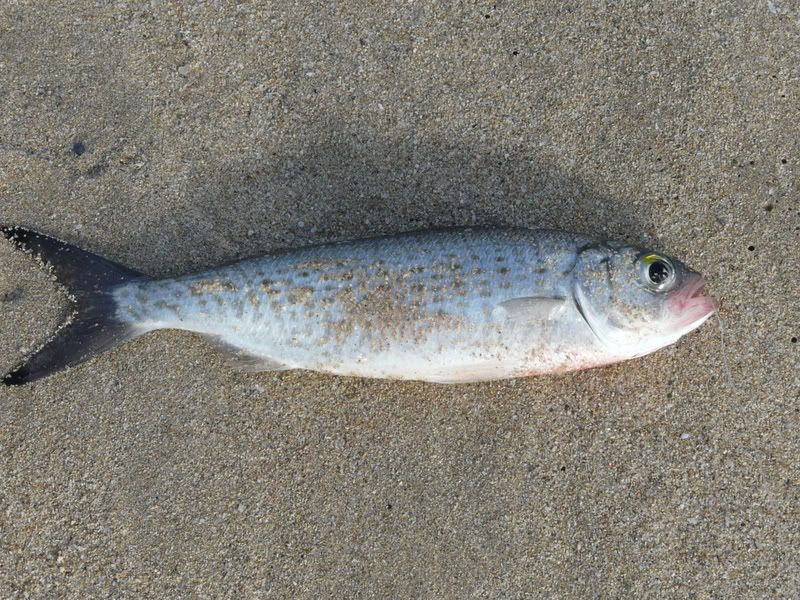 We stayed around till lunch time, had a laugh at the sand crabs as they were running everywhere like chooks with there heads cut off, packed up and went home.
Consiquently, there were two other groups there and neither of them caught anything whilst we were there either. I would love to know how Caroline and her group and all the other people heading up there for the weekend faired as we were very disappointed with the fishing.