MONSTER BASS AND KINGS AT THE THREE KINGS
Submitted by Coxy on Thu, 2011-04-07 09:18
The long await for the first of my two jigging trips to the Three Kings this year the home of monster bass and thumping kings had finally turned into reality.
This year I was heading there with Chris Wong owner of BCS Enterprises the man behind the amazing new jigging products branded Jigstar, also Roy and Linda from Jigstar in South Africa and Brad Burden from Jigstar Australia, Rob from Sydney and Jason from New Zealand friends of Chris.
For some that dont know the Three Kings is a group of islands that lies roughly 50nm northwest of Cape Reinga in New Zealand, it is home to some of the best possibly live aboard fishing that New Zealand has to offer.
After my amazing trip last year aboard Enchanter owned and operated by Lance with his deckhand and second skipper Steve I could not recommend a better jigging platform and crew to assist us in our journey to where us mad jiggers like to call Jurassic Park.

We boarded the boat in Monganui and began the long journey north, the weather wasn't looking the best for the trip so we had to make the most of the time we had.
We were lucky enough to get few hours of jigging in on the King Bank on the first afternoon, the kings where on fire with some great fish landed on the first afternoon.

Chris with some amazing kings landed on the first afternoon on a new Jigstar prototype 100-150 gram rod, these are some serious kings for a rod of this class.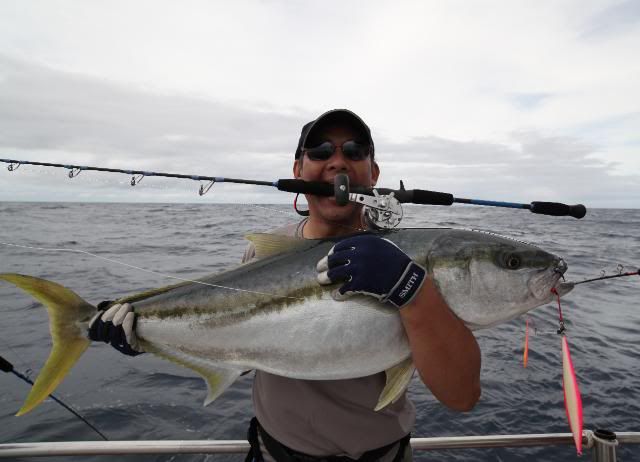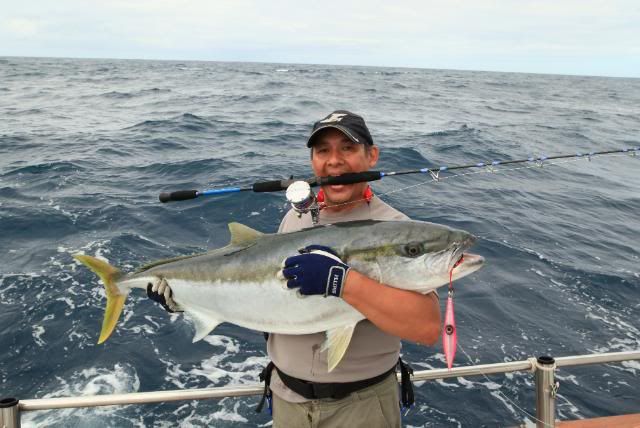 Robs goal was to land a king fish over 30kg this was soon broken on the first afternoon, after his trip late last year to the Ranfurly Banks with his biggest at 29kg he was a happy man.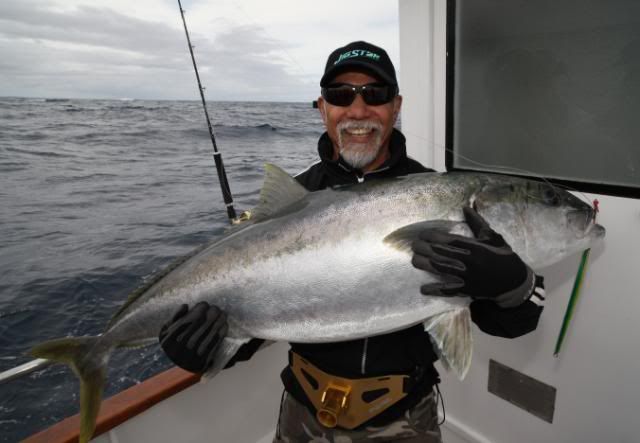 Roy had a hard day on the first day hooking a few freight trains that ended up in tears in the reef below, after a couple of beers he was back into it.




Roy was testing out a new Jigging Master Amberjack Sniper Deep and assured us he didn't get railed but this photo proves him wrong, sorry Roy !




After making the long journey from South Africa I dont think that Linda knew what she had got herself in for, she proved us all wrong on the first day coming up with a couple of solid kings just under the 30kg mark.

[img width=400 height=600]http://i262.photobucket.com/albums/ii111/Coxy10_2007/IMG_5661.jpg[/img]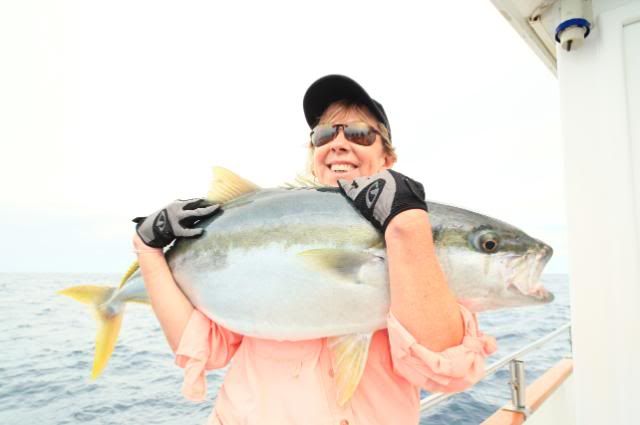 Jason with a couple of kings for the first day including one that had been tagged and released before.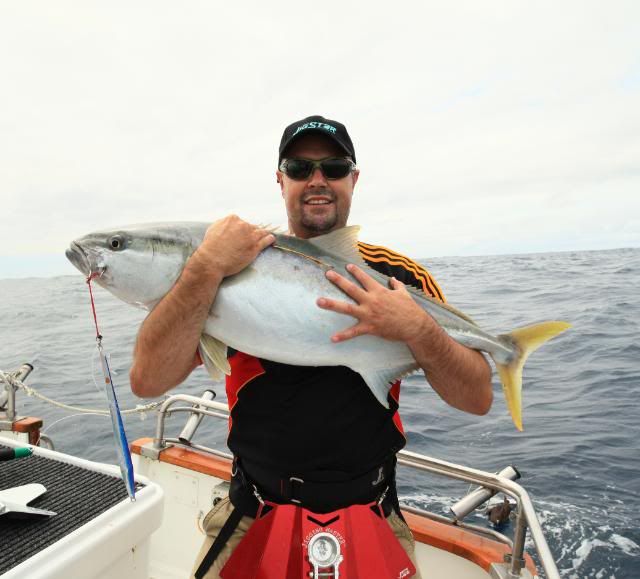 Brad managed the only puka on the first day that was living where we would not normally find them, lucky for the puka it was caught in shallower water so it was lucky enough to be released to fight another day.




A couple of my kings from the first day, when the jigging is on fire we are too busy to take photos as we must drop our jigs straight back down so we have to limit the number of photos taken.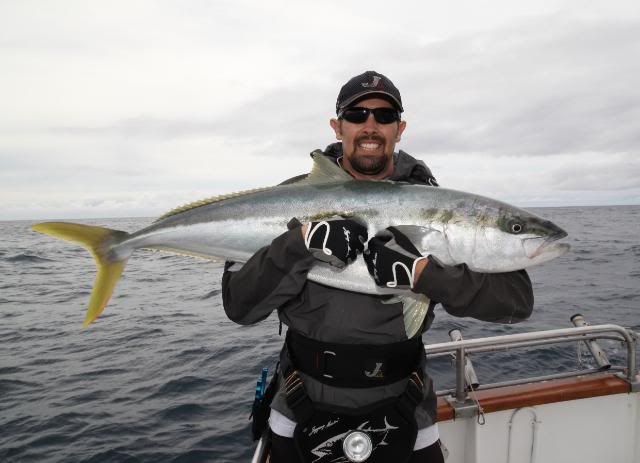 Day 2 we headed out to the Middlesex Bank where we would spend the day targeting king fish, the weather was a bit rough and got rougher as the day went on but we had an amazing day on the kings landing a few over 30kg and one over 40kg, with multiple hook ups all day and fish every drop it was by far the best days jigging I have ever seen, we will let the photos do the talking.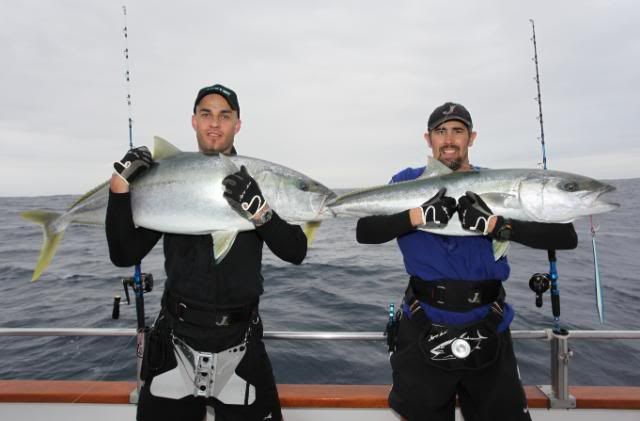 Rob with the second biggest king for the trip that wasn't far of 40kg.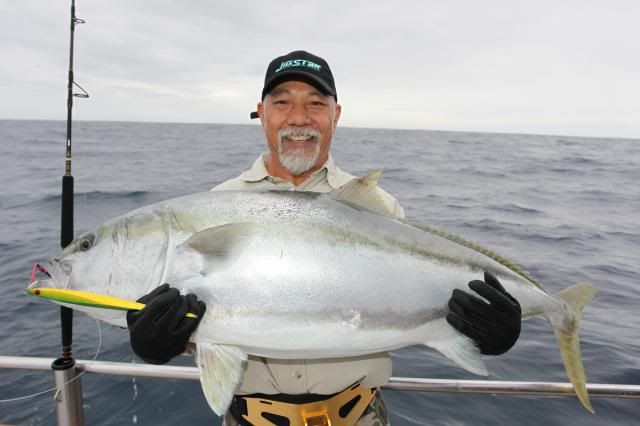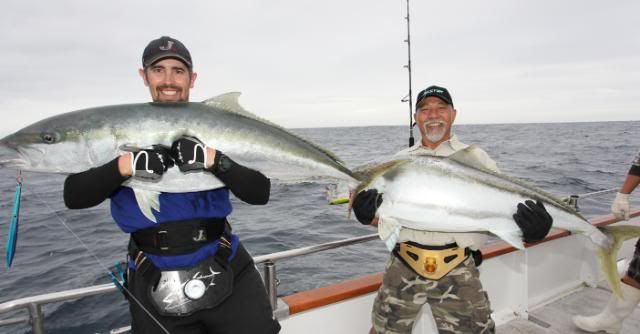 [img width=618 height=600]http://i262.photobucket.com/albums/ii111/Coxy10_2007/IMG_5742.jpg[/img]

[img width=541 height=600]http://i262.photobucket.com/albums/ii111/Coxy10_2007/IMG_5746.jpg[/img]




The following three fish I managed to land was on the last three drops at the end off the day when it had cut up rather rough and there was just Brad and myself left jigging !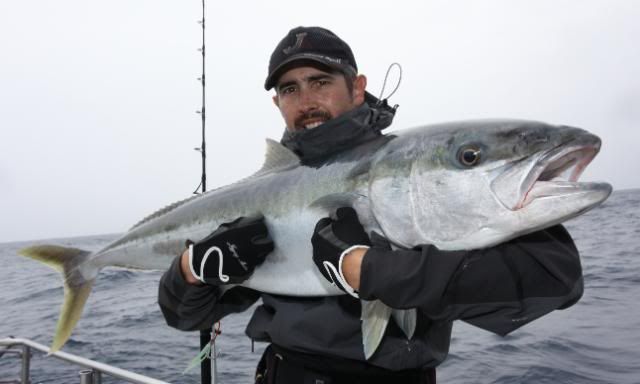 On the very last drop of the day Brad came up with this donkey weighing around 44kg.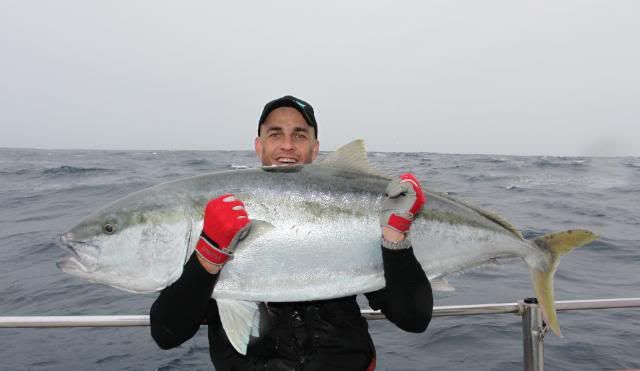 Day 3 we had some huge seas and decided to stay close to home and have a jig and test some new Jigstar stick baits around the Princes Group, unfortunately the kings were nowhere to be seen so we shot out to a handy bass spot in 180m of water, I managed to get smashed on the reef by something with bad intentions and no other fish were landed so we headed back early to have a fish at anchor around the Three King Islands.
We had a heap of fun on light tackle landing some kings not far off 20kg and also Brad landing one on a stick bait after hours of trying.

Day 4 was the last of our fishing days with the weather looking rather good Lance came up with the plan to head out to the King Bank to try and get some bass for the freezer.
After a very slow start and not many fish at the first couple of spots we moved down the reef hoping things would get better, and they certainly did as you are about to see, Roy was first up with a kingie.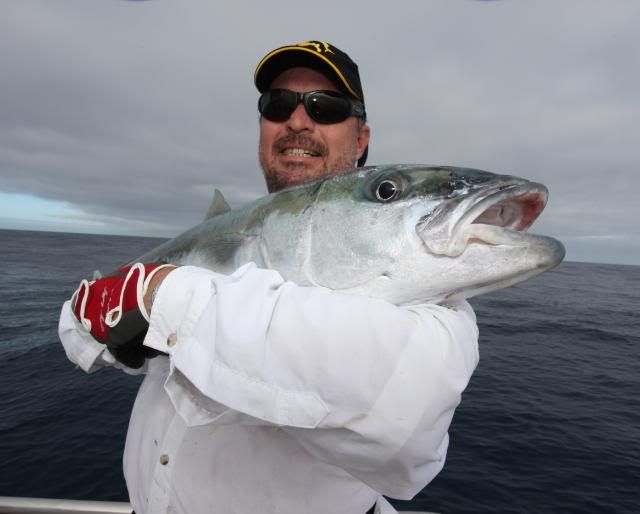 Then we managed a few bluenose in around 160m of water, very hard jigging with 400-500 gram jigs when the fish are not biting !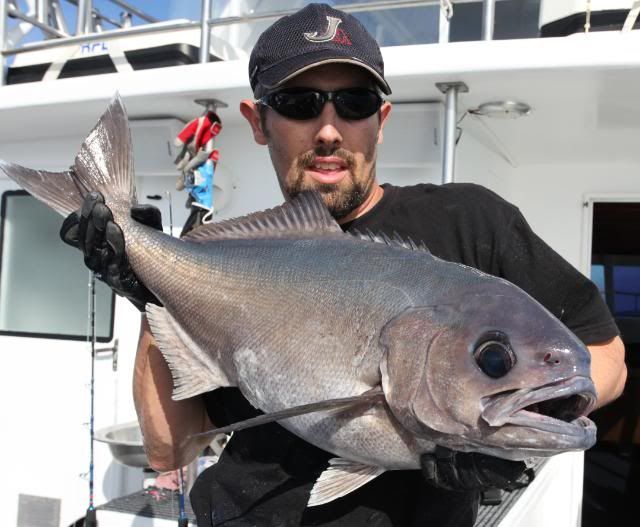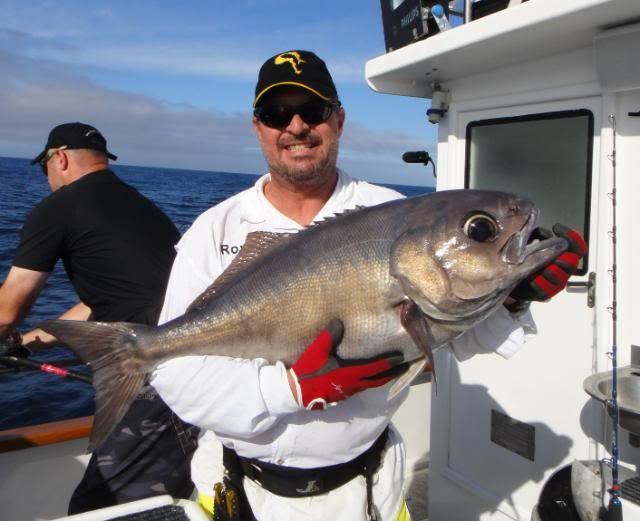 Check out the colours on this small bass.




Then the bigger bass started to come on the bite the first up was this one I got at over 40kg.

[img width=365 height=600]http://i262.photobucket.com/albums/ii111/Coxy10_2007/IMG_5791.jpg[/img]

Next drift Roy and myself found ourselves hooked up to some more solid fish and two more bass over 40kg were boated !

[img width=400 height=600]http://i262.photobucket.com/albums/ii111/Coxy10_2007/IMG_5794.jpg[/img]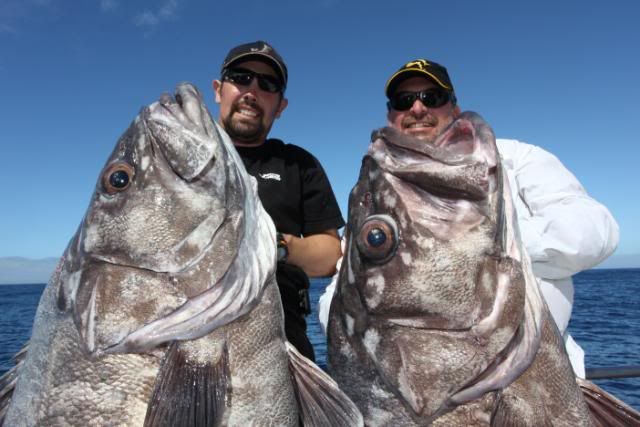 Jason was next up with another nice bass with Brad and myself also on the same drift.

[img width=413 height=600]http://i262.photobucket.com/albums/ii111/Coxy10_2007/IMG_5804.jpg[/img]




Chris found it very hard to get onto the bass and seemed to be hooking kings all day, hooked up to another.




Linda got on the board with her first bass.

[img width=400 height=600]http://i262.photobucket.com/albums/ii111/Coxy10_2007/IMG_5824.jpg[/img]

On the last drift while winding up Brad had something jump all over his jig, all of a sudden he found himself hooked up to a freight train as you can see by the look on his face he was hanging on for his life.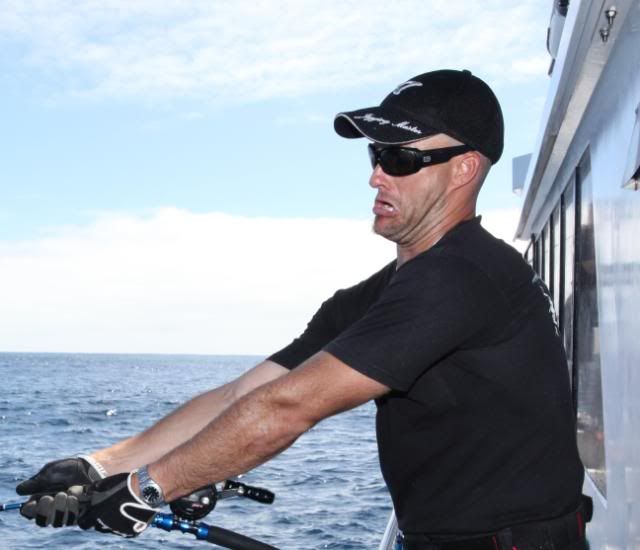 After a fight time of around 30mins a huge bass that we named Burt popped up about 30m from the boat, it was soon dragged in and turned out to be a massive bass weighing in at 81kg, possibly the largest ever caught on a jig.

[img width=380 height=600]http://i262.photobucket.com/albums/ii111/Coxy10_2007/IMG_5836.jpg[/img]




[img width=400 height=600]http://i262.photobucket.com/albums/ii111/Coxy10_2007/IMG_5845.jpg[/img]

As you can see the Three Kings is a place where you go if you are a serious jigger, it is no place for tackle under 80lb as you never no what you are going to hook it could be the 40+ kg king fish of a lifetime so dont even bother dropping the lighter gear down out on the banks.

If you have any questions about fishing the Three Kings please feel free to PM me for any info I am more than happy to help.

All photos are property of Chris Wong from BCS Enterprises in New Zealand please contact Chris or myself if you wish to use any of the above photos for any advertising purpose.

Cheers Coxy