Xzoga Rods!!
Submitted by seasonsrods on Tue, 2008-09-16 11:08
Hi all, I'm David of SeasonsRods the Australian Distributor of Xzoga. Some of you might have heard of Xzoga but I think most of you have not so let me make a short introduction to some of the Xzoga products.
Xzoga's  specialty is in thier Jigging and Popping rods, though they do have extremely good spinning and surf rods I think thier Jigging rods are what will be of interest to most of you, especially for the WA Samsons. Thier blanks are designed with what Xzoga refer to as PTF Action (Power Transmission Fighting Action) with thier 4 point action design. What thier design does is to combine a blank with the correct action to work those jigs with you putting in the minimum amount of effort possible while still has the right action that loads up perfectly for when you are fighting the Monster!.
We have a complete range of rods and blanks from PE1 to PE10 for jigging to suit your needs. I will make an introduction of our products with photo's and some additional details as we go but please feel free to visit our website for more information, www.seasonsrods.com.au or www.xzoga.com. Or if you have and quries please feel free to contact me any time either by message in fishwrecked, email: sales@seasonsrods.com.au or hp: 0433832338.
Just some photo's of GT's caught a few months back on one of Team Xzoga's trip to test their popping rods against the GT's off an oil rig.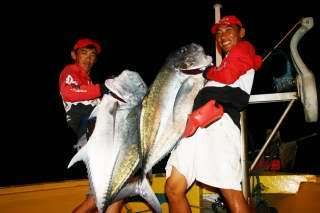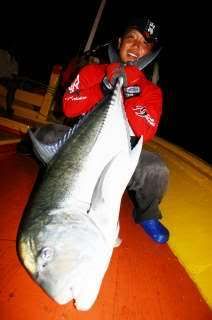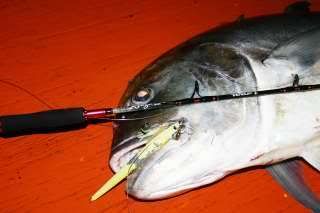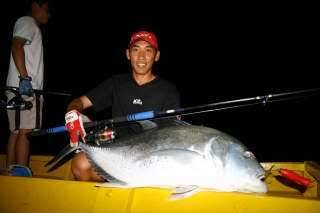 The last photo on the right shows the GT caught on the custom PE3 Xzoga 7ft 6in popping rod. The rod might just be a PE3 but the butt of the rod still packs a punchs for you to drag the fish away from the structure. In this case the structure was an oil rig. 
Some were also caught on jigs. The popping rods are built on Xzoga's Taka G blanks which are 99% graphite. 
Xzoga has two different series of blanks that they build thier rods on. One is the TAKA-G and the other is the TAKA-U. Appart from a slight difference in appearence and action the TAKA-G is 99% Graphite while the TAKA-U is 80% graphite + E-Glass construction.