cracker day off the cape!!
Submitted by harro on Wed, 2011-05-04 21:07
great day out, I had mr matty miller (pictured above with a nice dble), micky(aka man overboard) and buddha, teamed up with team dokie, clint(aka feral),the mr honsu,& dave cole, headed out early and we all hit a very hungry dhuie school out deep ,and within minutes of getting there it was on, I didnt even get to tie my rig on the boys had bagged out,(selfish buggers,,lol) we have 4 dhuies on early, 15kg & 8kg, released a 10kg and 7kg, great fun and good start to the day, and team dokie also had the same great start, after that we headed out to the 120,s but a cple of average pinkies (released ) we wanted more, I headed out to the 180,s after a bit of driving we found a nice lump full of fish, 600w tranny worked fine on 50khz, clear as fishing in the 50,s, straight away it was on, big fat nannies up to 4kg, bagged out easily, i got on the radio and got team dokie to head out to us, they also bagged out, great fun & lots of laughs,both boats with all on hooked hard at the same time, was good to see, took a photo of brendans boat whilst I had 3 crew hooked onto fish , they were aslo hooked, quality stuff!!
on the way home we headed towards a nice storm, and saw 3 large water twisters, we had one form directly above us which for a few mins freaked us out, luckily is fizzled,
top day, top company ,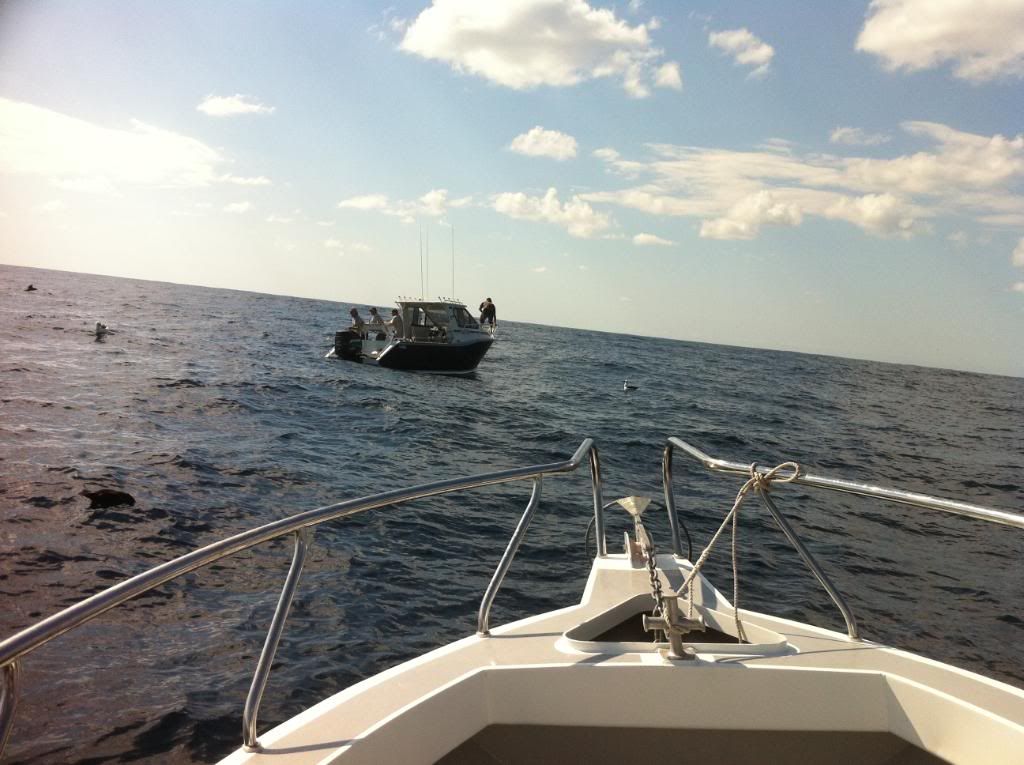 ____________________________________________________________________________
:::: Bass Hunter ::::