Capel River Reddies! (picture)
Submitted by Redfin 4 Life on Sun, 2010-02-14 21:43
We arrived at our destination on the capel river around three in the afternoon, as usual, the first things to come out of the car were the fishing rods.    I tied on my new halco RMG rainbow trout lure and walked down to the water. Dad took the more simple method of just chucking some nice juicy earth worms on hook and cast them out into the shadows.
After about 5 minutes the exitement started when i had a hit from a redfin that would have been around a kilo, what was more exiting was the fact that this redfin was accompanied by about 3 other redfin the same size. I managed to hook one on my new lure in the next cast but it fell off and tumbled back into the water right at my feet!
After another 10 minutes dad hooked up. Now this redfin was actually caught. As dad went to get more worms i chucked my lure out into the shadow which he had caught the redfin previously and it was almost instantly smashed by a 30cm redfin. These were actually the first redfin we had seen or caught in the capel river. We fished for about another hour and dad caught two more decent size redfin using worms, and he then caught yet another redfin that was only about 10cms long!
My uncle, who had come fishing with us was rather unlucky... he caught everything exept fish, he caught sticks, stumps, logs, clothes, and even his own finger! It was quite funny because he is normally the one who catches most of the fish... anyway overall it was a succesfull afternoon session in a nice peacefull setting what more could you ask for?
Cheers, Redfin 4 Life.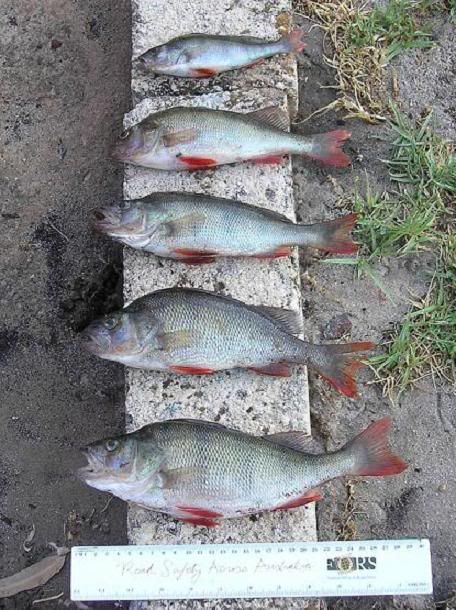 ____________________________________________________________________________