Fun Weekend on the water
Submitted by Webby on Tue, 2012-05-01 16:24
It has been a while since I have put some pictures up on the site so I thought I might share a few from the weekend just gone.
Saturday I was able to get out with my mate John (swamp rat from FW). Due to the below average weather forecast, we took to the water armed with light tackle casting and fly gear in the hope of finding a Mangrove Jack or two.
We were able to get into a few nice fish and had an amazing time despite the trying weather conditions.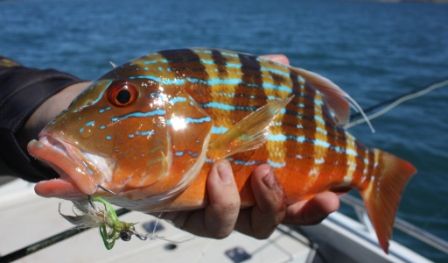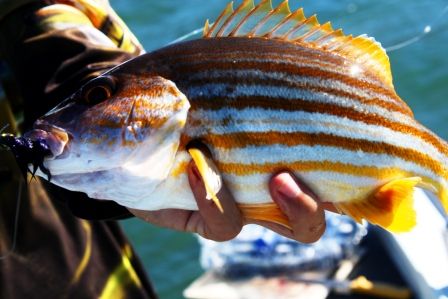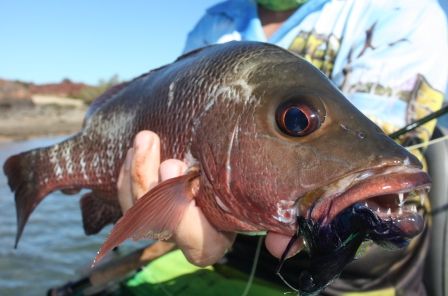 Sunday the weather forecast was looking much better. I had agreed to take the kids out as they are both mad keen. My old man was keen to play skipper so come 8am three generations of Webster took to the water.
We spent the first hour or so trying to find the kids their first squid. They both managed to land one each. My sons squid was an absolute stonker and considering he is only three, a bloody good capture.
Once bored we dropped the anchor on a nearby lump to try and get them into some fish. The young fella started off strong with a small blue bone, cod and an ugly little jaw fish. But it was the little lady that took out fish of the day with her first golden trev. The fish ripped drag from her light outfit but with some coaching and the odd helping hand to lift the rod tip she was able to land her biggest fish to date. Needless to say she was over the moon and i was proud as punch.
(sorry for the sideways image, photbucket is not playing the game)
____________________________________________________________________________
I live with fear every day... sometimes she lets me go fishing.